Why Chris Christie Refuses To Support Donald Trump Ever Again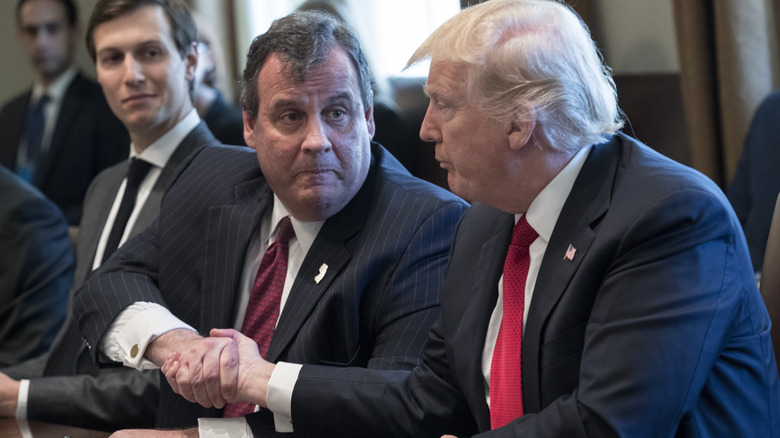 Pool/Getty Images
What happens when you pit two outspoken politicians, who are in the same party but on opposing sides of the ring, against each other? Looks like we may find out in 2024. Former New Jersey Governor Chris Christie is a longtime Republican who is known for his brash manner of speaking and energetic approach to policy. In that regard, he's a lot like former President Donald Trump. But that's where Christie wants the similarities to end. 
Besides supporting the same political party, the two men appear to be on diverging paths on where they want the country to go next. Christie is making a concerted effort to distance himself from Trump, and people are beginning to take notice. The former governor, who also has a long career in law, is even gearing up to run as an anti-Trump Republican in 2024, and he'll be one of the first on his side of the political line to do so. 
It's a stark change in position from Christie's previous stance. He cited the nationwide panic caused by the events of January 6 for his change of heart.
He doesn't find Trump 'appropriate for the presidency'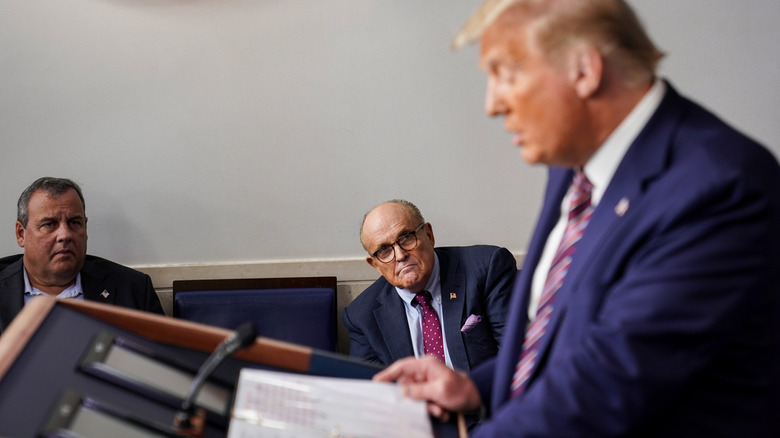 Joshua Roberts/Getty Images
Republicans are making headlines as one after another, they drop hints that they'll be running against Donald Trump in the upcoming presidential election. On May 24, Ron DeSantis blew up Twitter when he used the "Spaces" feature to announce he was running for president (via The New York Times). It turns out DeSantis was the first of what will likely be many former Trump Republicans who plan to run against Trump after being supportive of him for years. 
You can add Chris Christie to that growing list. The former governor is taking another serious look at running for president in 2024, according to sources who spoke to Axios. He doesn't plan on going easy on his soon-to-be opponent either. Axios also reports that the potential GOP candidate refuses to support Trump and would not vote for him again. When asked about the reasoning behind his recent switch-up, Christie confirmed there was one event to blame. 
In particular, the outspoken politician revealed that he is fueled by his anger at the former president's (mis)handling of the January 6 protest. Christie said, "When you have the Jan. 6 choir at a rally and you show video of it — I just don't think that person is appropriate for the presidency."
He's being lauded as the candidate to stick it to Trump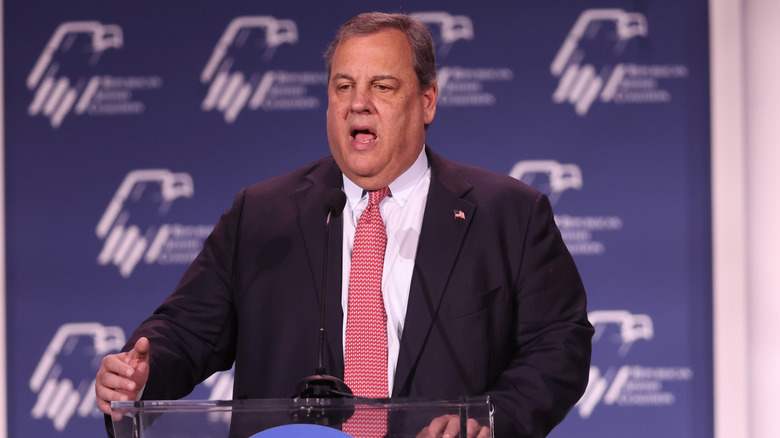 Scott Olson/Getty Images
Chris Christie isn't known for keeping quiet about issues he takes offense to, and that's exactly why his supporters are hopeful the former governor will be the Republican party candidate in the upcoming presidential election. While speaking with The Atlantic, Christie wasn't shy about saying he's heard enough of Trump's name. In fact, according to the former governor, "Trump has disqualified himself from the presidency." 
It was a sentiment echoed in his interview with Axios, where Christie confirmed he was ready to go after Trump — something other GOP candidates have been reluctant to do. "The truth is not negotiable," he said. Right now, the chances of any Republican politician beating Trump for the nomination are slim. CNN pointed out that Trump continues to lead the polls with 53% of Republicans saying he'll have their vote in 2024. 
But with Christie gearing up for another run at the Oval Office, those ready for a new era are hopeful this firebrand candidate might spark a different outcome.