Amy Duggar Recalls The Strange Reason Her Family Prohibited This Kid-Friendly Cartoon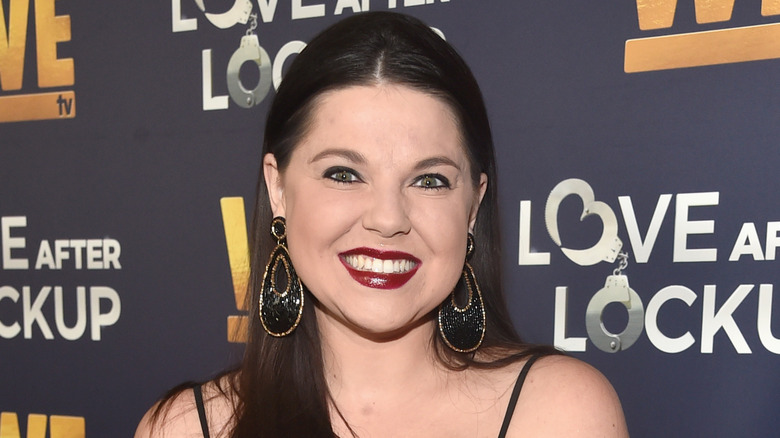 Alberto E. Rodriguez/Getty Images
The Duggar family is well known for their unconventional way of life. Beyond Jim Bob and Michelle Duggar choosing to abstain from birth control for most of their marriage — which notably resulted in them welcoming 19 kids into the world — they also raised their brood in a very unique way. The Duggar children were all homeschooled and many of the older siblings took on a parenting role for the younger ones too. 
Due to the family's ultra conservative Christian values, there were strict guidelines about the information they were allowed to consume on a regular basis. While discussing her recent book, "Becoming Free Indeed," with Allie Beth Stuckey, Jinger Duggar admitted she lived in fear for much of her childhood, constantly worrying that she would do something to lose God's favor (via YouTube). 
Much of this manipulation came from the "cult-like" leadership of Bill Gothard, who founded the Institute in Basic Life Principles, to which the Duggars wholeheartedly subscribed. Many of these teachings were based on external restrictions. One of the rules had to do with music, and how listening to drums could actually lead you down a destructive path. Since the family was also against watching television, many found it ironic that they were on TV for so long.
Not every Duggar feels the same way
The Duggars' TLC reality show began as "17 Kids and Counting" before quickly evolving into "19 Kids and Counting" as the family grew. Cousin Amy Duggar would often come over for a visit during certain episodes. She was a couple of years older than her cousins and was the only child of Deanna Duggar, Jim Bob Duggar's sister. According to Us Weekly, cousin Amy has often been deemed the rebel of the family because she wore jeans and frequently spoke her mind. 
The Duggar daughters, meanwhile, grew up only wearing long skirts and dresses and were submissive to their parents. Beyond disagreeing with her extended family's strict modesty standards, Amy also pushed back on her uncle's conservative rules for dating and courtship. During an interview from an early episode of the show, Amy expressed her disapproval of the idea of being accompanied on dates, quipping, "I would probably ditch my chaperone." 
The outspoken Duggar went on to argue, "You don't want me to be [your kids'] chaperone. I will pretty much let them do whatever." There were many times Amy broke the Duggar family's strict rules over the years, but they always appeared loving and accepting of her despite these lifestyle differences. However, even amid her genuine attempts to abide by their morals, Amy was surprised by the levels of their regulation.
The Duggars' extreme restrictions may have caused more harm
In a new TikTok video, Amy Duggar shared just how extreme her uncle's views really were. Amy recalled a time when she brought over the innocent kid-based cartoon "VeggieTales," which has the tagline: "God made you special." The show centers around Christian-based Bible stories that are depicted through animated vegetables. While Amy was attempting to provide a lighthearted and wholesome option for her cousins, who weren't allowed to watch much, if any, TV, she was told that "VeggieTales" wasn't allowed in the Duggar household because her uncle did "not want [his] kids thinking vegetables talk."
Amy is clearly more than willing to speak out about her wild childhood experiences with the rest of the Duggars, and how their strange upbringing may have led to more harm. Once her now-imprisoned cousin, Josh Duggar, was exposed for molesting many of his younger sisters, she began to reflect on their relationship. In an exclusive interview with The Sun, Amy recalled asking her cousin why he never attempted to touch her when they were younger, to which Josh replied, "Because I knew you would've kicked my a**." 
Unfortunately, this sentiment exposed the mindset behind Josh's actions and how he targeted those "who were weaker and who were going to be too scared to say anything" instead. This realization understandably infuriated Amy, who got honest about her own traumatic childhood. However, these days Amy is sending clear signals that she's finally done with her famous family.
If you or anyone you know has been a victim of sexual assault, help is available. Visit the Rape, Abuse & Incest National Network website or contact RAINN's National Helpline at 1-800-656-HOPE (4673).