Jim Bob And Michelle Duggar Blast Shiny Happy People Docuseries With Message Of Family Unity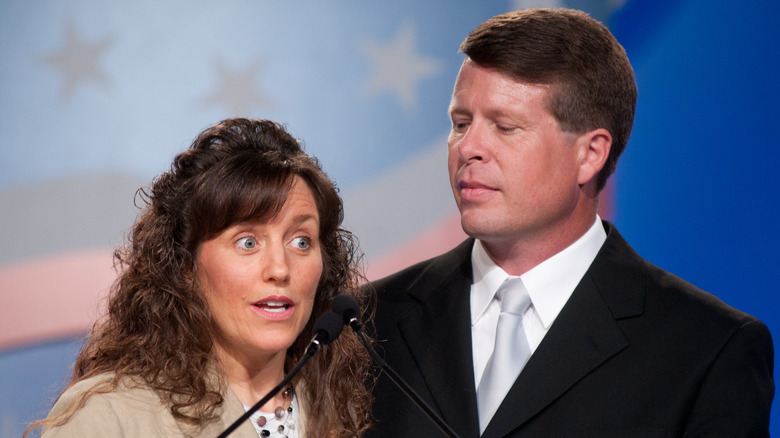 Kris Connor/Getty Images
When does a church's view on morality turn into a restrictive "purity culture?" How far would a reality TV family go to help promote their church's controversial values? Those questions and more promise to be addressed in the new Amazon Prime docuseries, "Shiny Happy People: Duggar Family Secrets." Audiences have known for years that things weren't always rosy for the massive Arkansas family. But this exposé digs deep to showcase the true agenda of the Duggars' church group, the Institute in Basic Life Principles. 
Their goal, according to ex-IBLP believers, is to create an America where men call the shots, women go back to the kitchen, and church and state are no longer separated. The documentary also takes aim at Duggar parents Jim Bob and Michelle. They're painted as advertisements for the IBLP: Sure, they may believe in corporal punishment and young marriages, but look how polite and obedient their children are! Their daughter, Jill Duggar Dillard, and her husband, Derick Dillard, even accuse the couple of craving the spotlight at the cost of their children's well-being. 
When it was revealed that eldest son Josh Duggar had engaged in decidedly un-Christian behavior, the most senior family members reportedly pressured Jill and one of her sisters to defend him on-air so "19 Kids & Counting" wouldn't be canceled. On the evening of June 1, just hours before the series started streaming, Jim Bob and Michelle finally released a statement via their website. In essence, it said: "Nothing to see here!"
The Duggar parents claim that Shiny Happy People is a smear job
Anticipating the reaction to "Shiny Happy People," Jim Bob and Michelle Duggar posted a response on their official family website. The "Note from Jim Bob and Michelle" decried the Amazon Prime docuseries as a pathetic attempt by outsiders to smear them. "This 'documentary' paints so much and so many in a derogatory and sensationalized way, because sadly, that's the direction of entertainment these days," they stated. The Duggars went on to slam the creators for making their secrets public: "We have always believed that the best chance to repair damaged relationships, or to reconcile differences, is through love in a private setting." 
Likewise, the couple hinted that their estranged daughter, Jill Duggar Dillard, is still welcome in the fold, despite her appearance in "Shiny Happy People," noting, "We love every member of our family and will continue to do all we can to have a good relationship with each one." As is to be expected, they ended their message on a spiritual note, confirming they've "clung to our faith all the more" during this difficult time. 
Notably, though, the couple mentioned nothing about the specific allegations being leveled against them, such as their embrace of the restrictive rules of the IBLP, and Jill's claim that her father made her do damage control in a TV interview. It remains to be seen whether they'll offer more specific responses once the full series airs.