Tennis Bracelets Are Trending Again In 2023 (With A Major Upgrade)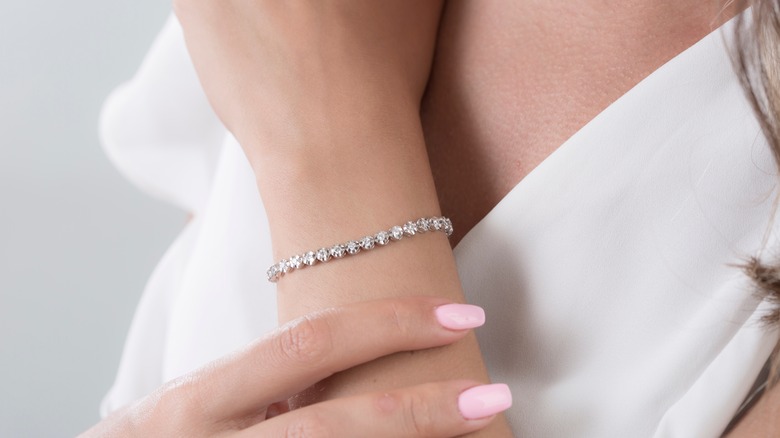 feedbackstudio/Shutterstock
What do tennis and jewelry have in common — Chris Evert. Evert is the athlete who popularized what we know as the tennis bracelet. As a former tennis world champion, she famously wore a diamond line bracelet when she played. In 1978, she lost the wristband during a U.S. Open match, and the game was halted (priorities, you know). Since then, what was once an eternity bracelet now goes by its sporty name.
Fine jewelry brand Monica Rich Kosann even created a Tennis Bracelet Collection with Evert. The trendsetter is quoted on the site saying, "I remember everything about that day. The green court. The white lines. My diamond bracelet and the dripping sweat of competition."
Traditional tennis bracelets have a specific style. Margot McNaull, a jewelry designer and owner of Stór Jewelry Co., told Brides, "The bracelet is comprised of a setting of continuous diamonds, of equal size, which encircles the wrist. A classic tennis bracelet would showcase an all-diamond look, with very little visible metal between each stone much like a pavé ring setting." However, that classic look is getting a twist this trending time around with various colors, stones, and designs.
The modern tennis bracelet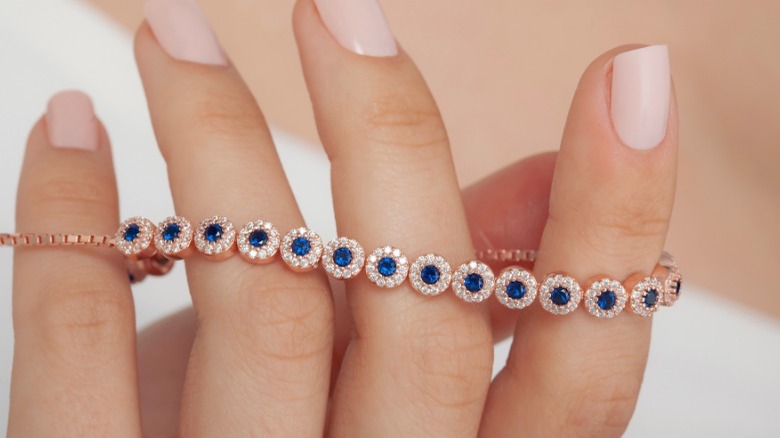 1jewelry/Shutterstock
The modern tennis bracelet is almost a complete redesign from its conception look. "We initially started with impossibly delicate, very stackable tennis bracelets," fine jewelry designer Eva Zuckerman explained to The Zoe Report. "We then transitioned into slightly chunkier pieces with unexpected colors like black and grey diamonds and blackened metal. I have played with inverting diamonds and experimenting with scale as a way of toughening tennis bracelets up to suit my customer."
This contemporary style throws the traditional out of the window. It embraces all gemstones. While the glass diamonds are timeless and neutral pieces, who can resist the beauty of stained glass? Ruby, emerald, sapphire, pearl, or whatever your heart desires can line your wrist for a beautiful and delicate look. Plus, those identical square stones come with more personality this time. Elevate your tenniscore fashion with pear, teardrop, round, oval, marquise, heart, or princess-cut gems.
The same goes for the metals used for its setting. Silver and gold don't run the show anymore. Colorful metals like rose gold are a popular choice for spicing things up. The metal setting isn't even supposed to show for the original tennis bracelet, but now you can find pieces that showcase the chain links for an even more dainty and timeless look. Styling these trendy wristlets is where the fun begins.
How to style trendy tennis bracelets
Despite the major upgrade, tennis bracelets still have a distinct thin and delicate look. Sporting them solo is a stellar minimalistic style fit for the quiet luxury aesthetic. They stand out, but aren't statement pieces, which makes them great for dressing up any look. Sweatpants and a crop top? Brunch-worthy tube dress? Suit and tie? You can't go wrong with a tennis bracelet.
If you want these delicate pieces to sing, stacking your tennis bracelets is the way to go. It is an everyday piece of jewelry, so matching it with wristwear that embodies that characteristic makes for the perfect accompaniment. "A tennis bracelet pairs beautifully with the right watch or can be incorporated in a great mixed stack with beads, string, or whatever other eclectic wrist game you've got going on," jewelry designer Jade Lustig shared with Net-A-Porter.
So, go for a homemade friendship bracelet if it's a casual outing. For fancy occasions, the tennis bracelet will add flare to your luxury pieces or statement cuffs. Whether it's a traditional line of diamonds or a colorful contemporary wristlet, your outfit will thank you.