Nikki Haley Breaks With Donald Trump On How She Feels About Kim Jong Un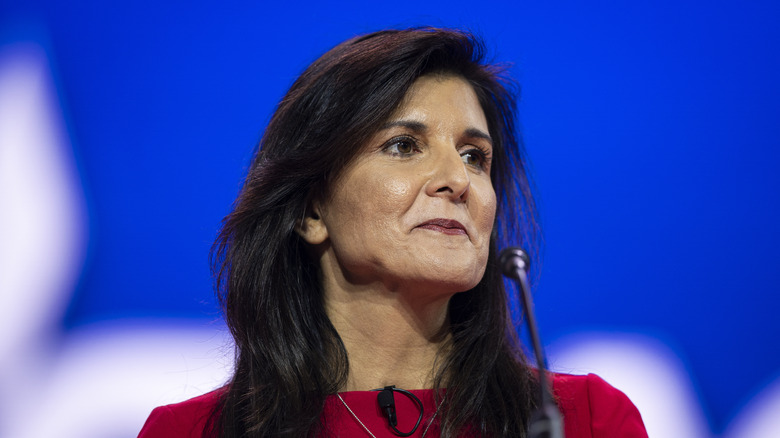 Bloomberg/Getty Images
Until just a few months ago, Nikki Haley was perhaps best known as the governor of South Carolina and, more recently, the U.S. ambassador to the United Nations. The latter role may have not been possible without the help of former president Donald Trump. Trump tapped Haley for the position in 2016 while he was in office, leading her to resign as governor to focus solely on international affairs.
However, even if Haley became associated with the Trump administration, she didn't always agree with the president's ideologies and decisions, and that may be even more true now that she's become one of his biggest threats. In February, the South Carolinian posted a campaign video to Twitter announcing her plans to run for president against Trump in 2024, complete with the caption, "Time for a new generation."
Now, in a live town hall with CNN, Haley shared her thoughts on North Korean dictator Kim Jong Un — and they definitely defy her Republican predecessor.
Nikki Haley slams Kim Jong Un, calling him 'a thug'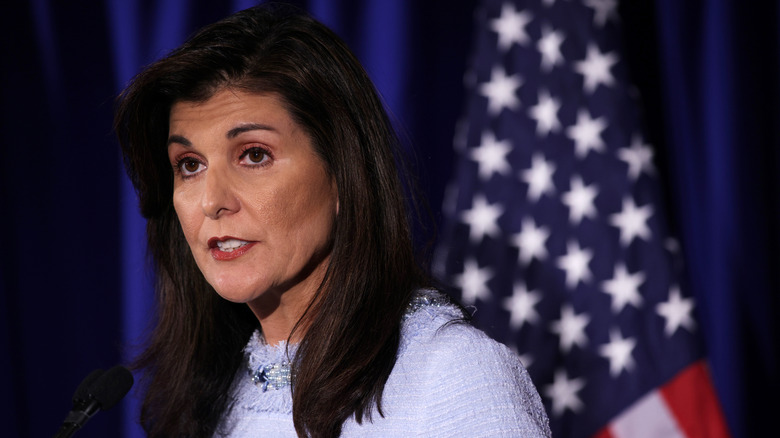 Alex Wong/Getty Images
During her June 4 town hall broadcasted by CNN, presidential hopeful Nikki Haley discussed her thoughts on hot-button topics such as abortion bans and inflation, and she didn't shy away from going against Donald Trump and other Republican leaders — including when asked about Kim Jong Un. Host Jake Tapper questioned if Haley was uncomfortable with how the former president dealt with the North Korean leader, seemingly referencing their unique friendship (Trump broke barriers when he became the first sitting president to enter North Korea, per ABC News). "Kim Jong Un is a thug," she responded. "And if you see what he has done to his own people in North Korea, when money went to North Korea, it didn't go to feed their people, it went to feed their nuclear program."
While sidestepping direct criticisms of Trump, Haley made it clear that she has no intentions of befriending Kim. "There's nothing good or decent about Kim Jong Un," she added, before referring to dictators like Kim as "our enemies."
Her town hall comments weren't the first time she publicly attacked the North Korean government and its leader. The former ambassador recently tweeted, "Kim Jong Un starves his own people. It's a total farce that North Korea has a leading role at the World Health Organization."