Hallmark's Sadie Laflamme-Snow Took On Sondheim In A Big Stage Debut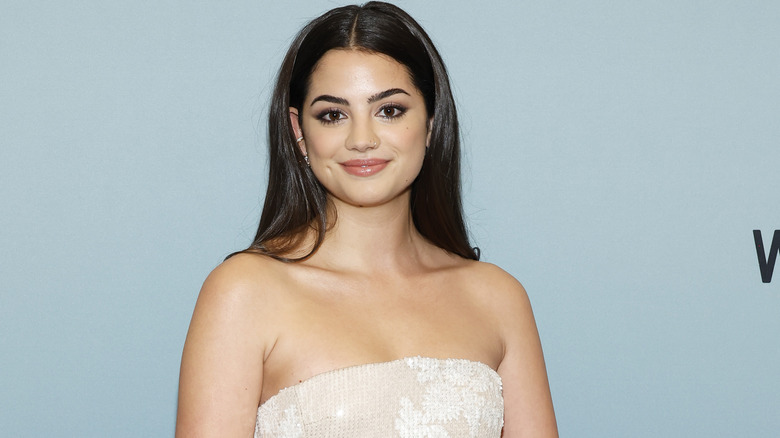 Mike Coppola/Getty Images
Thus far, Sadie Laflamme-Snow has enjoyed the kind of career most young actors only dream about. The Indian Canadian actress already had several TV appearances under her belt when she was cast in the Hallmark Channel's hit, "The Way Home." Laflamme-Snow co-stars with Chyler Leigh and Andie McDowell as a teen whose divorced mother uproots them to go live with the grandmother she never knew. Through their unexpected ability to travel through time, "mother and daughter are determined to unearth the truth around the earlier tragedies as they try to change the course of events," as the Hallmark website summarizes. In an exclusive interview with The List, the executive producers of "The Way Home" explained the family dynamics of the characters and why they resonate with viewers.
The highly-rated show has been renewed for a second season, so Laflamme-Snow will be busy for some time. She has also appeared in a number of episodes of the series "Slasher." But, as the saying goes, you always find time for the things that are most important to you. In the midst of all her television success, the actress took advantage of some rare down time to tackle her first professional stage appearance, where she got to showcase both her acting and singing talents. For Laflamme-Snow, it was the kind of dream-come-true you usually find only in Hallmark movies.
Sadie Laflamme-Snow played a Sondheim ingénue in a concert production
Over the weekend of May 26, Sadie Laflamme-Snow put her Hallmark work on pause to go back to her home base, Toronto, and her first love, the stage. She appeared in the Royal Conservatory of Music's concert production of Stephen Sondheim's "A Little Night Music," starring opposite Eric McCormack of "Will & Grace" fame. This was no TV-star vanity project, however. Laflamme-Snow is a classically trained actor and singer and a graduate of the National Theatre School of Canada, so she's quite at home on the boards.
Still, it was an ambitious undertaking. Any theater lover will tell you that Sondheim's shows are among the most difficult to perform. His music and lyrics are complex, and his work often explores complicated characters and situations (as in "Assassins" and "Sweeney Todd: The Demon Barber of Fleet Street"). That's what appealed to Laflamme-Snow when she joined the cast. "[T]here's something about a lot of Sondheim's work and its ability to touch on the profound or the darkness in the world without being too in your face," she told The Toronto Star. "And what I think audiences are craving are these profound themes about humanity and people and society."
"A Little Night Music" is one of Sondheim's lighter works. Based on a film by Ingmar Bergman, the musical follows several sets of Swedish couples who re-evaluate their love lives during a country weekend. Laflamme-Snow played Anne Egerman, a young bride who can't bring herself to lose her virginity to her much older husband.
Sadie got a shout-out from her famous co-star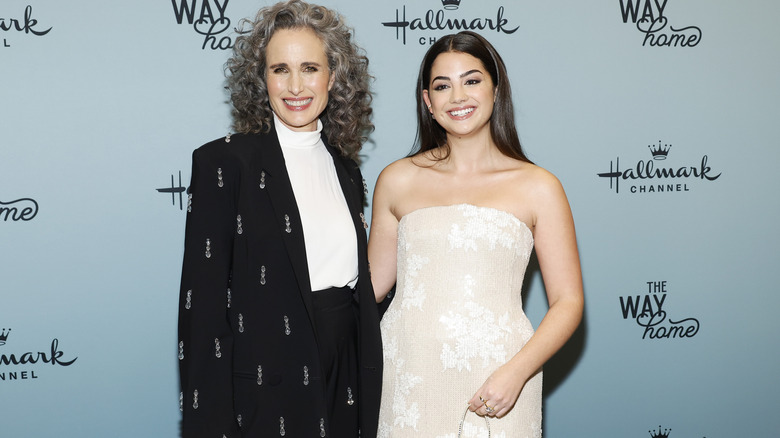 Mike Coppola/Getty Images
After her short musical run ended, Sadie Laflamme-Snow took to Instagram to praise the weekend that reignited her love for the "magical" stage. "HOW DELICIOUS," she began, going on to say, "To sing this show and tell this story with the absolute best of the best in music theatre was an honour. I still can't believe it. ...I am bursting with gratitude and struggling to find the words. I love to sing. What a gift to sing this show with these people even for the shortest and sweetest little run." Laflamme-Snow also thanked the family and friends who have supported her since her days in school plays and dance recitals.
Among the fans who shared their praise on her post was her Hallmark co-star Andie McDowell, who plays Laflamme-Snow's grandmother, Del Landry. "Look at you I wish I could've seen this," she wrote. "I would've loved to have seen you in this money [sic]. Congratulations [heart emoji]." Alex Hook, who plays the teen version of Chyler Leigh's character, Kat, added, "You're so cool." 
Although the young actress seems poised to enjoy a long and productive career with the Hallmark Channel, we have a feeling this won't be the last time she appears in a live theatre production. After all, there are plenty of other Sondheim shows she hasn't done yet — and then there are the works of Rodgers & Hammerstein, Andrew Lloyd Webber, Lin-Manuel Miranda...