Dannielynn Birkhead: All Of Her Kentucky Derby Looks Through The Years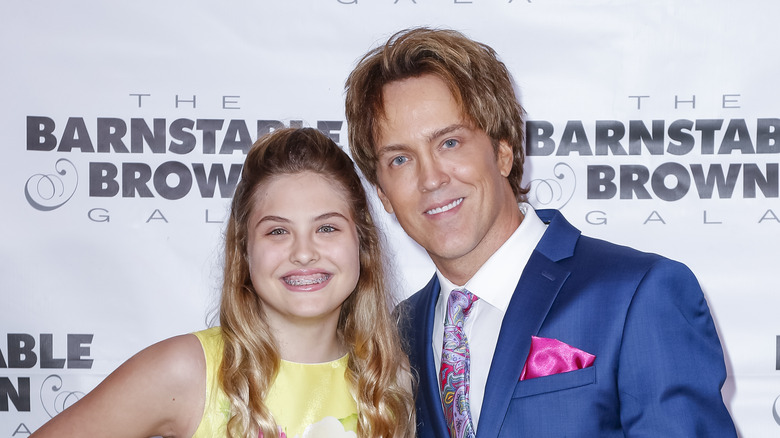 Michael Hickey/Getty Images
In 2006, Anna Nicole Smith welcomed a child with Larry Birkhead, a photographer who became a household name after striking up a relationship with the model. Smith died the following year, when Dannielynn Birkhead was just 5 months old. Since Smith's death, Larry has made a concerted effort to keep their daughter out of the spotlight, save interviews here and there and one very public event each year: the Kentucky Derby. Larry and Smith first connected at the Derby, making it an especially special event for him and their child.
For most of her life, Dannielynn has attended the Derby alongside her father. "It's her one day a year outing that we do publicly ... I think you guys can take pictures and watch her grow from just this event," Larry told the Courier Journal in 2023. And year after year, she and dad go all out with their Churchill Downs fashions. Here are all of Dannielynn Birkhead's Kentucky Derby looks throughout the years.
She looked darling in her debut outfit in 2010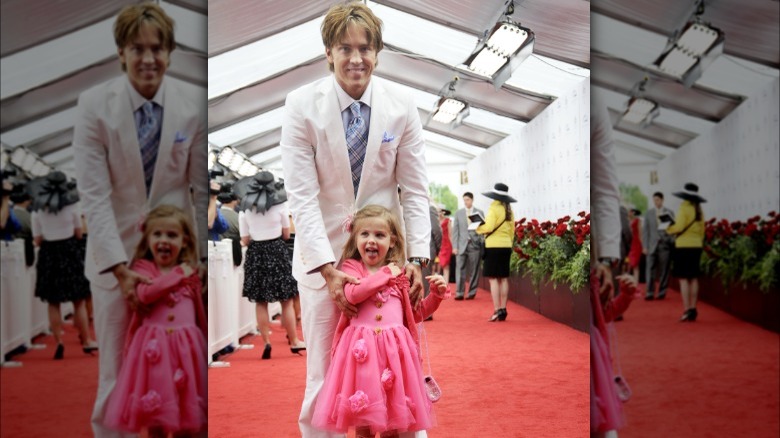 Jeff Gentner/Getty Images
The first time we saw Dannielynn Birkhead at the Kentucky Derby was in 2010. She was just 3 years old, and she accompanied her father Larry Birkhead, as she has nearly every year since, to the event. Dannielynn arrived at the event wearing an adorable hot pink ensemble. The dress had 3D rose appliqués and big heart-shaped buttons, and it was paired with a matching cardigan. Dannielynn carried a matching pink bag and wore pink sandals, and she accessorized with a pink flower hair clip. Larry, on the flip side, opted for a more neutral look. Dannielynn's dad wore an all-white suit with a baby blue shirt, tie, and pocket square. 
That same year, the Kentucky Derby Museum announced that two of Anna Nicole Smith's Derby ensembles would be a part of one of the exhibits. According to The San Diego Tribune, Larry said visiting the two dresses at the museum with Dannielynn was a "bittersweet moment."
Dannielynn Birkhead had a more simple look in 2011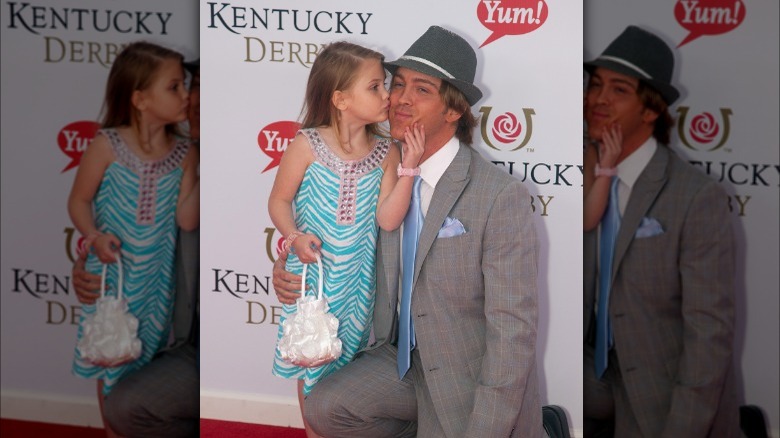 Joey Foley/Getty Images
The Kentucky Derby is known for attracting some of the most outrageous springtime fashion. While Dannielynn Birkhead has worn more adventurous pieces as she's gotten older, her second Derby look was relatively simple — granted, she wasn't yet 5 years old at the time. In 2011, Dannielynn wore a light blue zebra print dress replete with a bejeweled collar and white tights to the event. To imbue some of the classic Derby style, Dannielynn accessorized with bracelets and an oversized flower hair clip, and she carried a darling white bag.
2011 is one of the last years Dannielynn and her father, Larry Birkhead, didn't totally coordinate their outfits for the event. Larry wore a gray suit with a matching fedora that year, and he paired it with a blue tie that didn't quite match the blue of Dannielynn's dress. Regardless, the duo was as charming as can be. 
Dannielynn Birkhead's headpiece was everything in 2012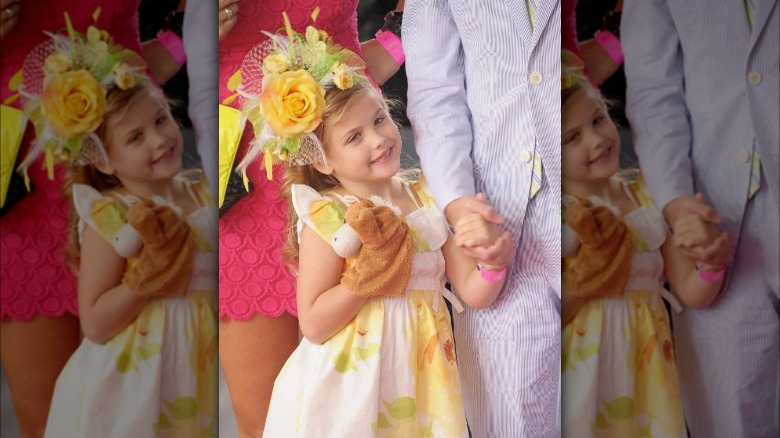 Michael Loccisano/Getty Images
2012 was the first year that Dannielynn Buikhead wore a quintessential Kentucky Derby headpiece, and it was nothing short of adorable. It also was a preview of her major fashion moments in the years to come. That year, Anna Nicole Smith's little girl arrived in a sweet white dress with yellow flowers and some pops of green. The star of the outfit, however, was her eye-catching headpiece that featured yellow roses, netting, and other accouterments. At just 5 years old, Dannielynn was more stylish than some adults at the event. Matching Dannielynn was her father, Larry Birkhead, who had on a light purple-gray pinstripe suit. He coordinated with his daughter by wearing a green tie. 
As if Dannielynn's fascinator wasn't precious enough, she also brought a plush horse hand puppet to Churchill Downs. When it comes to the Derby, the Birkheads clearly love to keep with the theme. 
Dannielynn Birkhead brought the whimsy in 2013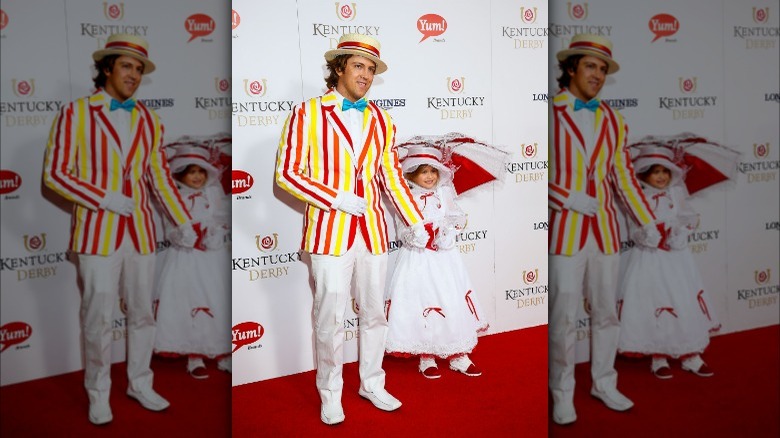 Michael Hickey/Getty Images
We got a completely different vibe from Larry and Dannielynn Birkhead in 2013. Larry arrived in a suit and hat as he had in previous years, but he was a little more whimsical this time with a colorful striped suit jacket and bright turquoise bow tie that would surely make Dick Van Dyke proud. But as always, it was Dannielynn who stole the show. She totally matched with her father and wore her own Mary Poppins-inspired outfit. She had a white gown on with lace and red details, and wore a coordinating hat. Both Dannielynn and Larry had on white gloves, and Dannielynn carried a red and white parasol.
Getting all dressed up and heading to the Derby sure seems to be a fun annual outing for the father-daughter duo, but their day-to-day is what's most meaningful to Larry. "I look at her and she's my everything. When I see how big she's become, I'm just so proud of her," he told ET in 2015. "She reminds me so much of her mom and as she gets older, and her features are changing, it's just like having a little miniature Anna Nicole running around in so many ways."
Dannielynn Birkhead's 2014 look was super sweet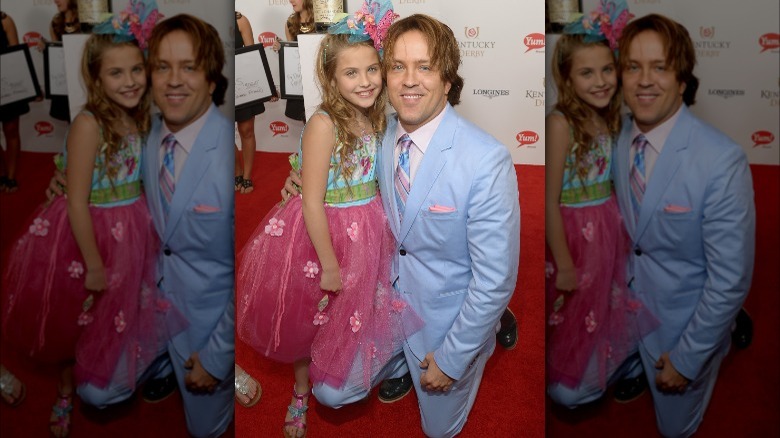 Gustavo Caballero/Getty Images
Dannielynn Birkhead's 2014 Kentucky Derby look was not quite as costume-y as her 2013 look, but the pink and blue dress was still all sorts of adorable. The top of the dress featured printed flowers while the bottom of the gown, made from pink tulle, had her signature 3D flower appliqués all over. Anna Nicole Smith's daughter also wore a darling headpiece with a giant butterfly and flowers. She kept the theme going with her pink sandals that were covered in cute butterflies. It was a precious and cheerful ensemble fit for a princess.
Larry Birkhead's outfit was a bit more understated than Dannielynn's look, but he, of course, made sure their outfits worked together when they hit the Derby red carpet. He wore a light blue suit that coordinated with Dannielynn's look, and paired his suit with a pink and blue tie and a pink pocket square. Spring has sprung, indeed. 
Her 2015 look featured a matching headband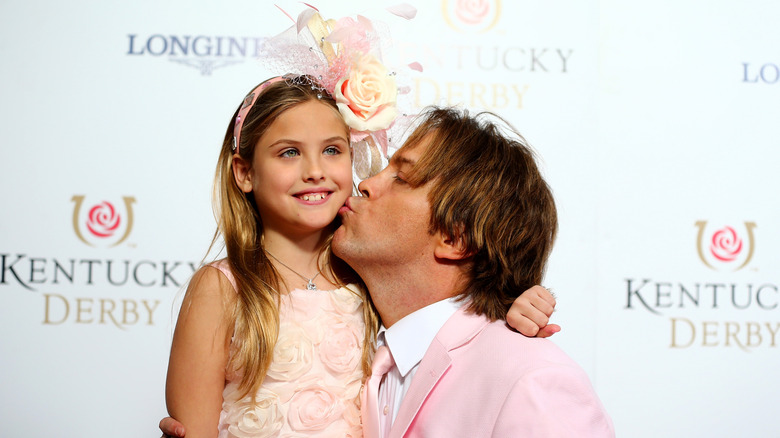 Tasos Katopodis/Getty Images
In 2015, Larry and Dannielynn Birkhead continued to bring their charming fashion to the Kentucky Derby. Dannielynn sported a rose theme as she had in the past, but this year the hue was a bit more subdued. Instead of the bright hot pinks she had worn before, Dannielynn went with a pale pink dress replete with her signature appliqués. She carried a silver purse adorned with flowers, and she wore sandals with the same appliqués. Dannielynn really tied the look together by wearing a matching headband that featured a prominent rose on one side. Her father had on a light pink suit and a white shirt underneath, and his tie matched his suit color.
As Dannielynn continues to grow up before our eyes, her father continues to keep her mother's legacy alive. "We go back [to the Bahamas] all the time and we go to [Anna Nicole's] grave," he told ET that same year. "We visit and I tell Dannielynn stories about her mom. I don't sugarcoat it. I say there are some things that your mom did and you know I try to make her learn from it."
The Birkheads arrived in matching mint in 2016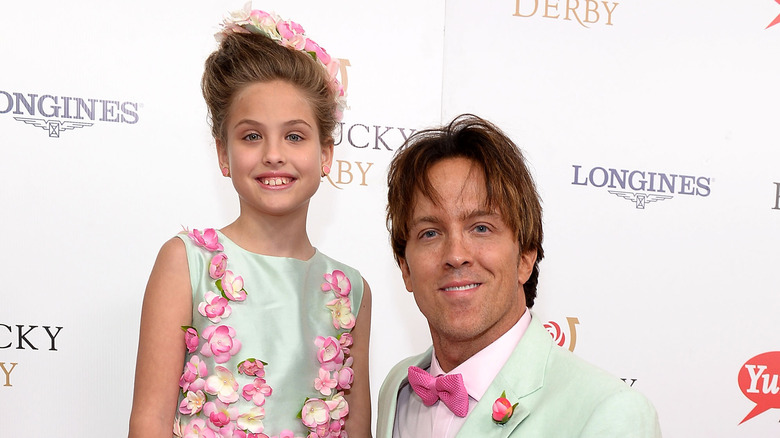 Gustavo Caballero/Getty Images
In 2016, Dannielynn and Larry Birkhead took their coordinating skills to a new level. That year, Dannielynn arrived at the Kentucky Derby in a mint green dress. Of course, she did not forgo her signature flower appliqués; pink and yellow blossoms were scattered about the dress. Her headpiece also featured some blooms. Dannielynn kept her accessories minimal that year, but she did wear pink shoes with flowers on the peep toe.
Larry followed the same color palette as his daughter and wore a mint green suit jacket. He paired it with off-white pants and wore a pink bow tie and pocket square. He even pinned his lapel with a flower that perfectly matched Dannielynn's headpiece. One could argue the Birkheads' 2016 Derby outfits the most matchy-matchy to date. They were bright, springy, and cheerful — everything a Kentucky Derby look should be.
In 2017, Dannielynn Birkhead's style continued to blossom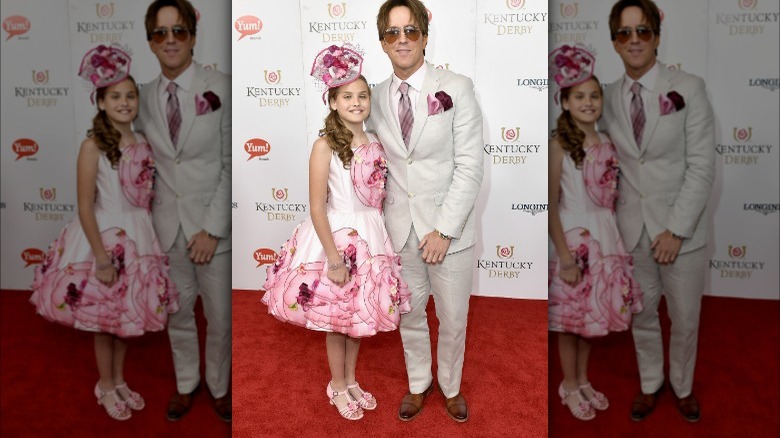 Gustavo Caballero/Getty Images
Dannielynn Birkhead brought some major flower power to the Kentucky Derby in 2017. That year, Anna Nicole Smith's daughter arrived at Churchill Downs in a light pink dress that was covered in large appliqués. The blossoms were more abstract than the flowers on the dresses she'd worn in years past, but they appeared to be giant peonies or ranunculus — and we mean giant. She also wore a matching headpiece. Larry Birkhead went with a light gray suit, a pink and maroon tie, and two pocket squares.
That same year, Larry shared a photo he and Dannielynn took at the Barnstable Brown Derby event. The pic, which features the two standing before a towering cake decorated with fondant jockey uniforms, captured a particularly sentimental moment. "Dannielynn b4 she raided the dessert room at the Barnstable-Brown Party where I met her Mom in 2003 #lifefullcircle," he tweeted. 
Dannielynn Birkhead rocked a classic Derby look in 2018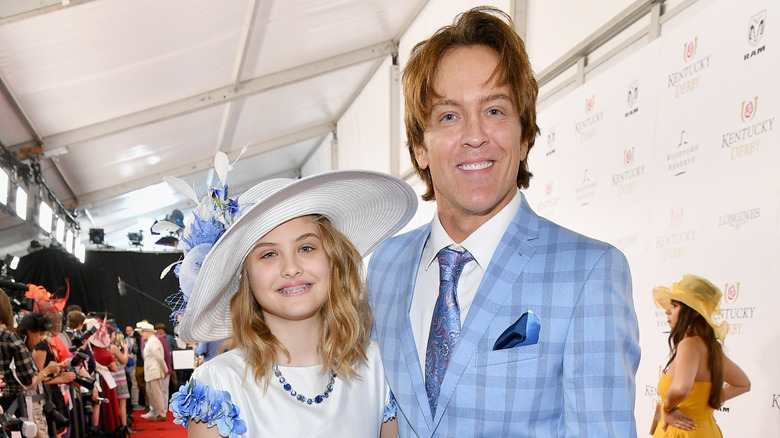 Dia Dipasupil/Getty Images
In 2018, Dannielynn Birkhead hit the red carpet in a quintessential Kentucky Derby outfit. She donned a white dress with blue floral appliqués on the hems and a blue sash around the waist. And, of course, there was her hat. While Dannielynn had favored relatively simple headpieces in the past, that year she wore a wide-brimmed sun hat that tied in the blue from her dress with an adornment on the brim. Her father, Larry Birkhead, matched with a blue gingham suit, a paisley tie, and a blue pocket square.
Given her age, we assume Dannielynn had more input than ever before into her outfit, but her father has certainly done an impeccable job of putting together Derby looks. He's recognized in the past, however, the difficulties of being a single father to a young girl. "It's tough raising a little girl without a mom. You always want to make sure you're doing the right things and a thing that a mom would choose that a dad might not choose," he said on "The Steve Harvey Show."
2019 was a fun fashion year for Dannielynn Birkhead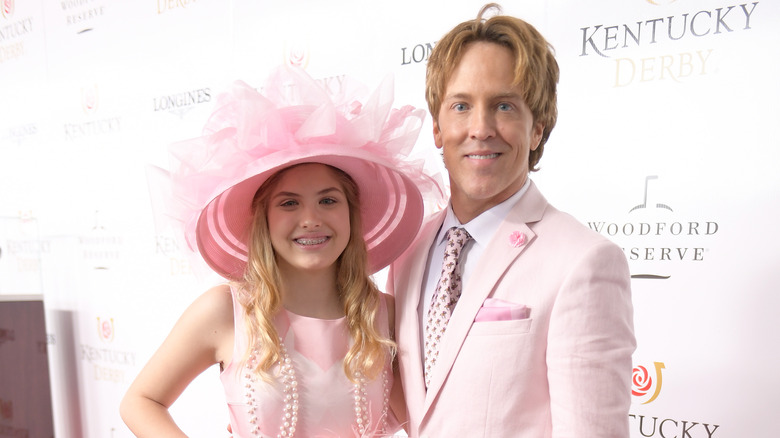 Jason Kempin/Getty Images
In 2019 we got two separate looks from our favorite Kentucky Derby duo. Dannielynn Birkhead and her father, Larry Birkhead, arrived at the Barnstable Brown Gala the night before, and Dannielynn looked more grown-up than ever before. She wore a bright yellow dress with a high-low tulle hemline that featured printed flowers, and a pair of pink shoes. Larry wore a navy blue suit, paisley tie, and a hot pink pocket square. The next day at the Derby, they arrived in matching pale pink outfits. Dannielynn's dress had all sorts of pearl and floral appliqués, and she wore an eye-catching pink hat with lots of tulle on the brim. Larry went with a pale pink suit and shoes, and his pin on his lapel made a return.
Chatting with the Lexington Herald Leader on that year's red carpet, Larry talked about how much it means to him to take his daughter to the Derby. "I think it's really cool to bring her back and share the memories and all the excitement," he said. "I've just been trying to express to her the importance of the event."
Her turquoise stole the show in 2021
In 2021, Dannielynn Birkhead's outfit was unlike any of her past Kentucky Derby outfits. Instead of wearing a dress, Anna Nicole Smith's daughter donned a tailored turquoise pantsuit. A very sophisticated look, Dannielynn kept it quintessentially Derby with bright colors and a fun floral headpiece. Her father, Larry Birkhead, matched with a pantsuit of his own and blue suede shoes. And as Larry shared with the Daily Mail, Dannielynn played a big role in selecting her Jovani suit and figured out all of the accessories. "Dannielynn was determined to have a different style this year," he told the outlet. "Since she is older, it's not like you can just go out and pick out a little kid dress anymore."
Since the world was still in the midst of the COVID-19 pandemic, Derby attendees had to wear masks in various places at Churchill Downs. Naturally, Dannielynn coordinated her mask with her outfit. She kept on a light blue face covering that had plenty of sparkles to match the jeweled buttons on her pantsuit. Dannielynn is typically seen at the Derby in comfortable shoes, and 2021 was no different — the fashionable young lady wore flats all day.
Dannielynn Birkhead's 2022 Derby Day dress was all sorts of fun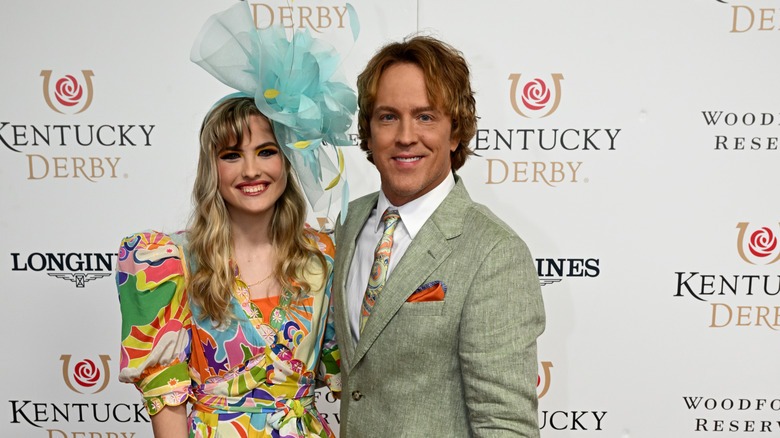 Stephen J. Cohen/Getty Images
Throughout her years of sporting fun Kentucky Derby fashion, Dannielynn Birkhead has proven she's unafraid to wear color. Her 2022 look is perhaps her most colorful yet. The late model's daughter arrived at the daytime event in a colorful patterned dress with puffy sleeves and yet another delightfully over-the-top floral headband. Dannielynn also served stunning glam, coordinating her eye shadow with her dress for a sunset effect. Larry Birkhead did as he usually does and wore a coordinating suit with a patterned tie and colorful pocket square to play off his daughter's outfit.
Evidently, Larry picked both of their looks out for the big day. "She's at the age now, she's like, 'Dad, just push the button, send it, I'll try it on, I don't want to go shopping.' So I try my best, and it seems to have worked out for her," Larry told WDRB News at the event. A smiling Dannielynn nodded in agreement. And when asked which horse he had his money on that day, Larry said he was just there to hang out with his daughter and enjoy the festivities. "These dresses are expensive so it's like I've got to save the money for the college funds," he quipped. 
In 2022, she channeled Janet Jackson at the annual gala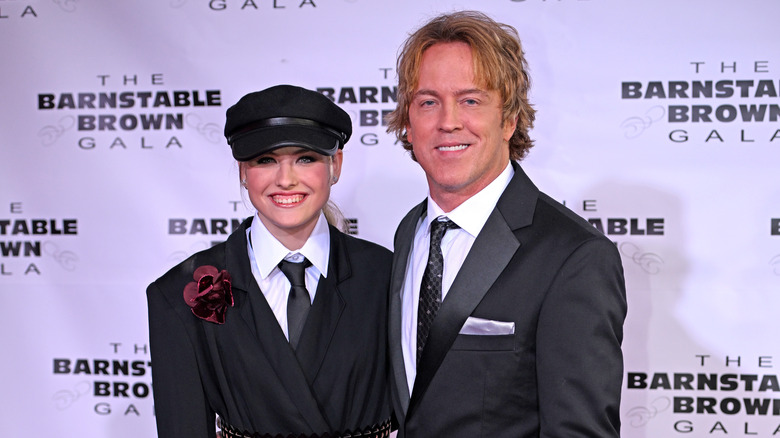 Stephen J. Cohen/Getty Images
Dannielynn Birkhead's introduction to the Kentucky Derby festivities was limited to the race itself, but in recent years, Dannielynn has been her father Larry Birkhead's date to the Barnstable Brown Gala the night before. Larry met Dannielynn's mother, Anna Nicole Smith, at the gala, and now he and his daughter attend the annual event. To the pre-Derby fundraiser in 2022, Dannielynn wore a particularly special outfit — an all-black ensemble Janet Jackson donned at the event nearly 20 years prior.
"Dannielynn is wearing Janet Jackson's personal outfit that Janet wore to the 2003 Barnstable-Brown Gala ... It was purchased as a part of Janet's @juliens_auctions benefitting charity," Larry said of the outfit on Instagram, as reported by E! News. Dannielynn and Larry were photographed with Jackson later that night. Larry kept it simple that year, sporting an all-black suit, but he did match Dannielynn.
Her 2023 daytime look was grand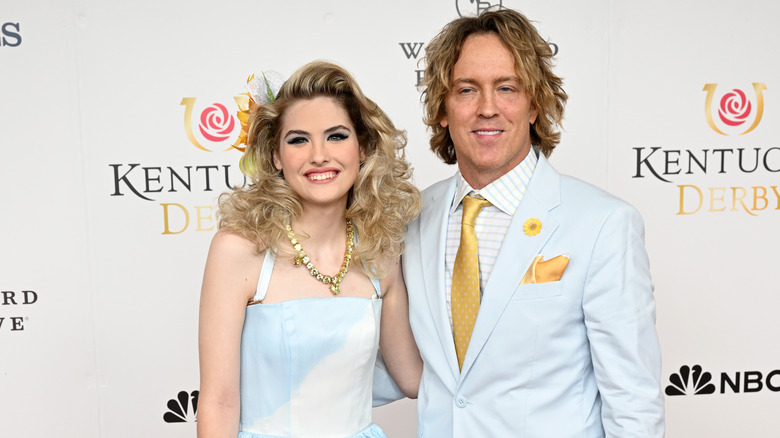 Stephen J. Cohen/Getty Images
Dannielynn Birkhead continues to come into her own style-wise, and at each Kentucky Derby, we get a glimpse into her evolving fashion sense. In 2023, Dannielynn's look was grander than anything we'd seen her in before at the race. Dannielynn sported a full-length gown that featured a large flower on the skirt. She wore a matching hairpiece on the back of her head, and she kept her glam subtle yet stunning. What really stole the look were her accessories. Dannielynn sported crystal archival pieces of her mother's, picking up the yellows in the flower on her dress.
To complement his daughter, Larry Birkhead wore a monochromatic suit, this time in a very light powder blue, and paired it with a striped shirt, yellow tie and pocket square, and floral lapel pin.
Chatting with the Courier Journal at the 2023 Derby, Larry and Dannielynn reflected on their family's sentimental ties to the event. "It's so weird, because I remember bringing her here when she could barely walk ... and here she is, taller than me, you know? And I'm just like, wow, where did the time go?" Larry said of his daughter. He also joked around about Dannielynn getting her drivers license and wanting a self-driving car. "So she can stay on the social media," he added.
Dannielynn Birkhead looked like her mother at the 2023 gala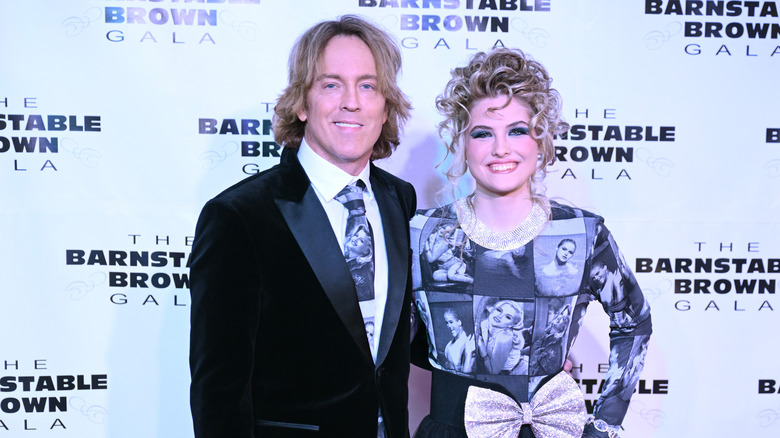 Stephen J. Cohen/Getty Images
As grand as her daytime look was in 2023, it could not hold a candle to the dress Dannielynn Birkhead wore to the Barnstable Brown Gala the night before. Dannielynn sported a stunning black tulle skirt and a top featuring photos of her late mother, Anna Nicole Smith. Her hair was in an updo reminiscent of styles Smith favored. Larry Birkhead wore a black suit and coordinated with his daughter by sporting a tie that also featured the Anna Nicole Smith photo print. 
Growing up the child of a public figure is without a doubt complicated, but Dannielynn's dad has prioritized keeping her feet on the ground. "I think [about] how far she's come, and all the craziness that swirled around her and that she was just, really none the wiser. Just a little kid doing her thing like she's supposed to be," he once said to ET. "That's the one thing that I'm most proud of that I've done — trying to keep everything as normal as I can, in just a really crazy, crazy situation."