How The Kentucky Derby Got Started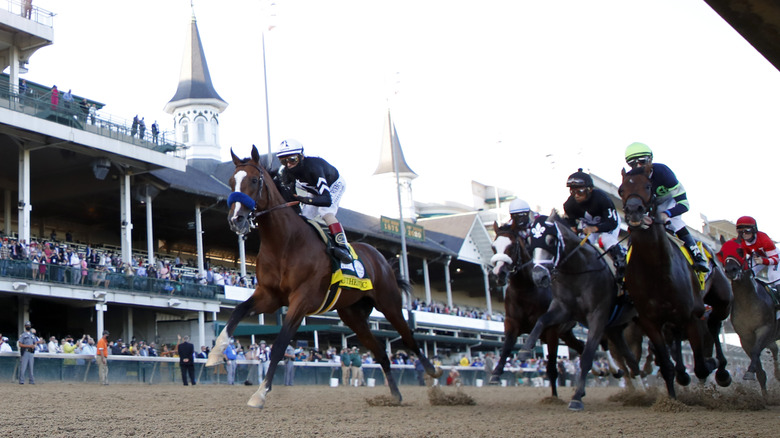 Rob Carr/Getty Images
Unlike other large-scale events like the Super Bowl, which might have had humble beginnings (via The Independent), the Kentucky Derby was always envisioned to be a showstopper by its founder, Meriwether Lewis Clark Jr. (via Kentucky Derby) — a grandson of William Clark of the historic expedition team Lewis and Clark (via History). The younger Clark had been on a tour of Europe in 1872 when he stopped by Britain and attended the Epsom Derby hosted by the Earl of Derby. The American visitor was impressed by the pomp and circumstance surrounding the Epsom Derby, which itself began in 1780 (via The Jockey Club).
This is not to say that there wasn't any horse racing in the country before then, because the American Jockey Club was actually established by breeders and racers as far back as 1750. But in its look at the history of horse racing in America, PBS also notes that racing as a sport was crippled during and after the Civil War, which is when horses were used during hostilities.
The event debuted with 15 horses and 10,000 fans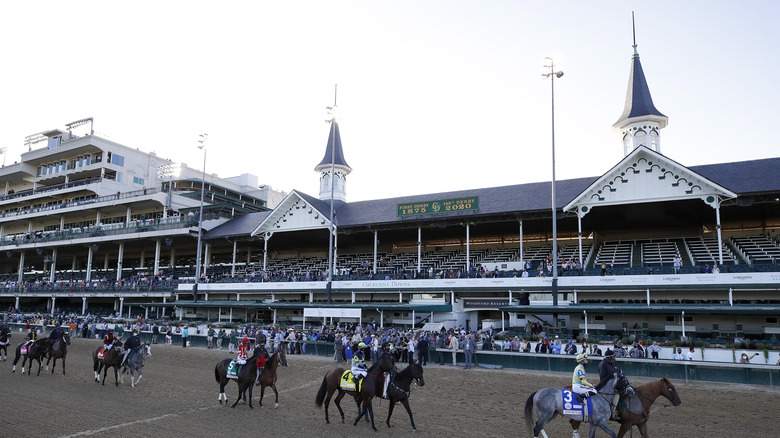 Rob Carr/Getty Images
Meriwether Lewis Clark's dream was given a little push by his uncles John and Henry Churchill, who gave him the land he needed to build a Kentucky racetrack (eventually called Churchill Downs). Clark then organized local horse racing fans in what is now the Louisville Jockey Club. The first-ever Kentucky Derby in 1875 made its debut with 15 race horses and 10,000 fans — and the rest is horse racing history. The two-minute Derby has been held every year since, regardless of the circumstances which have surrounded the country, and this includes the Great Depression as well as two World Wars (via Kentucky Derby). 
The Kentucky Derby isn't the only major event on the American horse racing calendar. It traditionally kicks off what is known as the Triple Crown, which includes the Preakness Stakes, held in Maryland and which was established in 1873; and the Belmont Stakes in New York, which was established in 1867 (via PBS). Thanks to the coronavirus pandemic, 2020 became the first year that the Kentucky Derby was run in September (via Sports Illustrated).