Princess Eugenie Announces Birth Of Her Second Baby (& His Sweet Family Namesake)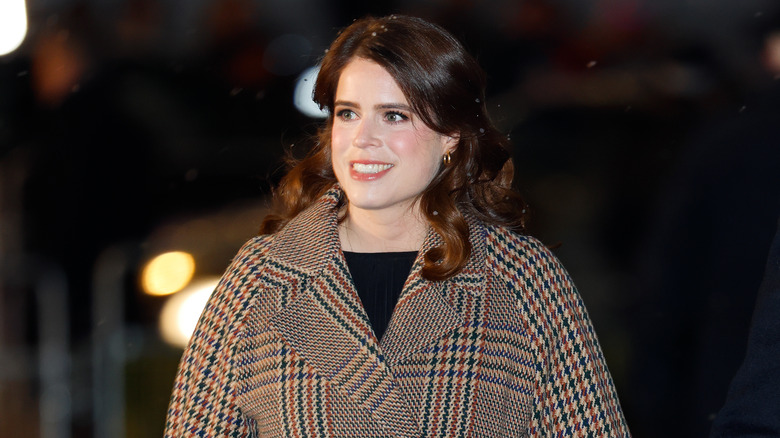 Max Mumby/Indigo/Getty Images
Princess Eugenie is now a mother of two. The younger daughter of Prince Andrew and Sarah Ferguson announced her newest arrival, Ernest George Ronnie Brooksbank, on Instagram on June 5. He was born on May 30, and the princess explained that his name pays homage to his ancestors, writing, "He is named after his great great great Grandfather George, his Grandpa George and my Grandpa Ronald." The baby's second name is both a tribute to George V and Jack Brooksbank's late father. Grandpa Ronald is Sarah Ferguson's father. 
While it was known that Eugenie's second baby was reportedly due to arrive sometime in the summer, the Duchess of York was so ecstatic about the arrival of another grandchild that she announced Eugenie's due date was sooner than expected back in May. 
While baby Ernest is 13th in the royal line of succession and won't likely receive any special title, Eugenie's youngest does have the distinction of being the first royal birth since the death of Queen Elizabeth II. In her post, Eugenie also shared a photo of her older child, August, gently touching his little brother on the head. The princess added that two-year old "Augie is loving being a big brother already."
The role grandma Sarah Ferguson plays in Augie and Ernest's lives
Sarah Ferguson, Duchess of York, shares a close relationship with both her daughters, and she's played an influential role in Princess Eugenie's life. "My childhood and adult life have been made better by the spontaneity of my mother," Eugenie informed Town & Country in 2021. "No is not a word in her language, so whenever we have had a conundrum, Mum is able to empower us to see it out the other side."
Besides teaching perseverance, the duchess has shared her wisdom about parenting with her daughters, telling Hello! Magazine, "Always be present. Whenever you're in the room, just always be there. Because that's a big gift." In addition to providing advice, Fergie is also full of praise for her daughters' parenting skills. "It is such a blessing for me to see my girls becoming such wonderful mothers," the duchess explained to Best UK (via NZ Herald).
Fergie also is an enthusiastic grandmother. "I am modelling myself on Super Gran," she divulged to OK! Magazine, per Express. As a children's book author, the duchess is at her best when interacting with her young grandkids. "I love being with them and how it brings out my inner child," she observed. Sounds like baby Ernest is very lucky to have such an involved, hands-on grandma!