How Sylvester Stallone Comes To His Daughters' Rescue During Their Breakups
Jamie Mccarthy/Getty Images
Having an overprotective father can have its set of benefits and it seems Sylvester Stallone's three daughters – Sophia, Sistine, and Scarlet — have found comfort in a few. The "Tulsa King" star is apparently great at writing his daughters' breakup texts. 
Sophia and Sistine Stallone revealed how their dad comes to their rescue during boyfriend trouble on an episode of the podcast "Giggly Squad" with Hannah Berner and Paige DeSorbo. "My dad is a savant when it comes to our dating lives — in so many areas. In one area, he writes most of our breakup texts," shared Sistine Stallone. 
Stallone, who is known for being hilariously overprotective when his daughters bring home dates, tells it like he sees it, according to his children. Sophia Stallone added, "I highly suggest girls should go up to their dad and have their dad write a breakup text because men know men. I'm telling you," while Sistine chimed in, "They [the boyfriends] never get mad."
Sylvester Stallone is all about first impressions when it comes to his daughters' boyfriends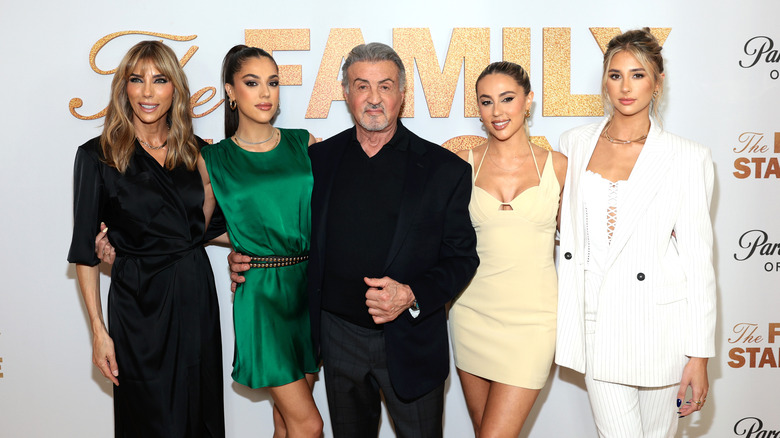 Dimitrios Kambouris/Getty Images
Even though he can come off as "standoffish" when he first meets his daughters' boyfriends, the Stallone sisters revealed in the podcast that there is a reason behind his unfriendly demeanor. 
"In another realm, he's very standoffish when we first bring them [the boyfriends] home," shared Sistine who quickly added that they rarely do. "We're like, 'Oh, this is a good egg. We're gonna bring him home.' And [our dad] is always standoffish. [He] stands in the corner, doesn't say anything ... just to intimidate," continued Sistine. When queried as to why he does that, The "Rambo" star had responded, "I can tell within the first four minutes of meeting [a boyfriend] if he's going to last or not, and so I'm not going to waste my time,'" shared Sistine. And according to his daughters, "he's right every time."
The actor has three daughters with former model Jennifer Flavin and two sons – Sage and Seargeoh — from his previous marriage with actress Sasha Czack. Sage Stallone died of a heart attack aged 36 in 2012.  
Handshakes are a big deal in the Stallone house
Breakups aside, when the daughters' boyfriends first come home, there is a lesson on how to do a handshake right, according to Sistine on "Live with Kelly and Mark" show. "It's difficult. Immediately, most of the men fail at first sight because he goes in for the handshake and my dad pulls them in and says, 'Next time, squeeze my hand like a man,'" she said.
Phrases like, "Hey dude" don't fly well either with the "Cop Land" actor. When asked by host and actress Kelly Ripa if "Hey man" was a permissible greeting with the boyfriends, Sly said, "I've had them go, 'dude. Hey dude.' I said, 'How about I rearrange your brain so that word never comes out.' Dude? Really? We don't know each other."
The first episode of an inside look at Sylvester Stallone and his family in "The Family Stallone" aired on May 17 2023 on Paramount+. Speaking about the reality TV series at the "Tulsa King" premiere in Regal Union Square in New York City, Sly shared (via Extra TV), "This is going to shock people. Because a lot of times people say, 'Oh reality TV?' and 'What do you like, need a job or something?' I said, 'no, no, no'. I'm feeling I have this resurgence go on. So why not at this moment, show people what it's like. Not when you're Oprah or retired. And it's the ultimate home movie, you'll see."