Princess Anne Made History At The Olympics (& She Did So On The Queen's Horse)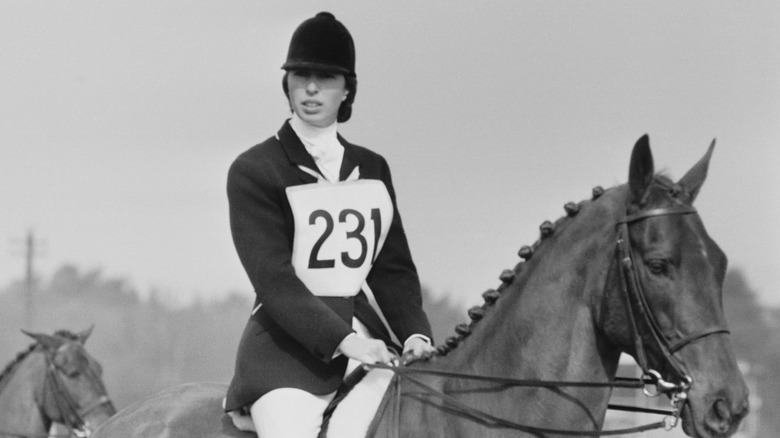 Express/Getty Images
Princess Anne, formally known as the Princess Royal, is one of the few monarchy members who have competed in the Olympics. The 1976 games in Montreal saw Anne take part in the three-day equestrian event. But her journey to the field wasn't an easy one. Since the time Anne began competing at the age of 11 in 1961, she has faced many hardships atop her horse.
Nevertheless, riding is a royal tradition. Even at age 94, the queen was known to saddle up, and several senior royals still regularly ride horseback at certain events. In fact, riding is such a part of the monarchy that it's a big deal when members don't ride — as in the cases of Princess Beatrice or Princess Eugenie, who bucked tradition by not taking part in horsemanship. After all, horse riding is in the royal family's blood, with members like Princess Charlotte learning how to ride at a very early age. Reportedly, the late Queen Elizabeth II had her first riding lesson at age three.
It's no surprise then that the queen's love for horses carried over to her daughter Anne. But unlike other royals who ride for enjoyment, the Princess Royal took a more competitive tack.
Princess Anne's Olympic debut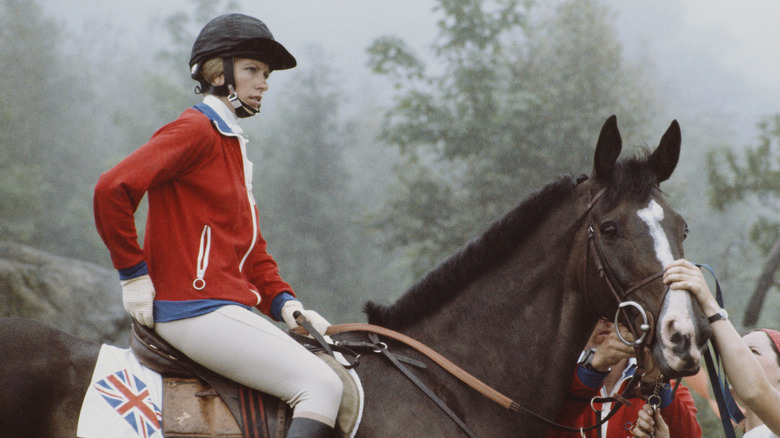 Getty Images/Getty Images
It doesn't matter that Princess Anne didn't medal at the 1976 games. She still took home the title of the first British royal to compete in the Olympics. Even today, she is among an elite group, as only eleven royals have competed since.
Anne participated in the Olympic Games in Montreal as part of the three-day equestrian competition atop the queen's horse, Goodwill. Just before being invited to compete, she suffered a nasty fall that left her with a hairline fracture to her vertebrae. However, weeks of exhaustive rehabilitation ensured she was in top shape for the games. Sadly, her Olympic debut also ended with dashed dreams after another accident resulted in a concussion. The epitome of the British motto "Carry on," Anne did indeed power through to finish the course.
In 1988, Anne received another Olympic invitation, but of a different sort. She was appointed as one of the members of the International Olympic Committee. Eventually, her reign as the royal family's top equestrian ended. Anne couldn't be more pleased with her successor, though — her daughter Zara Tindall. Tindall competed in the same three-day equestrian event as her mother in the 2012 Olympic Games. Great Britain took home silver — with the medals being handed out by none other than the pioneer of competitive royal riding, Princess Anne.
How many horses are in the royal stables?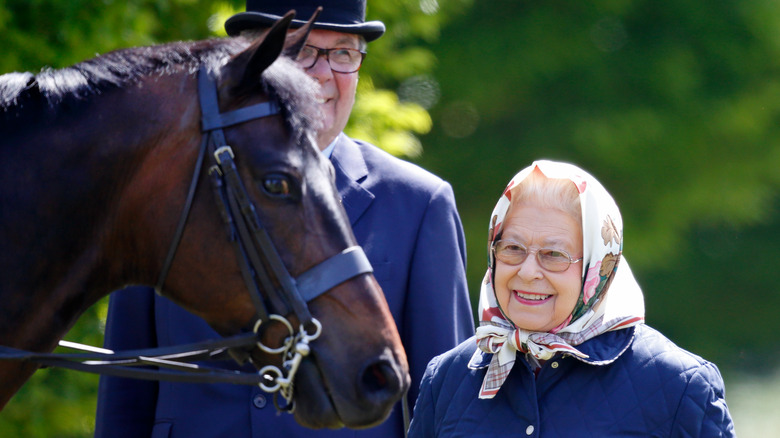 Max Mumby/indigo/Getty Images
On average, there are around 30 horses in the British royal stables, each bred for different jobs and purposes. Many horses are trained to pull or lead carriages for royal events. However, others are reserved for polo games, competitions, and leisurely riding.
Princess Anne has ridden many horses, but none may have been as loved as Doublet. A Thoroughbred cross gelding, he started as one of the queen's polo ponies. However, Doublet found success with Anne as his rider when they won the 1971 European Eventing Championships. Aside from being a top event horse, Doublet was also known for his affectionate and gentle nature, making him perfect for the next generation of royal riders. Sadly, in May 1974, Doublet suffered a broken leg that signaled the end of his competing days.
Queen Elizabeth II was known to have at least fourteen other beloved horses. Her son and successor, King Charles III, owns a few himself and Queen Camilla received some of the late queen's horses. But they are more racing fans than anything. After the queen's passing, Charles sold 12 to 14 of his mother's equines, including Love Affairs, her final winning horse before her death. Still, it seems like the royal family is still expected to be avid riders — with even the youngest members, like Prince Louis, now taking up the pastime.