The Time Tucker Carlson Tried To Be A CIA Agent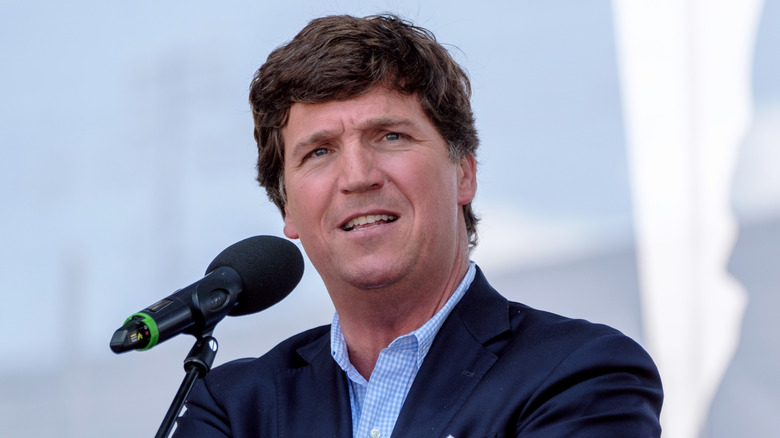 Janos Kummer/Getty Images
Up until April 2023, Tucker Carlson was a Fox News staple, hosting the popular segment "Tucker Carlson Tonight" every weeknight. Over the course of his tenure at Fox, the commentator was no stranger to controversy, startling viewers by calling for the execution of football player Michael Vick, insulting a Teen Vogue contributor on air, and coming down hard in support of border control. In fact, Carlson even argued that immigrants made the country "poorer and dirtier and more divided," per Forbes. 
In 2023, the host was accused of workplace harassment and sex discrimination, and, when his private texts were made public in the wake of the Dominion Voting Systems defamation lawsuit, Carlson's pro-Trump public persona came crashing down too. "Trump has two weeks left. Once he's out, he becomes incalculably less powerful, even in the minds of his supporters. He's a demonic force, a destroyer," Carlson wrote to a colleague just prior to the January 6 insurrection (via New York magazine). 
After another disturbing, violent text came to light ("I really wanted them to hurt the kid. I could taste it," he said regarding Capitol rioters beating up a young Antifa supporter), Fox News cut ties with their beloved host. "We thank him for his service to the network as a host and prior to that as a contributor" their statement read. Carlson didn't always plan to tout conspiracy theories on air, however. Long before beginning a career at Fox, he applied to work at the CIA. Sadly, they turned him and his famous bowtie down.
Tucker Carlson was rejected by the CIA after college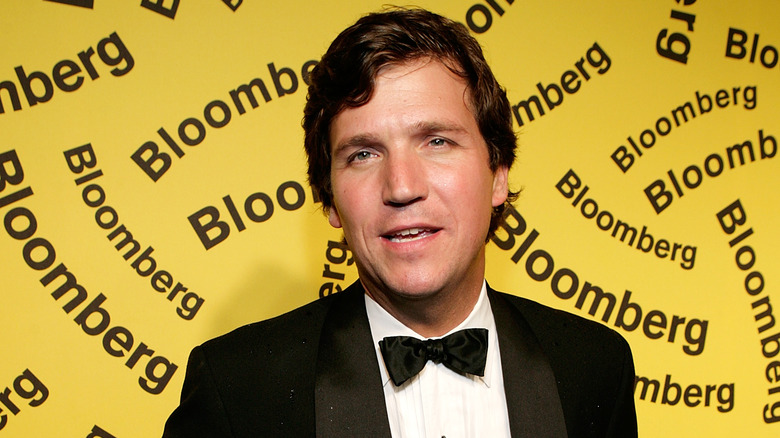 Paul Morigi/Getty Images
Long before Tucker Carlson earned millions of loyal supporters at Fox News, he applied for a job at the Central Intelligence Agency. According to The New Yorker, the future TV host couldn't convince the CIA to grant him a position — his grades were sub-par, and Carlson's college acceptance was, at least in part, thanks to Reverend George Andrews, his boarding school's headmaster and the father of his girlfriend (and future wife), Susan Andrews. Instead, Carlson decided to pursue a career in journalism like his well-connected father, Richard Carlson, securing a job at the Arkansas Democrat-Gazette. 
Shortly after, he moved on to the Rupert Murdoch-owned Weekly Standard. It's here Carlson developed his distinctive edge. Surprisingly, the controversial pundit also had a history with networks like CNN and MSNBC before joining the decidedly-conservative Fox News. Beginning in 2001, Carlson co-hosted a popular CNN segment called "Crossfire" with Paul Begala. 
"It's not so much that ['Crossfire' is] bad, it's that it's hurting America," Jon Stewart memorably informed the hosts when he guested in 2004 (via YouTube). The program was canceled shortly after, and CNN became more liberal-leaning in the ensuing years. Carlson joined Fox in 2009, eventually replacing Bill O'Reilly as the network's star commentator (O'Reilly was let go in 2017 after facing his own sexual harassment allegations). 
The CIA wasn't Tucker Carlson's only failed career move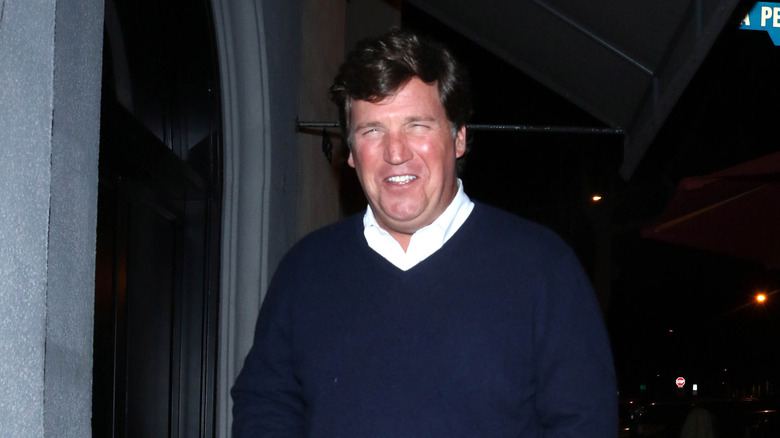 Ogut/star Max/Getty Images
Tucker Carslon's track record when it comes to government agencies and, believe it or not, dancing, isn't great. In 2006, the commentator appeared alongside other B-list celebrity contestants like the late Jerry Springer and Mario Lopez on the third season of ABC's "Dancing with the Stars." As he explained before showing off his moves, "My Dance experience consists of drinking too much at a couple rehearsal dinners," (via YouTube). Unfortunately, Carlson's time on stage was short-lived. He was eliminated in the first round thanks to an uncomfortably stiff attempt at the cha-cha. 
In the 15-plus years since Carlson's disastrous stint on "DWTS," he's managed to avoid complicated footwork and hip-swinging, sticking instead to conservative politics. So, what's next for the former CIA applicant now that his time at Fox News has come to a messy end? It seems the controversial commentator is developing his own show on Twitter. In a May 9 announcement, Tucker Carlson argued that Twitter is the last platform in the world that allows free speech. 
"Starting soon we'll be bringing a new version of the show we've been doing for the last 6 and a half years to Twitter," he shared. In the meantime, as Fox sorts out a permanent replacement for their former star (and pays $787.5 million in settlement fees to Dominion) temporary commentators have included Kayleigh McEnany, who previously worked as Donald Trump's press secretary, and current contributor Lawrence Jones.