Reese Witherspoon's Daughter Looks Just Like Her, But They Don't See It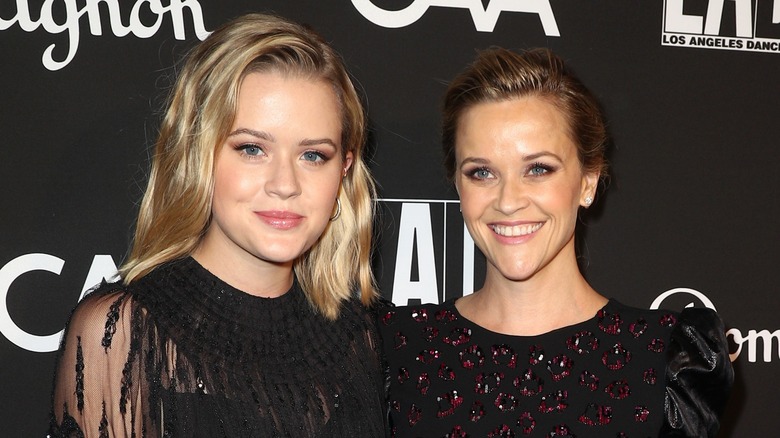 Frederick M. Brown/Getty Images
Reese Witherspoon is a prominent Hollywood fixture that has made many childhoods with her lead role as Elle Woods in the legendary movie "Legally Blonde." She's also made us cry and laugh as Madeline Martha Mackenzie in the star-studded TV show "Big Little Lies," and has more recently been catching everyone's eye as the fierce and tenacious Bradley Jackson in "The Morning Show." The mogul even has a clothing line you might not have known she started.
Her personal life is just as impressive, as the renowned actor is a mom of three. She shares Ava and Deacon with ex-husband Ryan Phillippe, and Tennessee with ex-husband Jim Toth. While her two boys, Deacon and his younger brother Tennessee, do somewhat resemble their mother, the public has long been fixated on the alikeness of Reese and her daughter, Ava Phillippe.
Ava's Instagram profile is filled with comments about how she looks just like her famous mom (there's literally not a single picture of Ava where there isn't at least one comment about their resemblance), but the duo can't seem to see it themselves. 
The resemblance is uncanny
While everyone else is obsessed with the resemblance of the famous mother-daughter duo, the two aren't as impressed. The "Legally Blonde" actress addressed the lookalike claims in a chat on NBC's "Today with Hoda & Jenna" talk show, People reports. Host Jenna Bush Hager had a vivid reaction to a photo Witherspoon shared where she's posing side-by-side with her 23-year-old daughter.
"Wait, y'all are twins!" Hager excitedly said, but Witherspoon didn't share the sentiment. "She and I don't see it that much," the actor stated. However, many think Ava has grown up to be her mother's twin, and the doppelgänger effect is real.
The look-alike duo often shares photos of themselves dressed similarly, and we think we're seeing double. This Instagram post of the two in coordinating Christmas sweaters is proving them wrong and demonstrating just how much Reese's daughter is the spitting image of a younger her. If you're not convinced, we dare you to glance over any photo of Ava; you'll definitely think it's a young Reese at first.
The mother-daughter duo is exceptionally close
Even though Reese and her daughter don't necessarily see their physical similarities, the duo is exceptionally close, and they seem to think alike as well. "When we're separated, we're like, 'What are you wearing? Oh! That's weirdly similar,'" Phillippe shared when chatting with People. Ava also loves to make her famous mom happy, so she sends her updates on her fashion choices almost daily, she added.
The "Big Little Lies" star loves her kids more than anything and has made it clear on multiple occasions that they were her top priority. She admitted she's parented all three pretty similarly. "I haven't changed my parenting style since 1999 when I first started becoming a parent, I'm just that kind of person," she told Today, adding that she tries her hardest to be a good mom.
She obviously is one, because her daughter Ava seems to have gotten one of the most important life advice from her mom. Other than teaching her kids to treat everyone with respect, Witherspoon often shares sweet tributes to them on social media to let them know just how proud she is of them. The sentiment is obviously hereditary as Phillipe does the same for her mom, confirming yet again that they're two peas in a pod, physically and mentally.