Adele And James Corden Have Been Friends A Lot Longer Than You'd Expect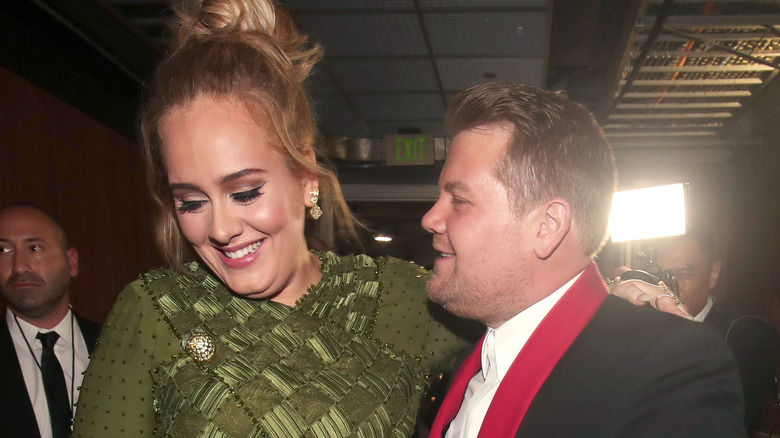 Christopher Polk/ Getty Images
With a modest population of 67 million, the U.K. has produced some of the world's most famous talent. From The Beatles to Harry Styles, the country knows how to raise its superstars. Whenever you meet someone who grew up over the pond, it's hard to resist asking if there's a chance that they know say, Hugh Grant or Dua Lipa. But alas, we all know it's a cliché to assume all British people know each other, not to mention absurd. The country is on the smaller side but, of course, nowhere near that small.
So what are the odds that two British celebrities have mutual connections that go back to childhood? Slim to none. That said, you'd be surprised to discover that this is actually the case for the "Late Late Show" former host, James Corden, and multi-Grammy award-winning artist Adele. While James Corden is known for getting along with all of Hollywood's hottest celebs, it turns out that he and Adele didn't need fame to bring them together.
How James Corden and Adele met each other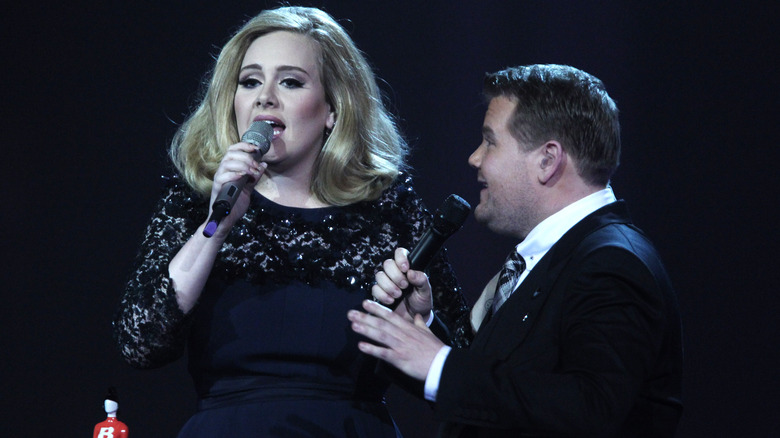 Dave J Hogan/ Getty Images
For eight years, James Corden appeared on "The Late Late Show" as one of television's most popular talk-show hosts. Throughout his time there, he hosted just about every celebrity you could think of. From Justin Bieber to the Kardashians, the comedian has been chummy with some of the most famous stars in the world. However, he and Adele met before the singer had joined the ranks of those celebrities. While on "The Howard Stern Show," Corden explained that they had met on a British local station TV show long before her music went mainstream. Thereafter, the two of them became instant buddies.
They quickly realized that Corden's wife, Julia Carey, shared mutual friends with Adele's childhood friends. After continuous run-ins, Corden shared that they grew immensely close while in England. Corden remarked that he even has a photo of Adele holding his and his wife's first son in their very first flat. Once Corden and Adele were both in Los Angeles, this friendship grew even deeper.
James Corden and Adele depended on each other while in Los Angeles
Not only did James Corden and Adele have to break into the intimidating scene of Hollywood celebrities, but they had to do so while moving across the world away from home. Luckily for them, they had each other to look to for support. Through the highs and lows, the two of them were by each other's side. In the final episode of James Corden's "carpool karaoke" on "The Late Late Show," Adele appeared as the guest star. In the car ride, Adele shared that James Corden and his wife were two people she leaned on heavily for comfort during her divorce from her ex-husband, Simon Konecki. 
Adele was brought to tears telling Corden, "You and Jill and the kids were so integral in looking after me and [my son] Angelo." As if that wasn't heartwarming enough, Adele remarked that the lyrics to her song "I Drink Wine" were based on a six-hour conversation that the two shared when Corden was having a hard time.
While, from the outside, Hollywood can appear to be full of social climbing and friendships built for publicity, these two buds seem to have a sincere and meaningful connection.