Taylor Swift Sparks Concern Over Eras Tour Song Performance Amid Matty Healy Breakup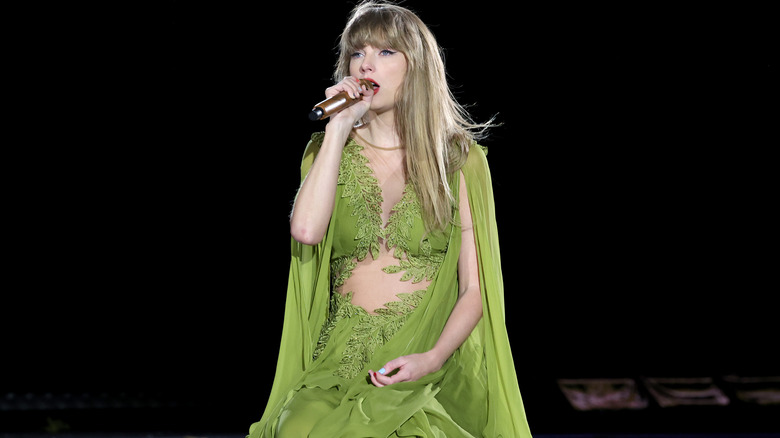 Kevin Mazur/tas23/Getty Images
After a month-long rumored romance that broke the internet, Taylor Swift's controversial fling with Matty Healy is reportedly over. If you've been anywhere near the internet lately, you know that many Swift fans weren't happy about her romance with the 1975 frontman. Consequently, it seems that many Swifties have breathed a simultaneous sigh of relief upon discovery that this relationship was short-lived. Yet, it seems that Swift may not be in agreement with her faithful fans on this one.
An insider has said that there's no bad blood between Swift and Healy amid their breakup. Yet, recent Eras Tour attendees can confirm that this doesn't necessarily mean that this breakup was entirely amicable. On June 4, the "All Too Well" singer performed at Soldier Field in Chicago, and it's been reported and recorded by concert-goers that this show and one song, in particular, left her uncharacteristically emotional. While folks who saw the emotion in person and fans who've examined the video of the evening, alike, likely didn't know what was causing the teardrops on Swift's piano that night, the evening's proximity to the breakup news now seems to be anything but coincidental.
Swift and Healy sing of heartbreak
someone tell her she doesn't have to do it to herself if she's not ready 💔 we can enjoy change, superman, dorothea, closure and other songs (repeats included) too, I don't like seeing her at the verge of crying 😭 pic.twitter.com/W748efedyk

— ver🪩nica⸆⸉ 🩵 (@VIsOnCorneliaSt) June 4, 2023
At the Chicago concert in question, Taylor Swift performed the 2016 ballad, "I Don't Wanna Live Forever." Based on a video of the emotional performance, as well as fans' reports, the singer looked "on the verge of crying" (via Twitter). It's clear in the video that Swift was overcome with emotion when singing the poignant lyrics, "Wondering if I dodged a bullet, or just lost the love of my life?"
Yet, while this may make Swift seem like the jilted one, it was reported that the 1975 performed their own emotional song, "102," in Vienna the night after Swift's emotional performance. Interestingly, in an interview with BBC 1 Radio, Healy once revealed that this particular song was about a girl he knew and said "I loved her but she didn't feel the same way. I don't even think she knew I loved her," per Mirror.
This could mean that this breakup has left both musicians heartbroken, but in the wake of the breakup news, a source told Page Six, "Everyone who really knows [Swift] has been saying all along that this was a fun, good time thing that would last as long as it lasted and would be no big deal once it was done," adding, "She will not be writing albums about this one. It was a summertime thing." This may lead fans to wonder if these tears were about Healy, at all, or if they were the inevitability of a concluded rebound.