Insider Says There's No Bad Blood Between Taylor Swift And Matty Healy Amid Breakup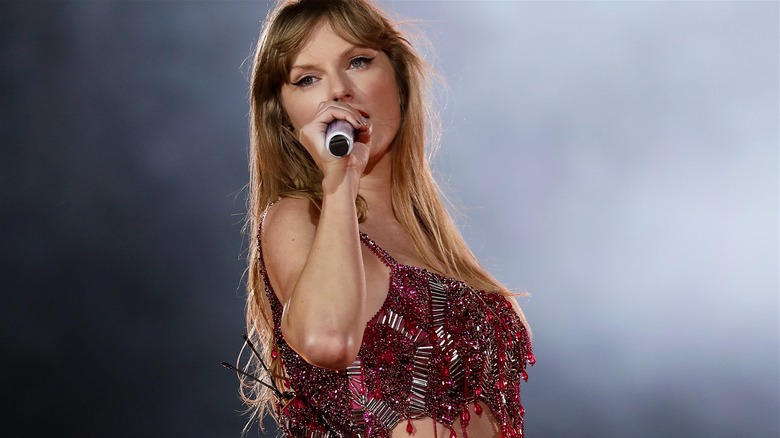 Natasha Moustache/tas23
Just as quickly as the rumors of the Taylor Swift and Matty Healy relationship began, the supposed spark between the two musicians has appeared to fizzle out. The alleged romance between the "Eras" pop icon and brooding frontman of The 1975 had Swifties and 1975 fans either uproarious or ecstatic with seemingly no in-between — and the pair's cryptic attitude toward the rumors only fueled the love story's flames. 
The possibility of a Swift-Healy coupling has been circulating for quite some time. They first started after Swift met Healy in 2014 and began vocally supporting his career, though The 1975's lead singer denied any romantic involvement, and Swift was dating other people anyway. When they collaborated for Swift's 2022 album "Midnights," rekindled romance rumors began to resurface. 
Both musicians remained coyly silent about what was or wasn't happening between the two. Still, whatever was going on seems to already be over, according to an inside source.
Taylor Swift and Matty Healy's quick and, at times, controversial fling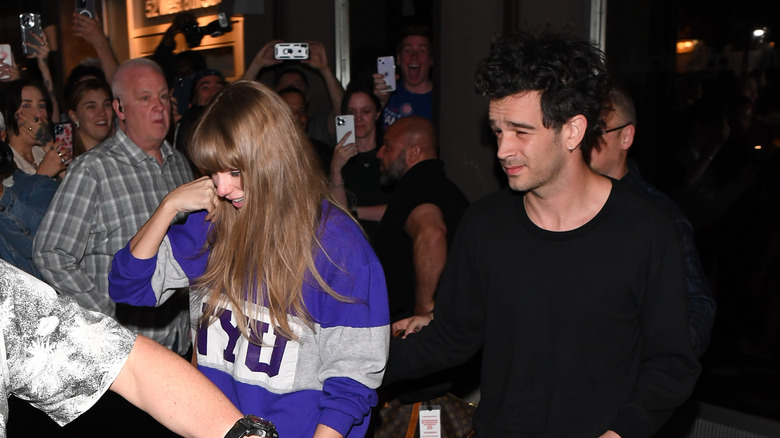 Robert Kamau/Getty Images
Taylor Swift and Matty Healy might not have been an item for long, but the rumored romance was long enough to stir up controversy. Swift's dedicated fan base quickly pointed out their lack of approval after Healy came under fire for appearing to joke about Ice Spice's ethnicity on a podcast. He later brushed these comments off to The New Yorker, implying that those claiming to be upset about the episode were lying or delusional. 
Other reasons why Swift fans weren't happy about her rumored relationship included Healy's outlandish actions on and off the stage, including appearing to mimic a Nazi salute, per the Independent. Even fellow celebrities weren't pleased about the coupling. 
Rapper and outspoken online presence Azealia Banks addressed Swift in an Instagram Story, saying, "Taylor, this guy is gonna give you scabies. He's not on the level of powerful p—s u worked HELLA hard to build. This dude is a full incel" (via US Weekly).
Taylor's response to the heated debate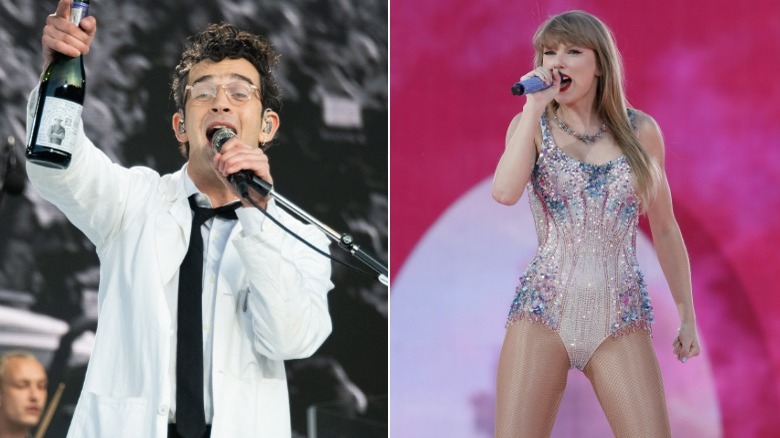 Natasha Moustache/tas23 & Joseph Okpako/Getty
While Taylor Swift never publicly commented on Matty Healy's behavior, Swifties pointed out the odd timing of the singer's decision to collaborate with Ice Spice immediately following the Healy drama. Some believed the Swift-Ice Spice mash-up was a PR move meant to separate Swift from Healy's questionable comments, per NBC News. 
Regardless of whether this was the case, Swift seems to have sidestepped the debacle altogether by reportedly splitting with Healy. An inside source told People the pair "was never boyfriend-girlfriend exclusive and were always just having fun. There is no drama, and who knows what could happen again. It was a good time and ran its course." 
"She had fun with him, but it was always casual," another unnamed source added. "They are no longer romantically involved." Fans are already dissecting Swift's stage performances post-breakup, noting the singer got visibly emotional at a Chicago show (via Cosmopolitan). It's unclear whether Swift's welling up was on Healy's account, but there's no doubt Swift will turn this lightning-in-a-bottle love affair into some great new music down the road.