The Ideal Pants Pairing For Trendy Crop Tops Might Be A Bit Of A Surprise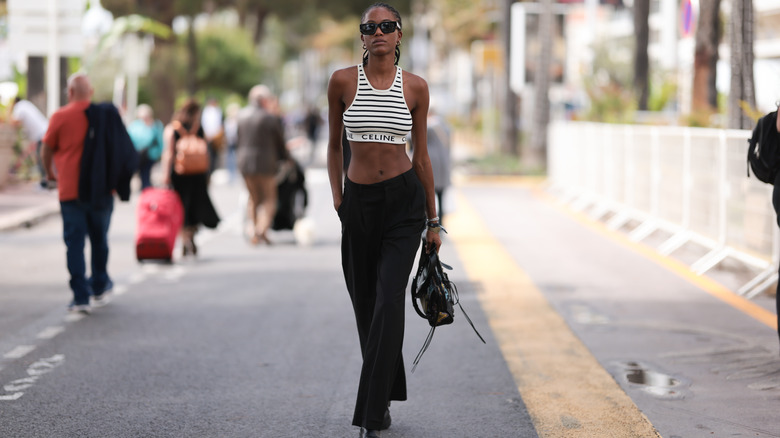 Jeremy Moeller/Getty Images
Summer has descended upon us, and with it, the latest warm weather trends. While chic tops and dainty sundresses often come to mind for the perfect summer 'fit, you can't forgo a good pair of bottoms. 
The foundation of an outfit, pants — whether shorts, jeans, or a form of slacks — can elevate a look from just alright to awe-inspiring. Even if you have to spend long hours during the summer stuck at work, you can still partake in trendy office pants fit for every dress code. Gen Z has focused on bottoms that harken back to the decades of disco, and no matter your age, you can rock these retro pant styles. And of course, you cannot discount the stunning return of cargo pants. Designer cargo pants took not only fashion runways by storm, but also everyday streetwear. 
All that to say: yes, you have plenty of options for keeping with the trends when picking out your go-to bottoms. But if you are a crop top lover, one pair of pants may be especially vital for your closet. This is a must-have design for those who love a short little top, and it may not be the pair of pants you expected.
A wide-leg pant plus a crop top equals a summer outfit staple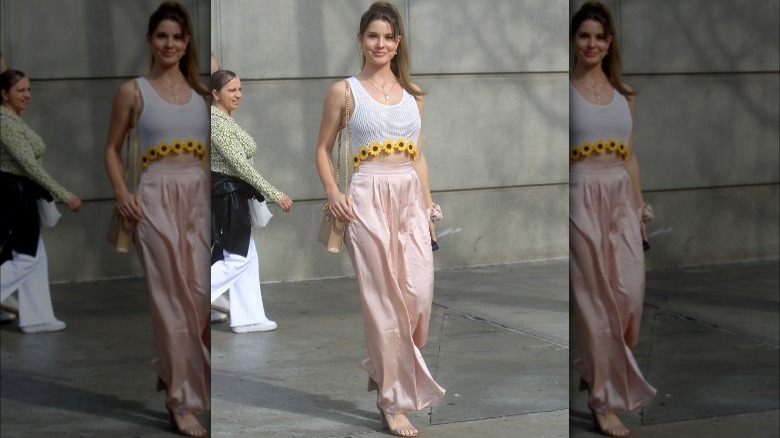 Hollywood To You/star Max
One of the best ways to find your style identity is to combine interesting silhouettes in your outfits. This is exactly what fashionistas have done with this surprising ensemble combo: the crop top and the wide-leg pant. For some, the wide-leg pant might be intimidating. Unlike skinny jeans or leggings, these billowing trousers do not shape your legs. However, wide-leg pants will not automatically make you look frumpy. Just think of Coco Chanel's iconic go-to 'fits that often included this silhouette! 
The key to success with this design is to show some skin elsewhere in order to make the most of your figure. The crop top is the perfect tool for this. Retailers like Lulus are even selling matching sets with wide-leg pants and crop tops, allowing you to pair a top and bottom easily. If you aren't sure where to start with picking up this 2023 summer trend, here are some tips.
How to style a crop top and wide-leg pant combo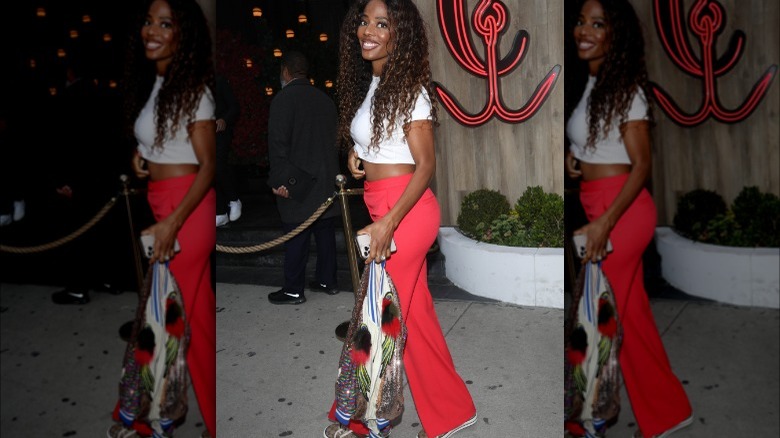 Jfizzy/star Max
When looking for the ideal pair of wide-leg pants, think about what cuts look best on your body type. If you are petite, consider cropped wide-leg pants like these Max Studio trousers to ensure you won't be swallowed by the fabric, especially if you are planning on wearing flat shoes. You can also find wide-leg options for jeans like these from J. Crew Factory — just ensure you check to make sure they aren't bootcut and are indeed wide-leg jeans. 
As for finding a crop top that goes with wide-leg pants, think about how much skin you would like to show. Not all crop tops and wide-leg pant combos require the midriff to be revealed in order to create an interesting silhouette. A cropped tee like this casual American Eagle option would be a comfortable choice for this summer outfit so long as it lands right above the waist of your pants. For the more adventurous fashion fans out there, consider a cropped tank like this one from Banana Republic Factory to juxtapose against your wide-leg pant. No matter what your personal style is, there is a place for this fun summer combo.