What We Know About Jennifer Aniston's Half-Siblings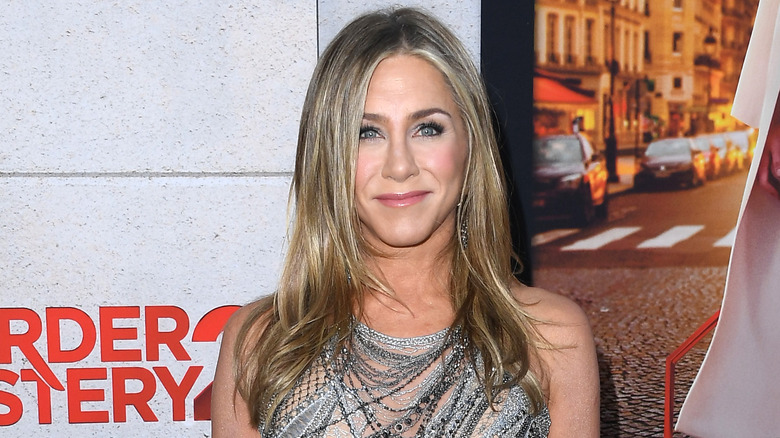 Steve Granitz/Getty Images
From the moment she rushed into Central Perk wearing a wet wedding dress to getting off that plane in the final episode, Rachel Green, played by Jennifer Aniston, was a "Friends" fan-favorite. The show, which ran from 1994 up until 2004, made Aniston a household name. It even popularized a new haircut ("the Rachel") named after her character and made the actor $1 million per episode by the final season. Not a bad deal.
"Friends" forever changed the lives of Aniston and her five co-stars, but it also revolutionized how many of us think about family — or rather, chosen family. "There are people who say that watching 'Friends' has saved them during cancer diagnosis, or so many people with just so much gratitude for a little show," Aniston told Allure. Speaking of family, Aniston was primed for the world of Hollywood thanks to her father, John Aniston, and her mother, Nancy Dow. 
John appeared on "Days of Our Lives" for nearly four decades, while Dow was in "The Beverly Hillbillies" and "The Wild Wild West." Although the "Friends" star is the only child that resulted from her parents' rocky 15-year union, she has a half-brother, John Melick III, from her mother's first marriage to Jack Melick and another half-brother, Alexander "AJ" Aniston, from her father's second marriage to Sherry Rooney. Unlike their sister, both have remained off-camera. 
Jennifer Aniston is technically a middle child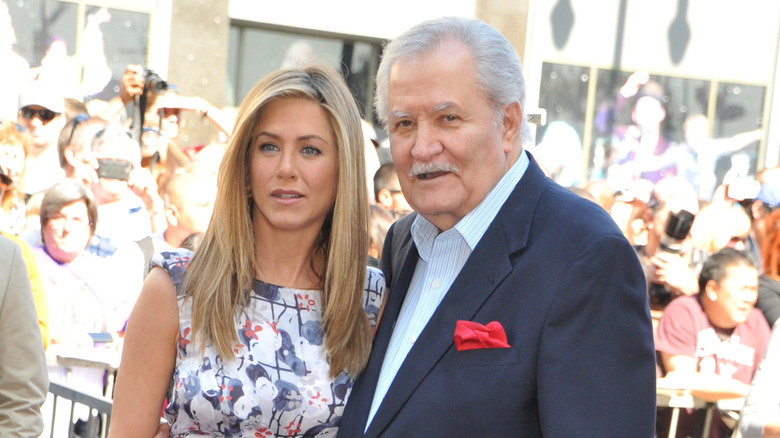 Frank Trapper/Getty Images
Before Nancy Dow tied the knot with John Aniston in 1965, she was married to the pianist Jack Melick from 1956 to 1961. In 1959, the couple welcomed a son, John Melick III. The eldest of Jennifer Aniston's siblings, Melick III has also made a name for himself in Hollywood. However, unlike his half-sister, he's chosen to remain behind the scenes as an assistant director. Melick III has worked on movies like "Thirteen" and "Horse Girl." In 2016, Jennifer mentioned her brother in a statement to Us Weekly about their mother's death: "It is with great sadness that my brother John [Melick] and I announce the passing of our mother Nancy Dow." 
The TV icon's youngest brother, Alexander "AJ" Aniston, would prefer not to be asked about his famous family. Born in 1989 to John and his second wife, Sherry Rooney, AJ grew up with a world-renowned sibling and didn't always like it. As he informed the Daily Mail, when they approached him at Burning Man in 2013, "It's been happening since middle school [people asking about Jennifer]. It's been a pain in my ass for years. No comment." 
In 2004, the youngest Aniston supported his half-sister at the premiere of "Along Came Polly," but the two have made infrequent appearances together in the decades since. As alleged by an anonymous Daily Mail source in 2017, "Jen hasn't had much to do with AJ since he was 14, but she hears about him from [their father] occasionally." According to the insider, AJ also self-identifies as "an anti-consumerist punk."
She had a strained relationship with her mother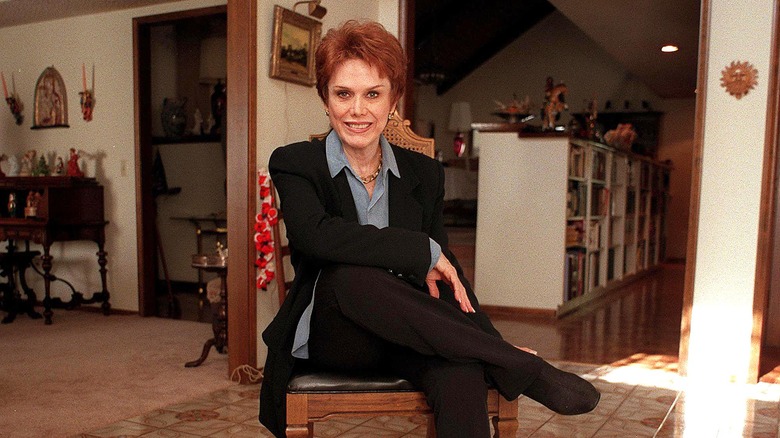 Paul Harris/Getty Images
Oftentimes, art is at its best when it imitates life. Jennifer Aniston had a tumultuous relationship with her mother, Nancy Dow, something which was reflected in her movie "Dumplin," which was released in 2018. "[The movie] kicked up stuff for me about my mom and our relationship," Aniston admitted to USA Today following the premiere, adding, "It was definitely push-pull. My mom wasn't doing anything intentional to damage any self-esteem of mine, as we discussed in our older years together." 
Dow, who'd previously worked as a model, was often critical of her daughter's appearance. In 1999, she wrote a memoir entitled "From Mother and Daughter to Friends," which detailed Aniston's astronomical rise to fame. This injured their already fractured relationship even further. "She made a mistake and I don't think she knew any better, obviously," Aniston argued in a 2004 interview with Diane Sawyer (via YouTube). The pair didn't speak for years, and Dow wasn't invited to Aniston's 2000 wedding.
Fortunately, they were able to mend their broken relationship after Aniston's divorce from Brad Pitt in 2005, and before Dow's death in 2016. Although the "Friends" star doesn't have any children of her own, she is an aunt several times over thanks to her two half-brothers. Understandably, the actor has tried her best to keep her personal life private so it's unclear whether she's close with her nieces and nephews.