Pete Davidson Is Unlikely To Roast Kim Kardashian In The Future - Here's Why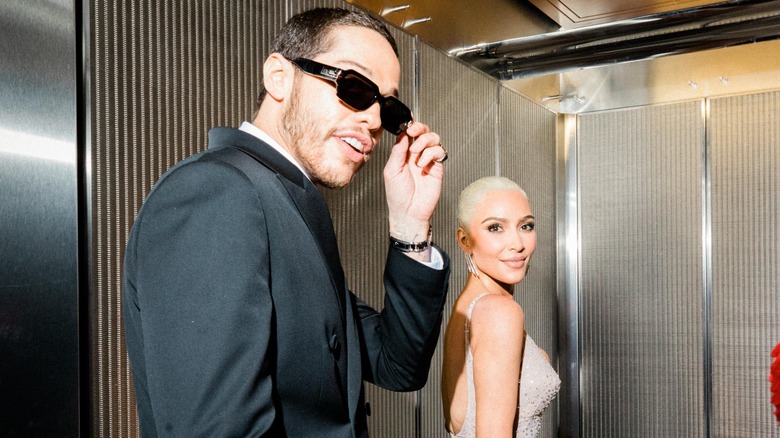 Sinna Nasseri/Getty Images
Before they started dating in 2021, Kim Kardashian and Pete Davidson were already known for their high-profile relationships with other people. The "Saturday Night Live" alum had been linked to the likes of Ariana Grande, Kate Beckinsale, and Kaia Gerber, and Kardashian was in the midst of a divorce from rapper Kanye West. Despite their histories, many were still surprised when they made their romance official in October 2021. 
Over the course of their nine months together (they announced their split in August 2022), Davidson got a total of four Kim K inspired tattoos. One read "My girl is a lawyer," referencing Kardashian's recent foray into law, and another said simply, "Jasmine + Aladdin," paying homage to their 2021 meet cute on the set of "Saturday Night Live." In one skit, the pair played the iconic Disney couple and even shared a kiss on a magic carpet. As the reality star and business mogul explained on "Good Morning America," she was the one that pursued Davidson, sending him that first text after "SNL" wrapped. "That's so not me," she commented. 
Although they shared several iconic moments including the 2022 Met Gala, it wasn't meant to be for the A-list couple. Regardless, Pete Davidson doesn't plan to joke about Kim Kardashian anytime soon, although Kanye West is fair game. Here's why.
Pete Davidson won't mention Kim Kardashian by name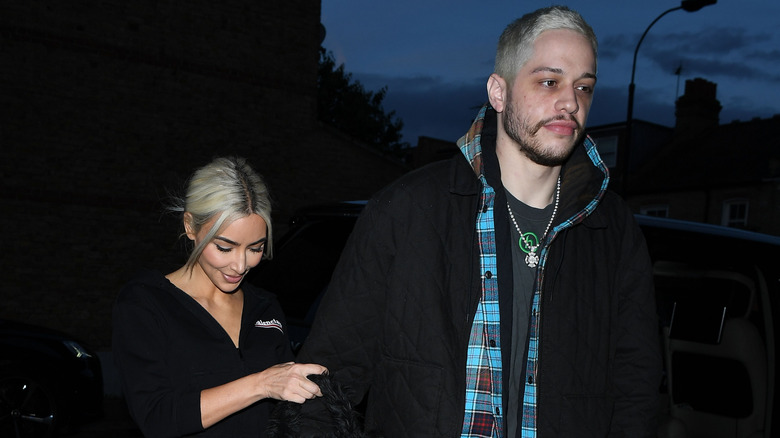 Mega/Getty Images
Before the Hollywood Writer's Strike took off in May 2023, Pete Davidson was set to return to "Saturday Night Live" as a host. However, Kim Kardashian was off the table when it came to sketch inspiration. "He's being a gentleman," an anonymous source told Page Six, explaining that the pair agreed to a clean split in August 2022. "That's why she's not mentioned in his stand-up." Although Kardashian may go unnamed, Davidson hasn't shied away from referencing her ex-husband, the artist formerly known as Kanye West. 
"I had a really weird year," he explained in a recent Netflix stand-up set, per YouTube. Over the course of Davidson's relationship with Kardashian, he became a popular punching bag for Ye. In March 2022, the rapper published a music video for his song, "Eazy." The video, which showed the rapper kidnapping a claymation version of Davidson and burying him alive, came under fire for its explicit content. 
 In a (now deleted) tweet, the "Gold Digger" rapper asked his supporters for a favor, writing, "IF YOU SEE SKETE IN REAL LIFE SCREAM AT [THE] LOOSER AT THE TOP OF YOUR LUNGS AND SAY KIMYE FOREVER." Eventually, after Kardashian expressed concern, Ye discouraged violence against Davidson, aka "Skete." "IM GOING TO HANDLE THE SITUATION MYSELF," he wrote, per Insider. As an anonymous source told People, "The attention and negativity coming from Kanye and his antics is a trigger for [Pete], and he's had to seek out help." 
If you or someone you know needs help with mental health, please contact the Crisis Text Line by texting HOME to 741741, call the National Alliance on Mental Illness helpline at 1-800-950-NAMI (6264), or visit the National Institute of Mental Health website.
Pete Davidson got his Kim Kardashian tattoos removed and is dating someone new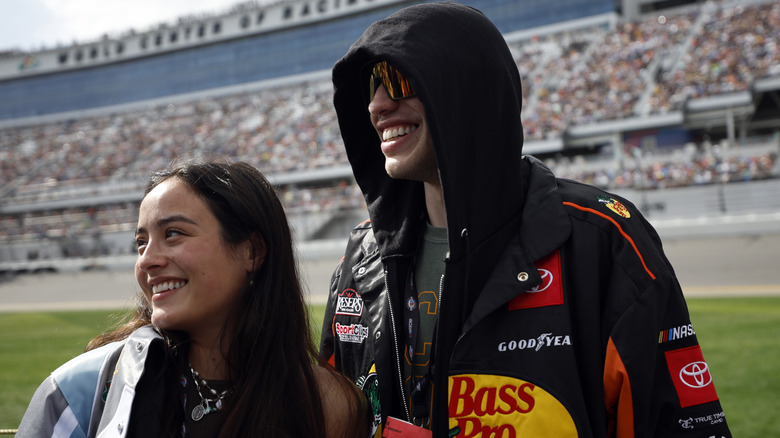 Chris Graythen/Getty Images
If beach pics are any indication, Pete Davidson got his four Kim Kardashian tattoos removed after their split in August 2022. As Kardashian later noted in Season 3 of Hulu's "The Kardashians," her ex-husband was a constant source of stress during their nine months together. "[Pete] went through a lot, because, you know, of my relationship," she revealed on the show (via Entertainment Tonight).
Despite the complexities of their relationship, the two appear to still be on good terms. They were even pictured catching up at this year's Met Gala — clearly, there's no animosity. In recent months, Davidson has entered into other high-profile relationships. He briefly dated model, actor, and author Emily Ratajkowski before moving on to his "Bodies, Bodies, Bodies" co-star, Chase Sui Wonders. "Pete couldn't be happier with Chase and things are going great," a source told Us Weekly, adding, "Although they've only been dating a few months, things are getting pretty serious between them. They spend a lot of their free time together. They're constantly laughing, joking around, and just having fun." It appears their on-screen chemistry is just as effortless when they're not in front of the camera.
As for Kardashian? After her split from Davidson, she opened up about her dating goals. According to the most recent season of "The Kardashians," she's been casually seeing someone new, a man she simply calls "Fred." Some theorize it could be Tom Brady ... only time will tell.