Pete Davidson's Kim Tattoo Is Even More Permanent Than You Think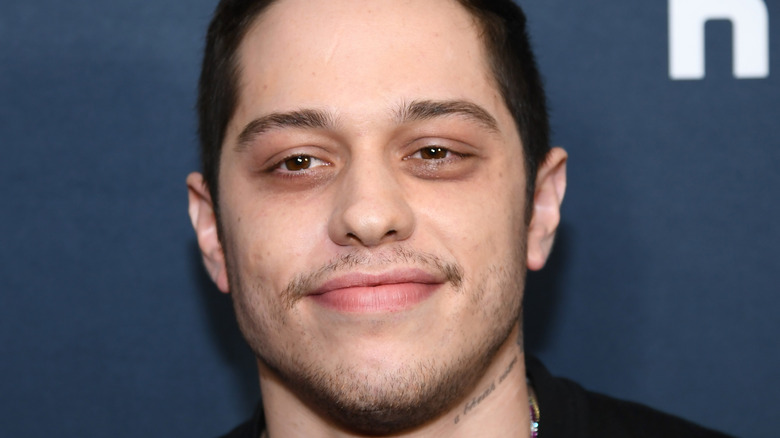 Dimitrios Kambouris/Getty Images
Pete Davidson must believe his love with Kim Kardashian is of the lasting kind. Consider that the tattoo eagle-eyed fans spotted on the inked star's chest paying homage to his reality star girlfriend is even more permanent than you may think.
As Page Six reports, Kardashian sat down with Ellen DeGeneres Wednesday and revealed the marking bearing her name, "isn't a tattoo." So what is the new body art? "It's actually a branding," the mom of four told the host.
"He wanted to do something that was really different," she went on to explain, adding, "That's what tattoo people do, right? They get tattoos of what's going on in their life, so I was like, 'Is it special?'"
As followers of the "SNL" star know, Davidson recently shared he was removing his tattoos, which Kardashian confirmed while talking to DeGeneres. "He's in the process of getting rid of his arm tats and his neck tats." She said the actor told her about his decision to get the branding, "I don't want to be able to get rid of it or to cover it up, and I just wanted it there as a scar on me."
And yes, DeGeneres confirmed it was an iron brand that burned the name "Kim" into Davidson's skin.
Pete Davidson also got tattoos for Kim Kardashian
Just because Davidson got a branding of Kardashian's name and is having some of his ink removed, doesn't mean the comedian is completely over tattoos. As the SKIMS founder told DeGeneres Wednesday, "He has a few tattoos, a few cute ones that he got ... My favorite one, it says, 'My girl is a lawyer.' That one's really cute" (via Page Six).
The star's interview with DeGeneres comes as her ex, Kanye West, was temporarily banned from Instagram due to harassing posts. We also learned this week that the longtime talk show host has set a date for ending "The Ellen DeGeneres Show." As Deadline reports, her eponymous show will air its final episode on May 26, 2022. Kardashian is part of a finale lineup of guests, which also include Michelle Obama, Jennifer Garner and David Letterman.
Meanwhile, the news that Davidson branded Kardashian's name on his chest was trending on Twitter. "just learned that Pete's 'Kim' tattoo is in-fact a branding. i will no longer settle for a man getting a tattoo of my name, it MUST be a branding of my name," one person tweeted. "Pete has a BRANDING of Kim's name and I can't even get a text back," joked someone else.