Debbie Reynolds And Carrie Fisher's Mother-Daughter Relationship Wasn't Always Close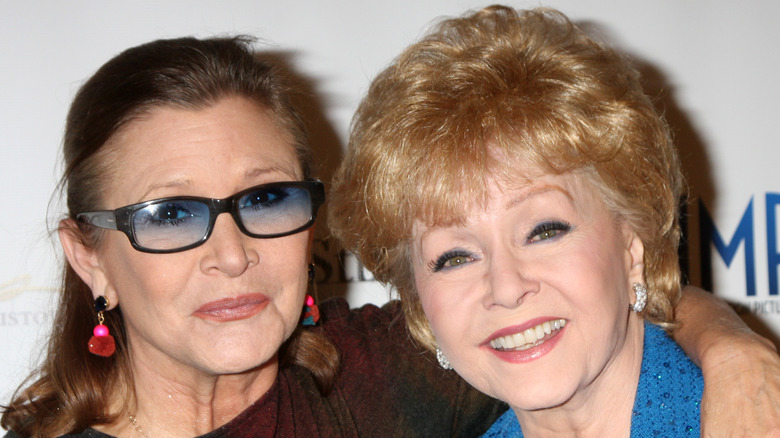 Kathy Hutchins/Shutterstock
Mother-daughter actors Debbie Reynolds and Carrie Fisher remain icons in the entertainment industry and within pop culture even years after their tragic deaths. Carrie Fisher's heartbreaking death struck millions of fans in 2016, with the "Star Wars" fan base remembering her forever as Princess Leia. But the actor truly had been born into royalty — Hollywood royalty at least. The daughter of Old Hollywood star Reynolds, who was known as America's sweetheart, Fisher had big shoes to fill.
Though the two were close during the later years of their lives, they had a tumultuous relationship for decades. Reynolds and Fisher did not speak for years for a sad reason that stemmed from the complexities of their mother-daughter dynamic. Reynolds and Fisher shared some of the nuances of their relationship in interviews and memoirs, reminding us all that the pressure of fame can take a toll on even some of the most loving and integral relationships.
Carrie Fisher didn't speak to her mother for 10 years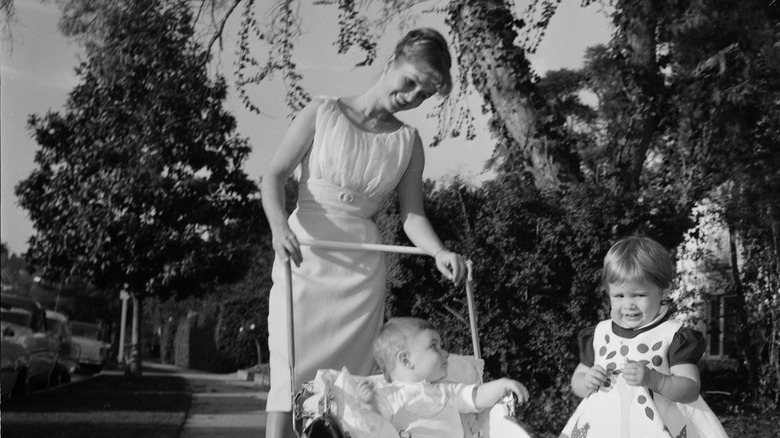 Michael Ochs Archives/Getty Images
Debbie Reynolds struggled to maintain the robust schedule demanded of her as one of Hollywood's biggest stars and a mother of two to Todd and Carrie Fisher. "I've always been a good mother, but I've always been in show business, and I've been on stage and I don't bake cookies and I don't stay home," Reynolds once told People of her life as a mom.
Fisher, like Reynolds, got her big break in Hollywood at age 19. It came when she landed the role of Princess Leia in the "Star Wars" franchise. But, as she made headway in her acting career, Fisher grew apart from her mother, and the two reached the point of uncomfortable silence. "We had a fairly volatile relationship earlier on in my 20s," Fisher once shared on "The Oprah Winfrey Show" (via People). Animosity had brewed due to Reynolds' fame — a burden Fisher wished not to carry. "I didn't want to be around her. I did not want to be Debbie Reynolds' daughter," she added.
Fisher's mother had to deal with this devastating reality. "It's very hard when your child doesn't want to talk to you and you want to talk to them, and you want to touch them, you want to hold them," said Reynolds (per People). "It was a total estrangement. She didn't talk to me for probably 10 years. So that was the most difficult time of all. Very painful, very heartbreaking."
Reynolds and Fisher's relationship was not lost forever, though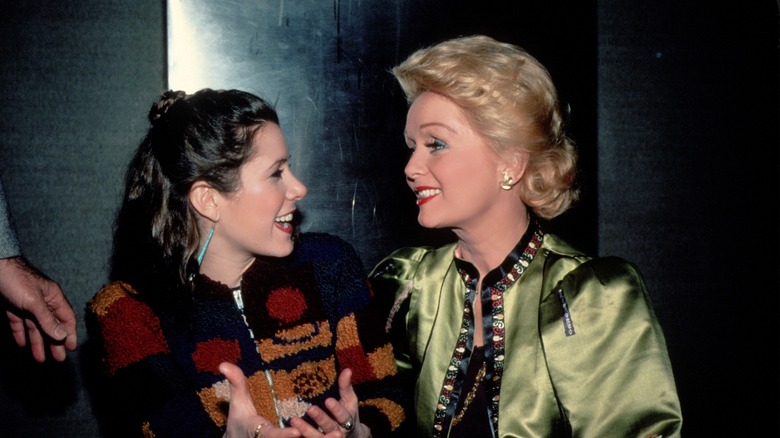 Images Press/Getty Images
Time is said to heal all wounds, and such was the case for Debbie Reynolds and Carrie Fisher. The two eventually healed their relationship. "It took like 30 years for Carrie to be really happy with me," Reynolds once shared with People.
In fact, Fisher once gave a speech remembering the difficult task her mother had been handed of being both a superstar and mother. "She has been more than a mother than me — not much, but definitely more," Fisher said when presenting the 2015 SAG Life Achievement Award to her mom (via Vanity Fair). She spoke with more warm sentiments for her mother in interviews near the end of her life, even dedicating her last book to her with a funny and heartfelt message: "For my mother — for being too stubborn and thoughtful to die. I love you, but that whole emergency, almost dying thing, wasn't funny. Don't even THINK about doing it again in any form."
In the end, the two eerily died just a day apart. Fisher suffered a cardiac event on a plane, dying four days later of "sleep apnea and other undetermined factors" possibly related to drug use and atherosclerotic heart disease. Her mother died just a day later at the age of 84. Per TMZ, Reynolds' last words were "I miss her so much; I want to be with Carrie."