What Only True Fans Know About Hallmark's Ride Star Sara Garcia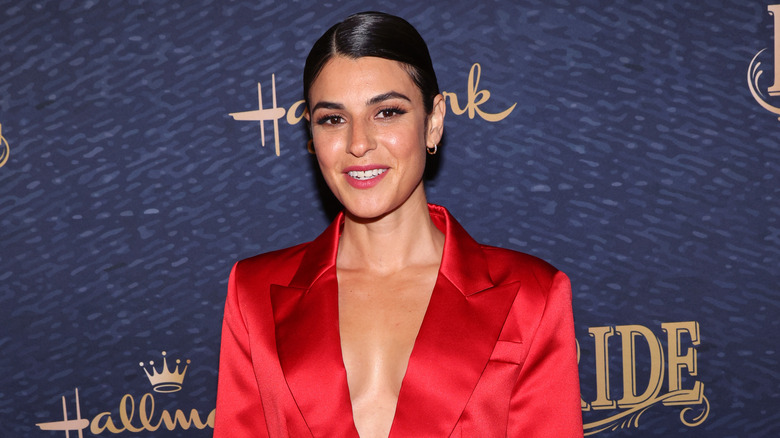 David Livingston/Getty Images
Who doesn't love a good dynasty? Hallmark Channel's "Ride" features the McMurrays, a Colorado clan well-known along the ranch and rodeo circuit. Tucked within the McMurray bosom is an orphaned teen, Valeria Galindo, who's become a surrogate daughter to the family's matriarch. 
Valeria is played by Sara Garcia. "I knew right away I was going to fall in love with playing her," Garcia told Out Loud Culture. "Valeria is spunky, tough, and fiercely loyal. She loves unapologetically and would do anything for the people she calls family." Prior to portraying Valeria, Garcia starred in two seasons of CW's "The Flash," performed on Netflix's "My Little Pony," and led the film cast of "True Fiction." As Hallmark reports, her voice work can be heard on productions from Amazon Prime and Apple TV/Dreamworks, and she's played roles in video game franchises, "Far Cry 6" and "Starlink: Battle for Atlas."
The actor expressed in an interview with Hola that she's a lot like the complex and layered character of Valeria Galindo, so it was not a difficult role to play. Valeria's passion for both the family and the ranch was easy to understand. "Everything she does is rooted in love, and though she makes mistakes, her journey through the series is finding a way to open up and be vulnerable with the people she loves most." The actor and character may share similar feelings, but not all aspects of the role came naturally to Garcia.
Garcia continues her education on set and off
Sara Garcia's work in "Ride" required a good deal of study. "I had no prior ranch or horseback riding knowledge," she explained to Out Loud Culture. She attended an Equine Therapy session that taught her "a lot about the horse's body language, how to respect them, and communicate with them." The show is filmed on a working Calgary ranch, where the actors were taught by professional ranch hands and ranch wranglers, who have extensive experience handling animals. Since Garcia lacks Val's card talent, she teamed up with a pro to learn how to play poker (via TV Fanatic).
Garcia is no stranger to education. She graduated from Queen's University, double majoring in global development and theater, and won a work-study scholarship at Fudan University in Shanghai. The foreign program was "an incredibly influential and important chapter in my life," she told Out Loud Culture. In Shanghai, Garcia played Carol in David Mamet's "Oleanna," Hedda Gabbler in the Ibsen play, and performed three different characters in a Chinese/English production of "3 Cinderella's," according to her website. Another signature experience was her volunteer work, teaching English language skills and health within the migrant school system for Roots & Shoots, a youth action program of the Jane Goodall Institute. 
While in Shanghai, Garcia built strong friendships and met her future life partner. Mentioning her partner, she proudly adds that she is queer — but this is not the detail that only true fans would know.
What's in a name?
It's clear Sara Garcia possesses many talents plus the ambition to cultivate her gifts. Having taught herself the ukulele, she's moved on to learning the guitar and penning original tunes, she shared with Just Jared. She's also a painter whose compositions express what's inside while also aiding her health. Her brush moves with her breath, allowing her to stay in the moment and push past anxiety. 
Discussing her role in "Ride" and the family at the center of the series spurs Garcia to contemplate her own origins. Her father, a native of Uruguay, immigrated with his family to Canada when he was a small child. By contrast, her mother possesses Lebanese and Scottish roots, which helps explain her unique middle name. The wide divergence of these three cultures has not prevented Garcia from feeling connected to each. She told Hola, "I remember [my abuela] teaching me how to cook and speaking Spanish to me when I was really little. She maintains that Spanish was my first language and that I would even sing to her in Spanish." In the same interview, Garcia revealed what only true fans would know: she actually grew up speaking not Spanish, not English, but French.
Her grasp of various languages — and cultures — may be the source of complexity she's imbued into her character for the Season 1 finale of Hallmark's "Ride." "Val is an enigma," Garcia told TV Fanatic. "She's a mystery through and through and has lots of twists and turns."