What We Know About Hailee Steinfeld's Rumored Romance With Josh Allen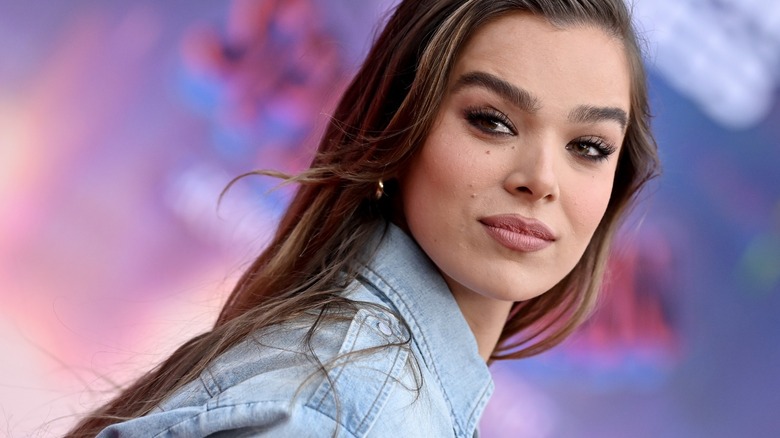 Axelle/bauer-griffin/Getty
Actor and musician Hailee Steinfeld and Buffalo Bills quarterback Josh Allen were spotted out and about together in May 2023, sparking rumors that the duo were romantically linked. Previously, Allen dated Pilates instructor Brittany Williams. Allen and Williams knew each other as children and started dating in 2017. Although they have not made an official statement about a breakup, Williams unfollowed Allen on Instagram and deleted their photos together in April 2023. Allen has unfollowed Williams as well. 
The cake Williams received for her birthday that month also included the hashtag #MHWN, which translates to "My husband would never," and the caption in her post shouted out her girlfriends and made no mention of Allen.
Following the speculation that Allen and Williams had ended their relationship of five years, Allen and Steinfeld were seen together in New York City. In the first sighting of the two of them, Allen put an arm on Steinfeld's back, implying that they are more than friends.
Sources confirm that Steinfeld and Allen are official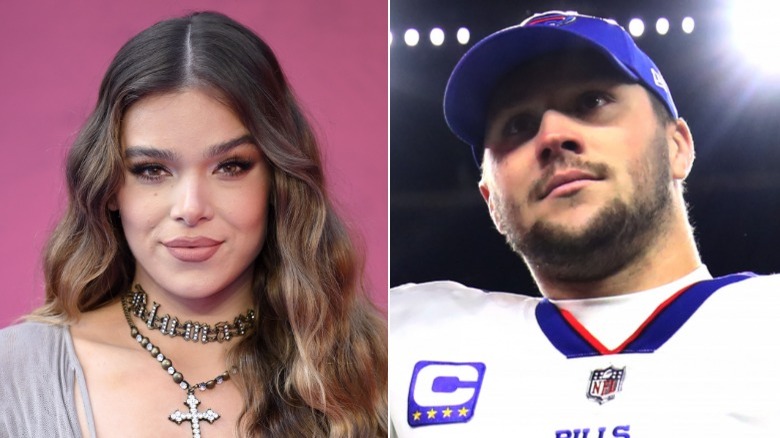 Karwai Tang & Adam Glanzman/Getty
Shortly after they were seen together a couple of times, People reported that Hailee Steinfeld and Josh Allen are officially dating. A source told People, "It's new, but they are having fun." A source told Us Weekly that the two of them always have fun together, but that Steinfeld is aware of Allen's recent breakup and keeping her expectations in check for now. The source added, "Josh is the first guy in a while she's been really interested in." Before her relationship with Allen, Steinfeld dated celebrities such as Cameron Smoller and Niall Horan. One of Steinfeld's songs, "Wrong Direction," is rumored to have been written about ex-boyfriend Horan. 
In an interview with People that was released in May 2023, prior to the dating rumors, Steinfeld said she was single and said, "I'm not really looking, so I don't have a list of things. But I think the right person comes along when they do, and I imagine that's the greatest thing ever." She also added, "I can only hope that it emulates what I grew up around."
Fans have interesting reactions to the relationship news
Some people are surprised by the new romance between Hailee Steinfeld and Josh Allen. TikToker @overtimekevv commented on the photos of the couple walking around New York together. In his video, he said he thought the photos were doctored at first, explaining, "My eyes cannot believe nor process what they were seeing." He went on to show a photo of Allen and Niall Horan side by side, remarking that the two men look similar. He concluded with a call to action for Allen not to "fumble." "I would hate to have the title of 'dude who fumbled Hailee Steinfeld,'" he said. "I would not wish that title even on my worst enemy."
Distraught fan @vintdiego took to TikTok as well to share a voice message he sent to Steinfeld via Instagram DM. He said he doesn't often message celebrities and knows she won't see it, and continued with an impassioned cry: " ... HAILEE! I thought we had something! What happened? Why? Why him?" He continued by saying he understands that Allen is a wealthy NFL player, but added, "I got a heart! I have a heart of gold!"
Steinfeld's fans can currently hear her voice Gwen Stacy in the animated movie "Spider-Man: Across the Spider-Verse," which premiered June 2, 2023. Allen is the cover model for the new "Madden NFL 24" video game and the first player from the Buffalo Bills to be given the honor.