Everything We Know About Anna Kendrick's Friendship With Former Co-Star George Clooney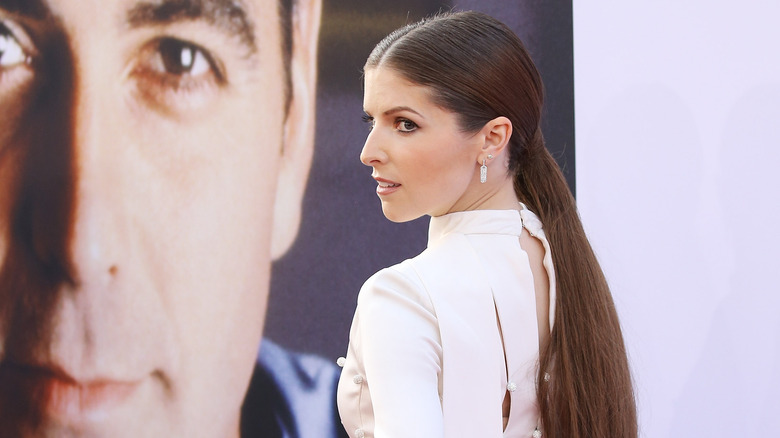 Michael Tran/Getty Images
Entertainment news is full of celebrities that can't stand to work together and so-called "insider" stories describing the ins and outs of collaborating with some of the harder-to-work-with stars. But it's more fun to hear about celebrities you didn't know were friends, and George Clooney and Anna Kendrick definitely fit the bill. During the filming of "Up in the Air," these two became fast friends, and it's not hard to see why.
While Kendrick is most famous for her role as Beca Mitchell in "Pitch Perfect" or Jessica Stanley in the "Twilight" franchise, she also crushed the role of Natalie Keener in "Up in the Air." In fact, Kendrick earned an Oscar nomination for her acting prowess in the film. Kendrick acknowledged being nervous about working alongside the legendary Clooney, but his charm and charisma helped to make her feel right at home on set. 
Working is always more fun when you're surrounded by friends, and this is even more important for actors who often spend months at a time on set. Luckily, these two built a strong bond of friendship even though Kendrick sparked a lighthearted rivalry between Clooney and one of her former co-stars. 
Clooney guided Kendrick and calmed her nerves during shooting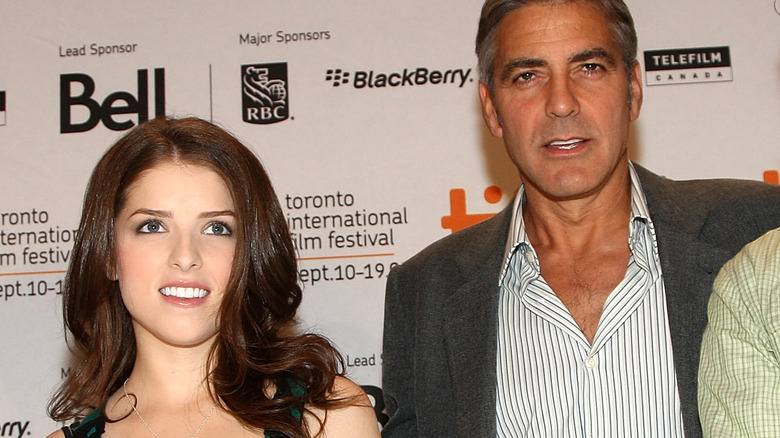 Alberto E. Rodriguez/Getty Images
While Anna Kendrick has become an A-list star over the years, the first time she acted alongside George Clooney, in "Up in the Air," she was exceptionally nervous. As Kendrick explained, during an appearance on the "WTF with Marc Maron" podcast, "George was so nice. I didn't meet him until we were on set together. There was the first thing we shot together, we were doing a sort of walk-and-talk, and we were waiting to go, and he was like, 'Do you get nervous? I get nervous.' I was like, 'Oh, my God!' It was the smallest thing, but it, like, opened up my world," (via Vanity Fair). 
The actor went on to talk about how the well-known prankster would take the time to run lines and even threw Nerf balls at her to help Kendrick stay calm. She also told Vulture how being able to tell Clooney off during some of their scenes together was the perfect stress reliever. Between their on-screen arguments and off-screen laughs, Clooney and Kendrick built a proper friendship that made a lasting impact on her. 
As the actor informed Marie Claire UK, "It was really fortunate that on one of my first big movies, I got to work with George Clooney, he is someone who has really managed to live a real and normal life." But the friendship between these two didn't end on set. 
Kendrick helped ignite a light-hearted rivalry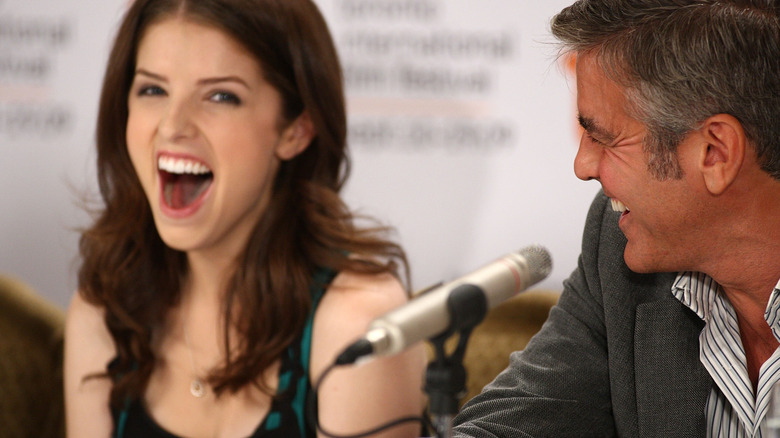 Alberto E. Rodriguez/Getty Images
Some of the best friendships are built on rivalries. While Anna Kendrick doesn't have one with George Clooney (yet), she sparked a light-hearted competition between him and Robert Pattinson. Due to the scheduling flexibility, Kendrick was able to film on the sets of "Twilight" and "Up in the Air" simultaneously. When she flew in to work on "Up in the Air," Clooney liked to poke fun at her by quipping that he was sorry "You're not working with Mr. Handsome," as Kendrick recalled on "The Ellen DeGeneres Show." 
Not taking Clooney's taunts lightly, Kendrick fanned the flames of a rivalry by having Pattinson sign a GQ magazine, featuring himself on the cover: "To George, Best of Luck. Hang in there. Love Rob." Clooney met the challenge by providing Pattinson with an Esquire magazine signed, "Love, George, two-time Sexiest Man Alive." Since Clooney was named People's Sexiest Man Alive in 1997 and 2006, he might have won that competition. 
However, in 2020, Men's Health did confer that, according to some very complex scientific calculations, Pattinson is the Most Beautiful Man in the World. So, there might never be a clear winner between those two hunks. Through a lot of laughs, poking fun, and time spent on the "Up in the Air" set, Clooney and Kendrick built an easy rapport with bonds that will be hard to break.