Cameron Diaz's Regrets Over Botox Show Her Refreshing Take On Aging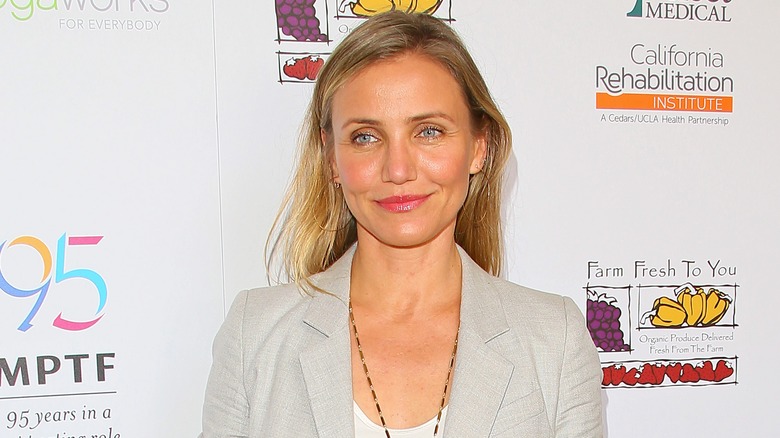 Jb Lacroix/Getty Images
We may receive a commission on purchases made from links.
Aging is a topic that makes many people uncomfortable which is probably why there are so many anti-aging procedures available out there. You can take your pick from collagen induction therapy and dermabrasion to mesotherapy and chemical peels to try and stall looking old as the years go by. 
But Cameron Diaz has a refreshing take on a more commonly known age-reversing cosmetic procedure — Botox — which the actress said she tried and regrets. During an interview with Entertainment Tonight's Beth Stern, the "Bad Teacher" star shared, "I've tried it before. You know, that little tiny touch of something and it changed my face in such a weird way that I was like, 'No, I don't want to.' I'd rather see myself. I'd rather see my face aging than a face that doesn't belong to me at all." 
If you've seen what Cameron Diaz looks like going makeup free, you probably already know that the actress, who returned from retirement to join the cast of the Seth Gordon film, "Back in Action," is a fan of the natural look. 
Cameron Diaz: 'People who accept aging actually age better'
Cameron Diaz has been open about her feelings on growing old for a while now and the star has discussed the science behind it all in her 2016 book, "The Longevity Book: The Science of Aging, the Biology of Strength, and the Privilege of Time." 
Discussing the book on "Good Morning America," she said, "One of the parts of research that I thought was very interesting was that people who accept aging actually age better. You actually put up to six years more onto your life once you accept that you are aging." Diaz went on to talk about how our minds and bodies are connected that way. "It's a mindset. The body follows the mind in anything." 
Her book discusses the five pillars of well-being — a nutritious diet, exercise, adequate sleep, stress relief, and loving relationships. According to Diaz, these are all things we do every day while we live. "We all get up, we eat, we move our bodies, we sleep at night, we try to release stress in some way during the day, and we try to be around the people that we love," she said. Aging, to Diaz, is about learning to live and to live well. 
Becoming a mother in her late 40s changed how Cameron Diaz viewed aging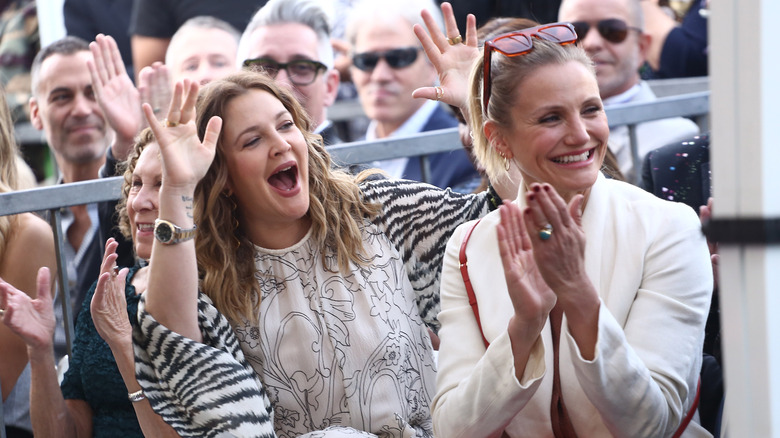 Tommaso Boddi/Getty Images
Cameron Diaz had a daughter, Raddix, with musician husband Benji Madden at the age of 47, and has spoken candidly about how having a daughter at that age has changed her entire perspective on aging. She has no regrets in that department. In an interview with Gwyneth Paltrow on the "The Goop Podcast," she shared, "It's totally opened up. I'm excited. I've got 50 or 60 years to go — I want to live to be 110, since I've got a young child." 
"The Holiday" star added, "I think you have this amazing moment in your 40s where you appreciate who your parents are, and I want to have that moment with her — be there with her in her 40s." And Diaz is confident she'll get there, mainly because of the stuff her family is made of. She continued, "My family's from sturdy stock. My grandmother was running around in the hot San Fernando Valley sun at 72, hauling big bags of rabbit feed and chicken feed around. I think I've got some of that." 
Her genes aren't the only things she's relying on though. Cameron Diaz's biggest beauty secret would probably be that the star is all about eliminating certain foods and ingredients from her diet, such as sugar. Creating the best possible environment for your body so it has everything it needs is the difference between aging well and not, according to Diaz.