Why Tucker Carlson's Career At MSNBC Came To An Abrupt End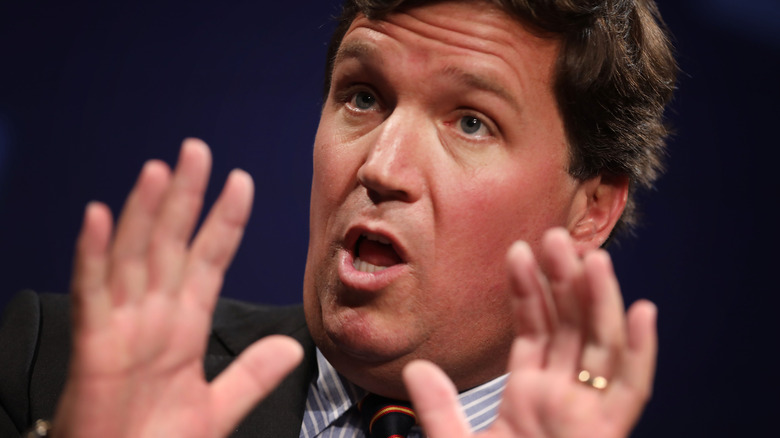 Chip Somodevilla/Getty Images
Tucker Carlson, one of the most controversial voices in journalism, was not always the angry face of late-night conservative news. Before he became the Tucker Carlson of Fox News we know today, both fans and critics may both be surprised to know that he spent three years at the polar opposite — liberal-leaning news network MSNBC. However, this stint came to an abrupt end due to his show's low ratings and a tempting offer from Fox News.
MSNBC was actually the last in a long line of surprising networks that appear on Carlson's resume. Since the year 2000, the media zealot has been a face amongst many broadcasting news channels. He began as a host of "The Spin Room" on CNN, which lasted five years until its cancellation in 2005. During his time at the network, he was also debating prominent figures on his show, "Crossfire," where his long-standing beef with John Stewart began after a famously difficult debate between the two turned sour. Insider reported that Carlson also had a short-lived position at PBS. 
According to former colleagues, there was a time when he was known simply for his excellent journalism skills and hard-working energy. Per Columbia Journalism Review, Talk magazine's Tina Brown said about her former employee, "Tucker is a tremendously good writer and I always thought it was a real shame that he kind of like got sucked into this TV mania thing."
His resume has a few surprising footnotes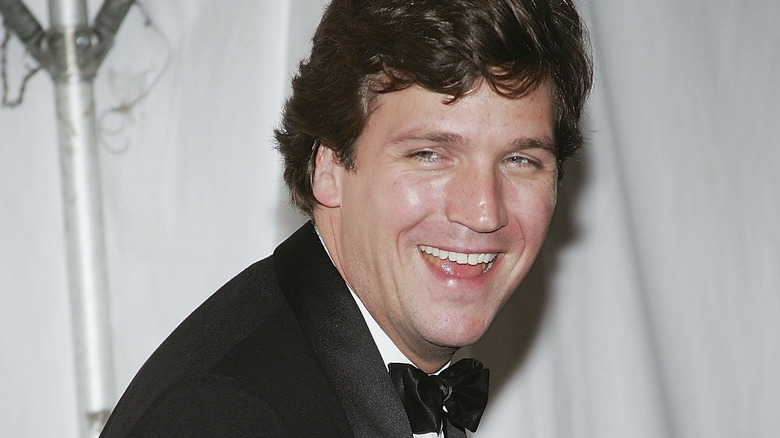 Evan Agostini/Getty Images
Tucker Carlson began working for MSNBC in 2005, hosting his own show that NBC reported would be "a fast paced, no-holds-barred conversation about the day's developments in news, politics, world issues and pop culture." The show was originally titled "The Situation with Tucker Carlson" until it was rebranded to reflect the host's namesake, "Tucker." It aired on MSNBC for three years but was abruptly canceled after consistent reports of low ratings. According to The New York Times, MSNBC replaced him with David Gregory, who hosted the show "Race for the White House" in Carlson's former time slot. While the network had intentions of keeping Carlson on "as a campaign correspondent," his time with MSNBC did not last much longer after the cancellation of his show. In 2009, he accepted a job as a contributor on Fox News, where he slowly but surely became the force in conservative media we know today. 
While his current persona may not hint at the surprising fact that he spent time at MSNBC, Carlson was forever changed in at least one way thanks to his time at the network. Notably, his sense of fashion evolved, ditching the iconic bowtie he was once known for. Per The New Yorker, MSNBC told him to ditch his signature style, claiming that "[the bowties] encouraged the audience to view him as a character, or perhaps a caricature." 
Carlson's time at Fox also came to an abrupt end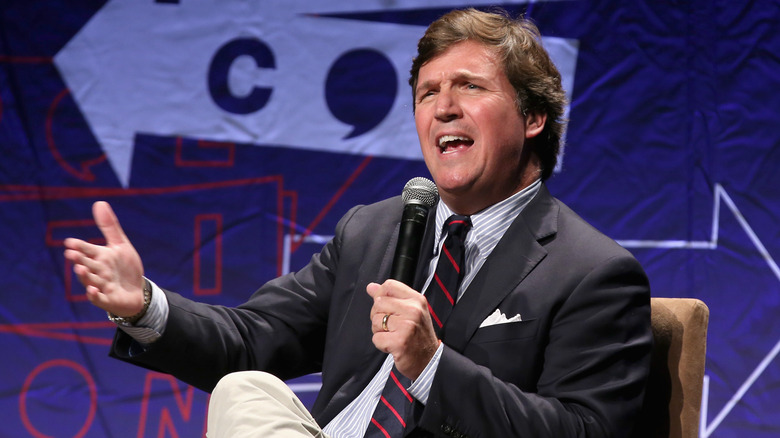 Phillip Faraone/Getty Images
Tucker Carlson was abruptly fired from Fox News in 2023. His show, "Tucker Carlson Tonight," was known for ruffling quite a few feathers with far-right ideas and unsubstantiated claims that millions of people tuned into nightly. The New York Times described the program as "the most racist show in the history of cable news." In a video posted to Twitter, Carlson shared his next career move: relaunching his show from everyone's favorite political discourse site, Twitter. He begins with the claim, "At the most basic level, the news you consume is a lie." Carlson views Twitter as the "only platform still allowing free speech" and announced that the show he once hosted on Fox News would soon be found exclusively on his Twitter feed.
Elon Musk, the owner of Twitter as of this writing, claimed that he had not made any kind of monetary agreement with Carlson. He replied to a tweet on Carlson's video announcement claiming that the journalist will be held to Twitter's community guidelines — ostensibly in the same way former president Donald Trump was when his Twitter was permanently deactivated "due to the risk of further incitement of violence," per the company's press release immediately following the events of the January 6th insurrection.