DAYS Legend Bill Hayes Celebrates His 98th Birthday In The Horton Living Room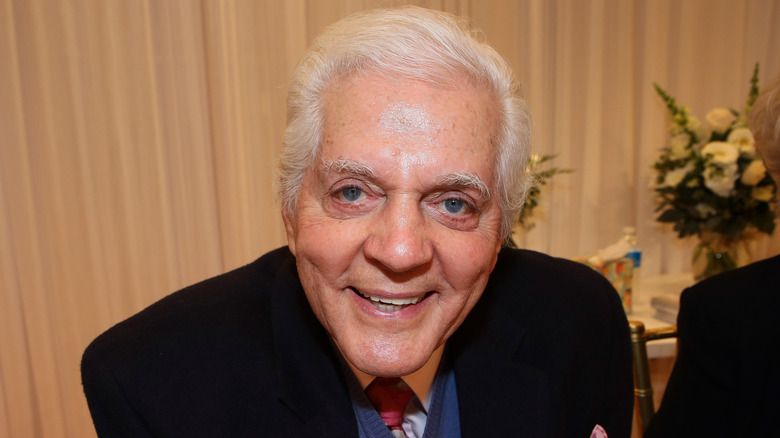 Scott Legato/Getty Images
"Days of Our Lives" Bill Hayes marked a huge milestone this week on the set of the iconic soap opera. The actor, who portrays the role of Doug Williams on the show, was surrounded by his co-stars and friends as he celebrated his 98th birthday in none other than the Horton living room. The actor and his wife, Susan Seaforth Hayes, were seen standing near his birthday cake as she revealed that her on and off-screen husband has been appearing on the sudser since 1970, just five years after its debut. She also told everyone on set that Hayes was the first performer to ever sing on daytime television.
The actor's cake featured an old black and white photo of him and two numeric candles that read 98. "Wow," Bill said upon seeing the cake. The actor was supported by his co-star Billy Flynn, who plays the role of Chad DiMera on the show as the cast and crew sang him "Happy Birthday" to honor his special day. "Thank you," Hayes said before getting a sweet kiss on the cheek from his wife.
In an Instagram post sharing a video and photos from the celebration, the husband and wife duo thanked everyone for honoring the actor. "Thank you to our cast and crew for celebrating Billy's 98th Birthday on set today. And the double chocolate cake was delicious," the caption read.
Hayes earned a Lifetime Achievement Award in 2018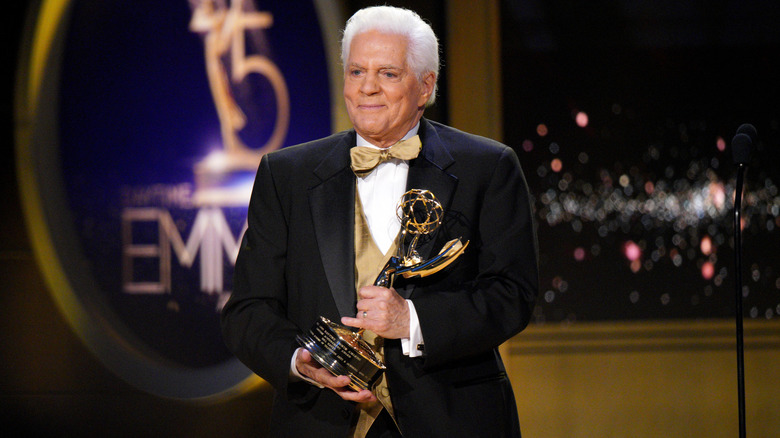 Jc Olivera/Getty Images
Bill Hayes celebrating his birthday on set in the Horton living room seemed fitting, as he's been part of many scenes on that particular set as a member of the family. After he was cast as Doug Williams on "Days of Our Lives," fans learned that the character was a con artist who also sang at a local Salem restaurant. Doug soon found himself embattled in a love triangle with Addie Horton and her daughter, Julie Olson. Although Doug was in love with Julie, he eventually married Addie and the two welcomed a daughter together, Hope Williams. Shortly after Hope's birth, Addie tragically died. Doug and Julie later rekindled their romance, and Julie became a surrogate mother to Hope. 
In 2018, Hayes was honored with a Lifetime Achievement Award at the Daytime Emmys for his work on the sudser. Two years later in 2020, the actor celebrated his 50th anniversary with the show, per Deadline. "He is just warm and wonderful," executive producer Ken Corday told Soaps of Hayes. "He pops onto the set and is just affable and friendly and has that same great rhythm and tone we've all come to know and love. The man you see on screen is very much the man Bill is off-screen."