Jana Kramer Announces Pregnancy With Baby No. 3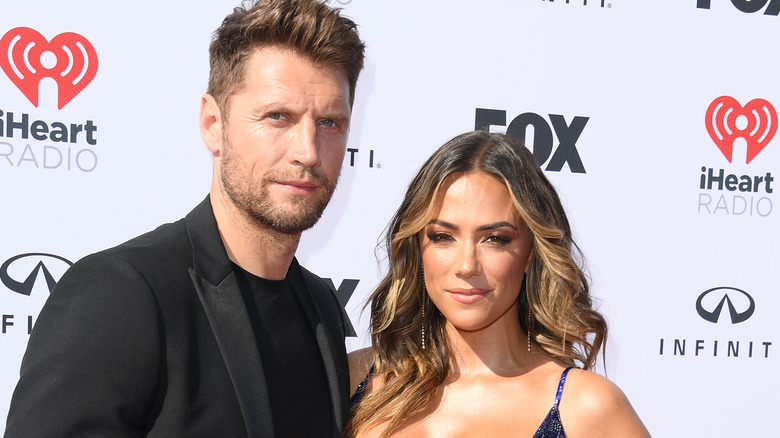 Steve Granitz/Getty Images
Jana Kramer is a country star, actor, and host of the podcast "Whine Down with Jana Kramer." Along with her busy career, Kramer is also juggling mom life. She has two children — a daughter named Jolie, and a son, Jace — with her ex-husband Mike Caussin. In May 2023, Kramer became engaged to Allan Russell, a Scottish soccer coach. The two met on a dating app, and Russell popped the question six months later. Shortly after, in June, Kramer and Russell made a revelation — they're expecting their first child together. This will be Kramer's third child and the second for Russell.
Kramer dropped the big news in an Instagram post, where she wrote, "We've been keeping another secret from you guys (I promise this is the last Announcement...at least for a little while, but I'm pregnant!!!! Beyond blessed and grateful for this baby to be a part of our story. I never thought I would see the word pregnant again on a test."
Kramer revealed to People that she found out she was pregnant in March while she was in Los Angeles for the iHeartRadio Music Awards. The singer, who previously had multiple miscarriages, told the publication, "I didn't think it would ever happen again, if I'm being honest. I've been through a lot, so this has just been a really beautiful thing."
She's spoken of her fertility struggles
Jana Kramer is one celebrity that has not shied away from discussing her fertility struggles. In a video posted on YouTube in 2018, she discussed her troubles conceiving her two children with ex Mike Caussin. She revealed that she underwent in vitro fertilization (IVF) and had a miscarriage before becoming pregnant naturally with daughter Jolie. After Jolie's birth in 2016, she went on to have two more miscarriages. Kramer did IVF again, only to have another miscarriage.
However, she was eventually able to conceive her son, Jace, naturally in 2018. After his birth, Kramer went on Instagram and detailed her experiences with IVF and miscarriages. She said that she felt like a failure and noted, "To all the woman out there who have suffered miscarriages and still waiting for your rainbow baby, you are not alone."
Speaking about her third pregnancy with fiance Allan Russell, Kramer told People that she wasn't sure she would be able to have another child, citing her previous miscarriages. She explained, "I'm like, yes, it'd be beautiful for us to create something because I love this man. It would be the silver lining with everything that happened, but I'd always get kind of down about it because I didn't know if I was capable of carrying a pregnancy again." Kramer said she feared she would miscarry again but said, "Everything's good now, thank goodness."