Y&R's Kate Linder Mourns A Deeply Personal Loss
Victoria Sirakova/Getty Images
"The Young and the Restless" star Kate Linder is mourning the loss of her mother, Molly Wolveck. According to a spokesperson for their family, Wolveck tragically died on June 1, 2023, at her home in Canada. She was 98 years old. Although the cause of her death has not been revealed, people can make donations to the Molly Wolveck Memorial Fund at the Lupus Foundation of America to honor Linder's mother's memory — she was a close friend of Steve Gibson, the late President and CEO of LFA. 
In addition to Linder, Wolveck is survived by her son, Randy, daughter-in-law, Gina, along with grandchildren and great-grandchildren (via The Hollywood Reporter). She and Linder had a very close mother-daughter relationship, and they even got to work together a few times on "The Young and the Restless" — which underwent a big change after celebrating a major milestone — when Wolveck made guest appearances. Linder's mother was actually a huge fan of the show since it first aired in 1973. 
Kate's mother appeared on 'The Young and the Restless'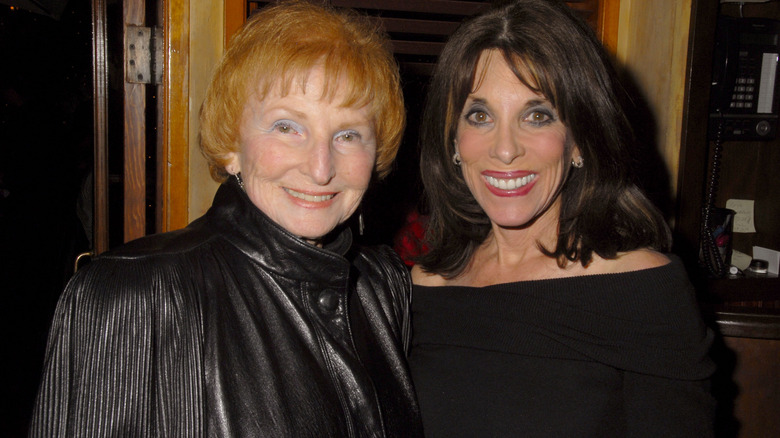 Barry King/Getty Images
Kate Linder and her mother, Molly Wolveck, were very close. On Mother's Day in May 2023, Linder paid tribute to her mother with a sweet Instagram post. She shared a photo of them smiling together and captioned the post with several hashtags including "#happymothersday," "#bestmomintheworld," "loveyoumom," and "yr50." 
Linder and her mother also ended up having a professional relationship. Wolveck loved watching "The Young and the Restless" even before her daughter joined the show as Esther Valentine in 1982, per The Hollywood Reporter. She and her husband, Ralph (who passed away in 2013), appeared on the show as restaurant-goers when they were celebrating their actual wedding anniversary. In 2017, Wolveck got to make a second appearance on the show. There will be a private memorial to celebrate Wolveck's life, and she will surely be remembered by "The Young and the Restless" fans everywhere.