William And Kate Reportedly Put Pause On Royal Tours For One Important Reason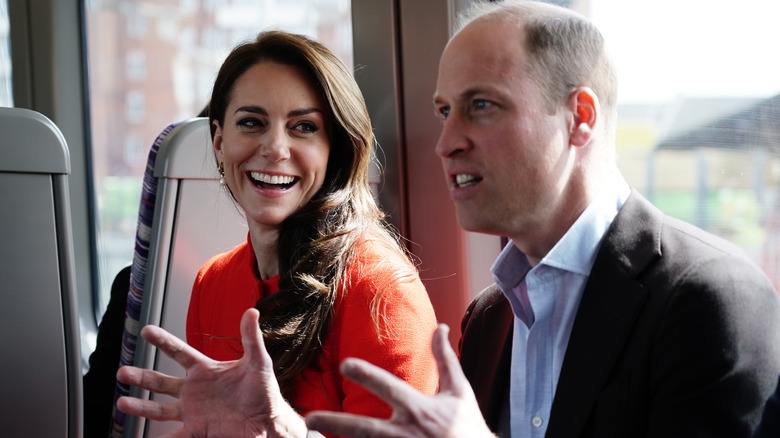 Wpa Pool/Getty Images
One of the traditional tasks undertaken by members of the British royal family is tours of the U.K. and of the Commonwealth. The elaborate tours often take months of planning, and one wrong move can result in public embarrassment, like the time on a trip to the Solomon Islands when Kate Middleton wore the wrong dress and it garnered a complaint from an entire country. The longest royal tour was undertaken by Queen Elizabeth II and Prince Philip. From November 1953 to May 1954, they traveled 44,000 miles and visited the West Indies, Africa, Asia, Australia, and New Zealand. In 1977, she went on another epic trip, visiting 14 Commonwealth countries.
And while the queen's children would later accompany her on some of her trips and then start making royal tours of their own when they were older, for the 1950s trip, Queen Elizabeth left her young kids — Charles and Anne — at home. This is something that William, Prince of Wales, and Catherine, Princess of Wales seem to want to avoid. And instead of taking their kids with them on trips, they're reportedly going to be cutting down on long international royal tours to be able to stay close to them (via Express).
William and Kate want to spend more time with their young family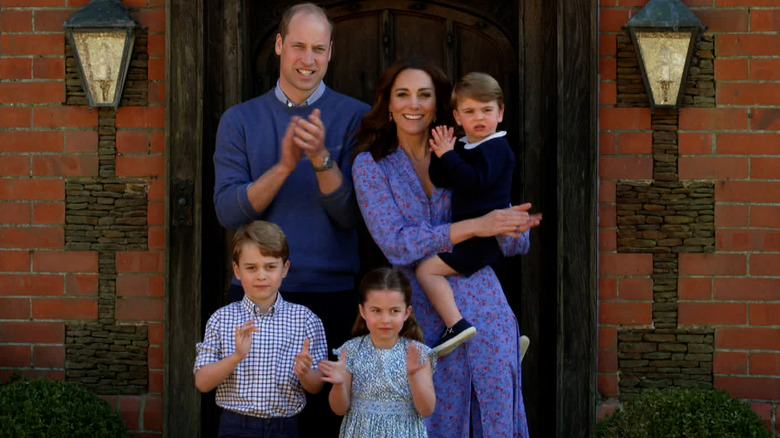 Comic Relief/Getty Images
William, Prince of Wales, and Catherine, Princess of Wales are both super popular with plenty of fans around the world, but they also value quality time together as a family and that's allegedly the current, bigger priority. Jennie Bond, former BBC royal correspondent, told OK! if the prince and princess have to go on international trips as part of their work as royals, they would be during school breaks, since all three of the kids are enrolled in school in Windsor. That means the whole family gets more time together. "I think the days of lengthy tours, leaving the children to be looked after by nannies, are over," Bond said.
The couple will likely continue with engagements closer to home. They may even involve their kiddos in some of the events like they did after the coronation — Prince Louis was put to work at his first-ever royal engagement. The most recent royal tour for William and Kate was eight days in the Caribbean for the Platinum Jubilee in 2022. William and Kate's royal tour kept getting messier and messier as time went on. And while the Wales family is going to allegedly be staying closer to home, King Charles III and Queen Camilla are planning to visit many Commonwealth countries over the next couple of years, per Daily Mail.
King Charles had a successful tour in Germany and may be going to Canada soon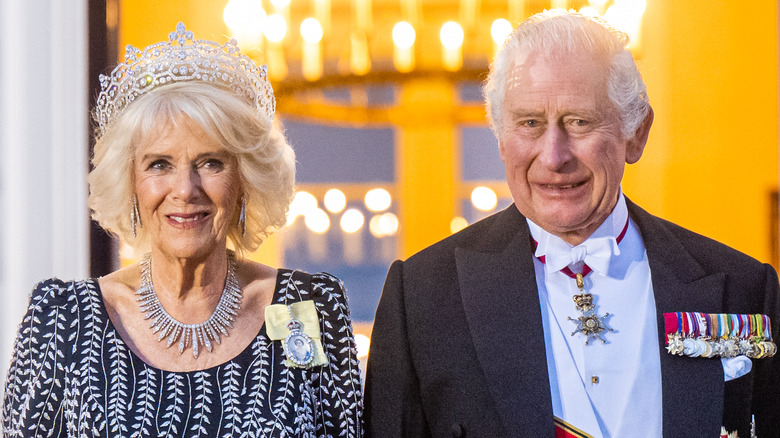 Samir Hussein/Getty Images
Since he became king in September 2022, King Charles has been enthusiastic about overseas tours. While protests in France led to canceling a royal visit in March, Charles, and Queen Camilla moved on to the next stop, where they wowed crowds in Germany. The king had already visited the country over 40 times and garnered a standing ovation when giving a speech in English and German. As noted by The Telegraph, the German media praised Charles, writing "He came, he spoke, he inspired," and describing his visit as a "humorous, warm-hearted and simply winning performance."
After the resounding success of Charles' trip to Germany, Ralph Goodale, Canada's high commissioner to the UK, told BBC News, he anticipated Charles could possibly visit Canada "within the course of the next several months."
While Charles and Camilla put their energy into overseas travel, William and Catherine, Prince and Princess of Wales can take care of royal business at home and actively raise their three children. The two couples can complement each other, whether they're making appearances in different countries or at the same location. When Kate's appearance ahead of Charles and Camilla at the 2023 Chelsea Flower Show sparked rumors of rivalry, Kate Mansey, assistant editor for The Mail on Sunday, asserted the decision was deliberate. "A bit of glamour and glitz from Catherine [is welcome]. I think there's room for everybody," she told Palace Confidential.