Royal Wedding Looks That Were Anything But Traditional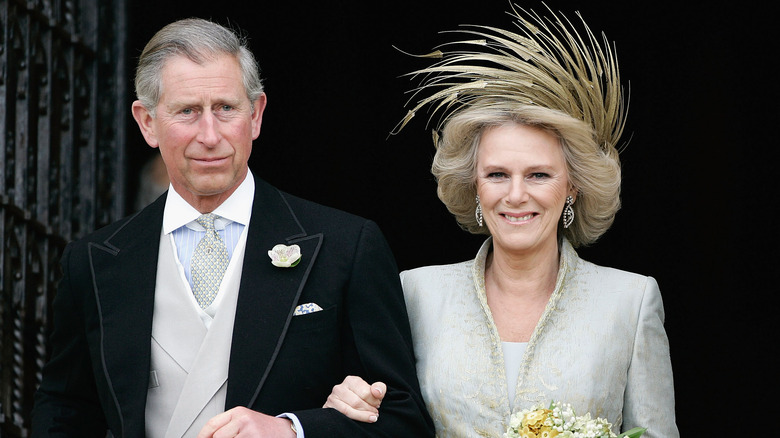 Tim Graham/Getty Images
Weddings are such momentous occasions full of traditions. Depending on the couple, those traditions can be taken very seriously or entirely dismissed in favor of something new. But, if you think typical weddings come with lots of expectations, that's nothing compared to royal weddings. Just think of all the pomp and circumstance that surrounds the royals' everyday life and any of their events. Whether it's a coronation, state dinner, or a royal wedding, royal events come with rules, expectations, and many, many traditions.
Even the slightest deviation from tradition at a royal wedding can make headlines. Just think of how much drama surrounded Meghan Markle and Prince Harry's wedding. Despite Meghan's wedding following most royal traditions, it still caused a stir. Nevertheless, some royal brides choose to push back against traditions even harder — and it's always exciting to see what those unconventional brides do.
Here's a look at some of the most untraditional wedding looks worn by royal brides, featuring everything from unexpected colors to pantsuits to last-minute alterations. These wedding looks are sure to shock and impress.
When Princess Alexandra of Luxembourg wore a suit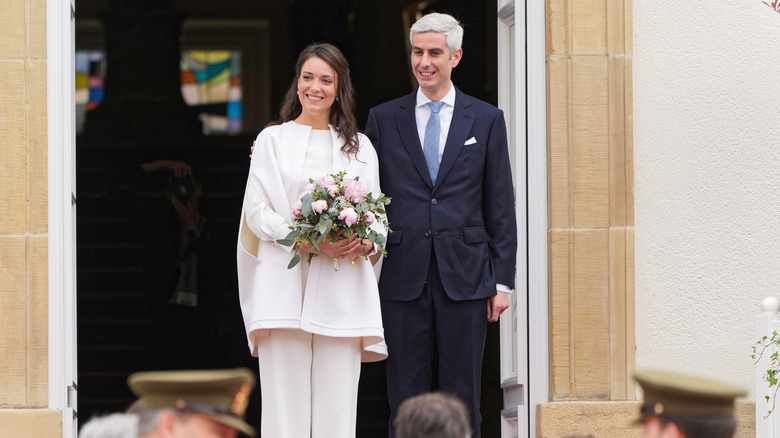 Sylvain Lefevre/Getty Images
When you think of a royal wedding, a ballgown and a large cathedral ceremony likely come to mind. But Princess Alexandra of Luxembourg went the complete opposite direction for her small civil ceremony. Rather than a traditional wedding, she and her husband, Nicolas Bagory, opted for a modern and chic wedding. They had an intimate ceremony in Luxembourg city hall with close family and friends, including members of the royal family in attendance.
Matching the less traditional ceremony, the princess opted for a bridal suit rather than a wedding gown. Her cream pantsuit was paired with a matching clutch bag and Valentino wool and cashmere cape (priced at $4,500). She kept her hair in simple curls, partially pinned back. It was definitely a break away from more typical wedding looks.
However, Princess Alexandra did have a more extravagant wedding look during her religious wedding. After the smaller civil ceremony, the couple also had a traditional wedding one week later. For the church ceremony, Alexandra wore a satin, a-line Elie Saab gown. She paired the timeless dress with an embroidered veil and diamond tiara. By having two wedding ceremonies, Princess Alexandra was able to get the best of both worlds, wearing one modern bridal ensemble and one romantic and timeless dress.
Queen Elizabeth The Queen Mother's modern gown and headdress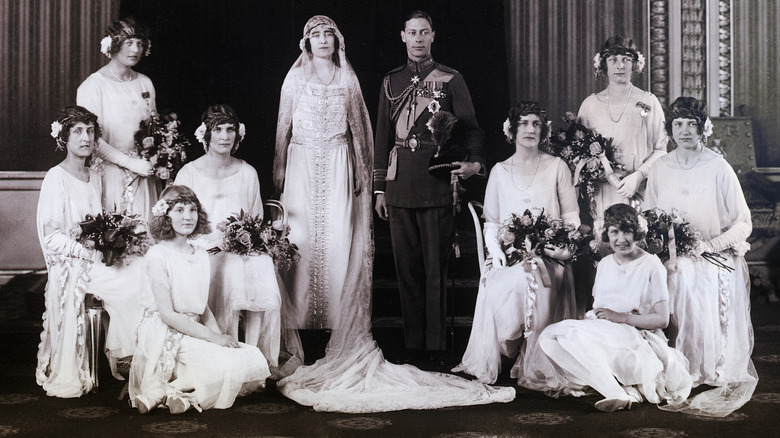 Bettmann/Getty Images
Looking back at historic royal looks, it's easy to think of them as traditional simply because the style is now dated. However, at the time, some of those outfits were quite modern. One excellent example of this was the wedding dress worn by Queen Elizabeth, The Queen Mother. When the late Queen Mother married King George VI in 1923, her drop-waist style gown was the height of fashion.
According to Express, the Queen Mother, or Lady Elizabeth Bowes-Lyon as she was known at the time, walked down the aisle in an original dress by Madame Handley-Seymour, Queen Mary's dressmaker. The silhouette was quite modern and fashion-forward, particularly for a royal bride marrying the future king. It was designed so that the waistline of the dress fell below her natural waist and instead sat at her hips. This was a very trendy style in the 1920s, setting it apart from more classic bridal looks. She deviated further from other royal brides by skipping the tiara. She instead wore her veil with a leaf and flower headdress, also popular at that period. 
Although her wedding ensemble had many nontraditional elements, the Queen Mother still looked like a royal bride thanks to the elaborate detailing on the gown. The chiffon fabric had beautiful silver and pearl adornments. And the dress had two trains, one from her shoulders and the other from her hips, giving her a very regal look. 
Queen Soraya of Iran's extravagant 66-pound gown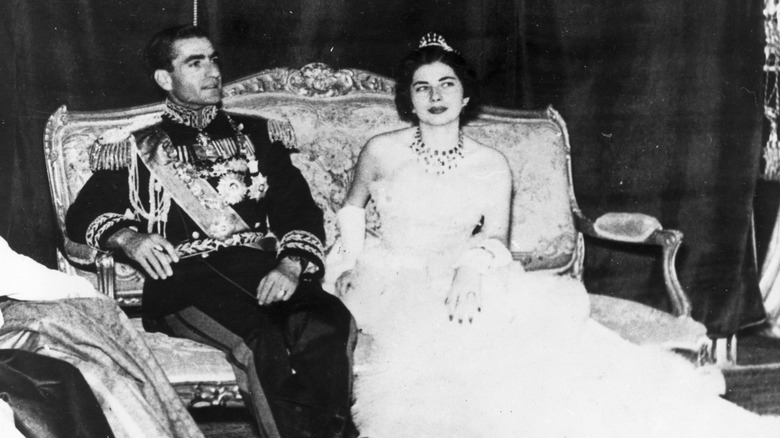 Keystone/Getty Images
The betrothal between 18-year-old Soraya Esfandiary-Bakhtiary and Shah Mohammad Reza Pahlavi was quite hasty. According to Tatler, this was hurried along by the recently divorced Shah. But his plans were put on hold when the bride-to-be fell sick with typhoid. The wedding had to wait as she overcame the worst of the fever. Though still quite weak, she was deemed well enough for the wedding to take place on February 12, 1951. Standing through the full wedding ceremony would have been challenging enough in her state, but Soraya had the extra difficulty due to her cumbersome wedding dress. 
The Christian Dior gown was designed specifically for the royal wedding. The dress was reportedly embellished, with gold detailing, feathers, and diamonds. It was a stunning garment, fitting for the momentous occasion. Unfortunately, the layers of fabric and intricate detailing took their toll, making the gown weigh approximately 66 pounds or 30 kilograms. That may have been uncomfortable for any bride, but in Soraya's weakened condition, it was a huge problem. She could hardly stand or move under the extra weight. As a result, they were forced to cut off a large portion of the train right before the wedding took place. Though unconventional to cut apart a couture gown, it lessened the weight, allowing Soraya to get through the day despite her illness. And with most of the skirt and the bodice intact, she still looked lovely.
Princess Stéphanie of Monaco's '90s mini dress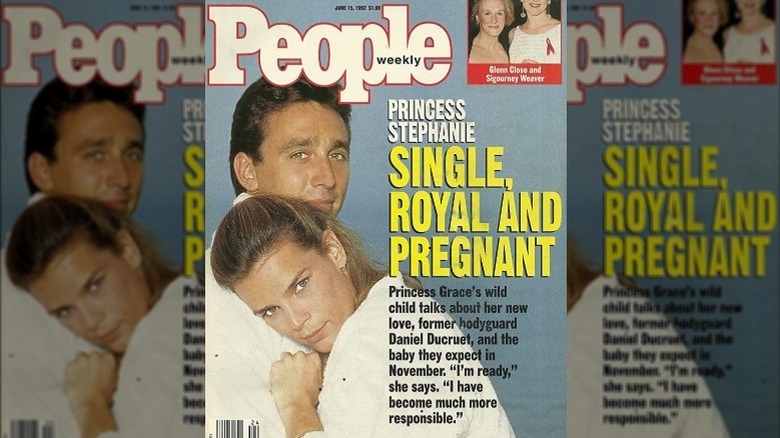 People
Princess Stéphanie of Monaco was the youngest child of Grace Kelly. She was known as the rebellious member of the royal family, who, according to Vogue, her mother called her "enfant terrible." True to her rebellious nature, Princess Stéphanie's '90s wedding was anything but traditional. On July 1, 1995, she married her former bodyguard Daniel Ducruet, a relationship that her father, Prince Rainier, opposed from the beginning. Upon their marriage, the pair already had two children together and opted not to have the fanfare of a large royal wedding. Instead, they held a private civil ceremony at Monaco's Town Hall. They entered through an underground passage to avoid photographers, had no reception, and only about 40 guests were in attendance.
Stéphanie also defied convention in her choice of wedding dress. Rather than the expected floor-length gown, she wore a fashionable knee-length dress. The long-sleeved, lace mini dress is more similar to what you might expect a bride to wear for a cocktail hour or rehearsal dinner, as opposed to the actual wedding. But, Stéphanie looked stylish and true to herself in it.
After her divorce from Ducruet, Stéphanie went on to have another non-traditional wedding with Portuguese acrobat Adans Lopez Peres. She once again kept her wedding quiet, this time marrying in secret and not even inviting members of the royal family. It's clear she's a royal who makes her own rules.
Charlotte Casiraghi's gray mini dress
Although Princess Stéphanie shocked many with her choice of a short wedding dress, she's not the only royal to have done so. In 2019, Charlotte Casiraghi, daughter of Princess Caroline of Hanover, followed in her aunt's footsteps, choosing a short dress for her special day. However, unlike Stéphanie, Casiraghi also had a formal reception where she wore a more traditional gown.
Casiraghi is a writer, model, equestrian, and socialite often looked to for her impeccable style, and she did not disappoint on her wedding day. For her civil ceremony, Casiraghi wore a Saint Laurent dress custom designed by Anthony Vaccarello. The short lace dress with three bows down the front is somewhat reminiscent of the one Princess Stéphanie wore in the '90s. But, Casiraghi strayed even farther from tradition, as the lace dress was gray instead of traditional wedding white.
But, for her reception, Casiraghi went more classic, wowing guests with a strapless ivory gown by Chanel. The second look was much more traditionally bridal, and in honor of her grandmother, Casiraghi accented her wedding gown with a three-strand diamond necklace. According to People, this was the very same Cartier diamond necklace that her grandmother Grace Kelly was gifted on her wedding day. The two distinctive wedding looks allowed Casiraghi to have a more modern dress and an elegant bridal gown that honored her royal background. 
Princess Beatrice's upcycled vintage gown
Wpa Pool/Getty Images
By all appearances, Princess Beatrice had a classic fairytale wedding when she married property developer Edoardo Mapelli Mozzi in 2020. They held their ceremony at Royal Lodge in Windsor, but due to Covid restrictions, the guest list was very limited, with only close family and friends in attendance. The doorway to the chapel was decorated with roses, and Beatrice looked lovely in her gown, tiara, and veil.
And the wedding look only gets better when you know the unique story behind the princess's dress. Instead of having a new gown commissioned, Beatrice opted to upcycle a vintage gown worn by her grandmother, Queen Elizabeth II. Beatrice was reportedly quite close to her grandmother, so it was touching to see her wearing a gown that the queen had worn on several occasions when she was younger.
It seems the queen kept the dress in excellent condition, as the original design appeared perfectly preserved. Royal dressmakers revamped the dress slightly to make it fitting for Princess Beatrice's special day. Organza sleeves were added, though they match the original design so seamlessly that you may never have noticed. Along with her vintage gown, Beatrice's tiara was another heirloom that had been worn by her grandmother and loaned to Princess Anne (Beatrice's aunt) on her wedding day. The complete look was an excellent example of upcycled fashion and a show of the princess's close family ties.
Beatrice Borromeo's five wedding gowns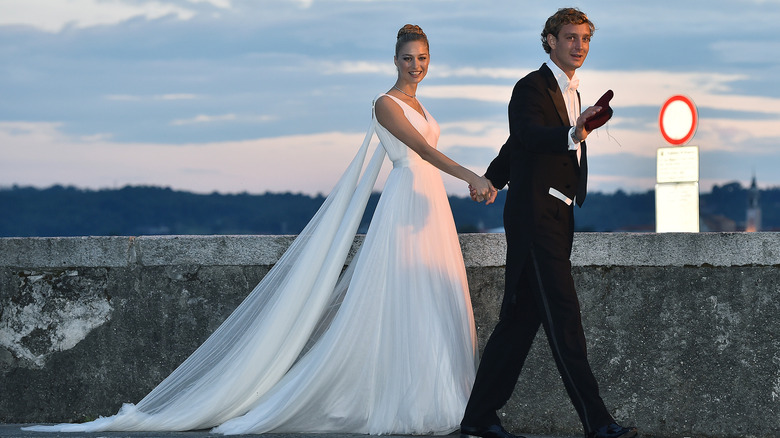 Jacopor/pierres/Getty Images
On July 25, 2015, Beatrice Borromeo, an Italian journalist and model, married into the royal family of Monaco when she wed Pierre Casiraghi, the youngest son of Princess Caroline of Monaco. Borromeo didn't disappoint when it came to her wedding look(s). Between her two ceremonies, the bride wore five gowns, allowing her to dazzle in both classic and more fashion-forward looks.
According to Vogue, she started at her civil ceremony wearing a long gown with lace flower embellishments by Valentino. Although the cut and style of the dress were quite traditional, it moved away from the norm in terms of color, as the fabric is an eye-catching blush pink. The bride matched the beautiful, nontraditional tone to the pink flowers in her hair. She stepped out in another Valentino for that evening's celebrations. The backless a-line was anything but basic, designed with a sparkling cloud print that made her look truly heavenly.
The royal couple had a second wedding ceremony in Northern Italy, where Borromeo wore three new dresses. These looks were much more traditional. However, she still kept it fresh by surprising guests with her many looks. The first was a long-sleeve gown by Alberta Ferretti, which she wore for a pre-wedding party. During the religious ceremony, she opted for a couture Armani lace gown. And she finished the celebrations with a fifth gown at the reception. Borromeo looked stunning in another custom Armani silk tulle gown with a sweeping train.
Queen Fabiola's fur-trimmed dress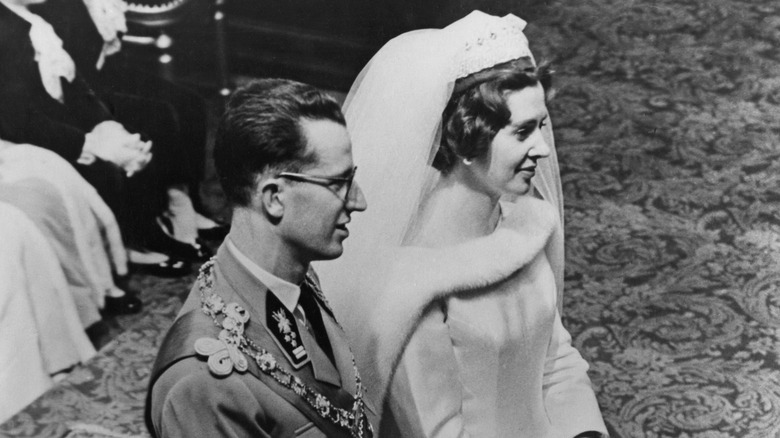 Central Press/Getty Images
In many ways, Queen Fabiola and King Baudouin's marriage reads more like a fairytale than what you'd expect from actual history. According to Vogue, King Baudouin ascended to the Belgian throne at the young age of 20 and remained single for the first nine years of his reign. He might have remained that way if a high-ranking catholic bishop hadn't sent a nun to find the king a bride. That nun came across Doña Fabiola de Mora y Aragón. Fabiola was born to a prominent Spanish family. She was well-educated, spoke six languages, and worked as a nurse. She'd also written a collection of fairytales, which was published in Spain. But the writer likely didn't imagine the fairytale turn her own life would take when she was chosen as the Belgian king's bride. 
Fabiola left guests in awe at her 1960s wedding with her unique and regal dress. She wore a stunning Cristóbal Balenciaga satin gown with a show-stopping seven-meter train fit for a queen. The design features an ermine fur trim that was perfect for the December wedding and set the dress apart from other gowns, making her wedding look completely unforgettable. An extravagant gown like that needed an equally impressive tiara to finish the look. So, the bride secured her long veil with the Nine Provinces tiara, an heirloom worn by Belgian queens. It was a standout look, perfect for the fairytale-like love story. 
Princess Caroline of Monaco's '70s wedding look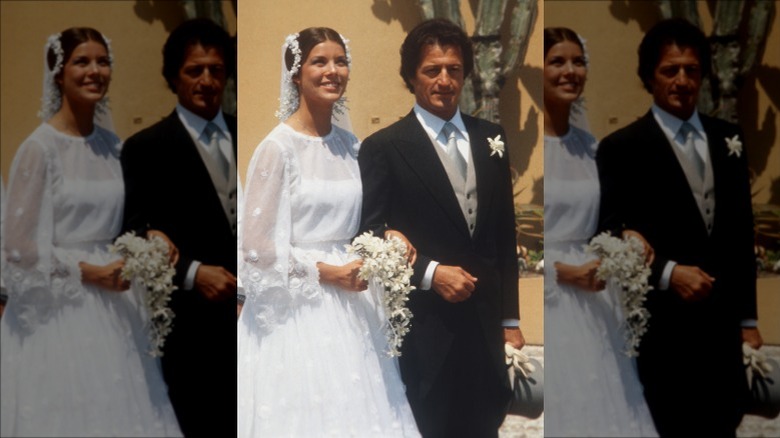 Keystone/Getty Images
As the daughter of Grace Kelly, Princess Caroline of Monaco had an enormous legacy to live up to when it came to her wedding attire. Her mother's dress set the standard for royal weddings for decades to follow with her timeless and elegant lace-bodiced ballgown. Kelly's wedding look is still referenced by many brides who want to capture a princess-like aesthetic for their wedding day. Kate Middleton's Alexander McQueen gown even bore a striking resemblance to the beloved look. Like her mother, Princess Caroline is quite the trendsetter, but she chose to deviate from the classics on her wedding day and instead go in a nontraditional and modern direction. 
Caroline married Philippe Junot on June 29, 1978, wearing a dress by Marc Bohan for Christian Dior. The long, white frock perfectly captures the free-spirited, boho style of the 1970s. It had a beautiful yet simple style with a lace bodice and organdie embroidered flowers. According to Vogue, the original dress design was leaked prior to the wedding and altered before the big day to still have an element of surprise.
Caroline matched the bohemian style of the dress with her choice of headpiece. Instead of a traditional tiara, she wore her hair in two buns with flowers woven around them to match the dainty flower bouquet she carried. The effortless style is sure to inspire brides looking for '70s-inspired wedding looks for many years to come.
Camilla, Queen Consort's pale blue and gold wedding look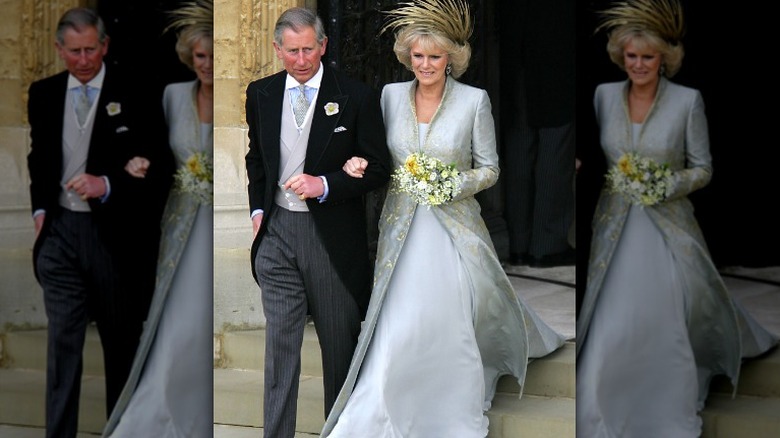 Anwar Hussein Collection/rota
Camilla, Queen Consort, wed King Charles III on April 9, 2005. It was the second marriage for both of them. Charles's first marriage with Princess Diana ended in 1996. However, Camilla and Charles had an affair during their first marriages, which became quite the scandal after Dianna spoke openly about its impact on her marriage, saying: "Well, there were three of us in this marriage, so it was a bit crowded" (via YouTube). After their publicized affair, the couple had a somewhat damaged public image. Instead of a typical royal wedding, they kept things more low-key. They married in a small civil ceremony at the town hall, followed by a religious Service of Prayer and Dedication later that day.
During the civil ceremony, Camilla wore a cream silk chiffon dress and a matching coat by Robinson Valentine. The knee-length of the dress is a bit untraditional for a wedding but more appropriate for a small civil ceremony. For the religious dedication, Camilla wore a more formal gown, but it was still quite untraditional. Instead of white, the Robinson Valentine gown was made of pale blue chiffon with a matching coat featuring gold embroidery. The gold details matched her unique gold leaf feather headdress by Philip Treacy.