The Real Reason Catherine Middleton's Wedding Dress Is In The News All Over Again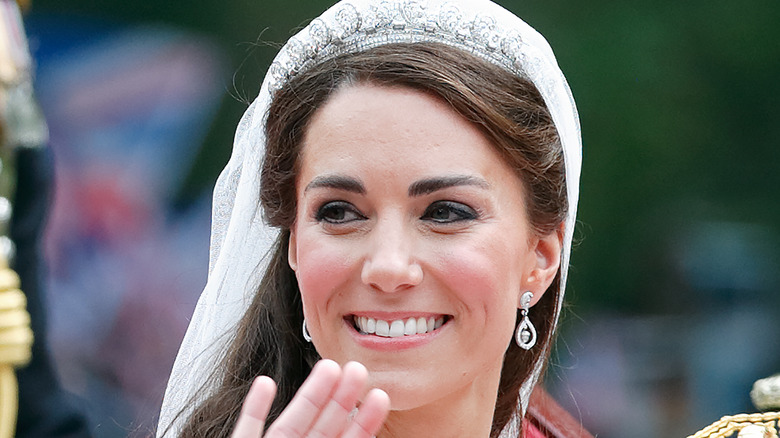 Max Mumby/indigo/Getty Images
Every good pop culture moment comes back around again. The unofficial recipe to one of these moments' revivals is having an event that changed people's lives in some way and sprinkling in some great fashion. If you let it marinate for a decade, it will be even sweeter than it was the second time around. That's exactly what's happening with the royal wedding in 2011. Kate Middleton's iconic wedding dress reveal is going viral on TikTok, because, well, it deserves another go-around with a new generation. 
Before there was Meghan Markle and Prince Harry's wedding, there was Middleton and Prince William's. For those of you who weren't glued to the screen when the future king and queen tied the knot in 2011, this was an iconic moment in history. It marked a new era of royals and proved once again that the royal family can marry for love (via Vogue).
The historical moment also brought extremely incredible fashion, and Middleton's wedding dress is making its way back into social media in the best possible way. Because let's be honest, that's a big part of pop culture. 
Kate Middleton's dress reveal is going viral on TikTok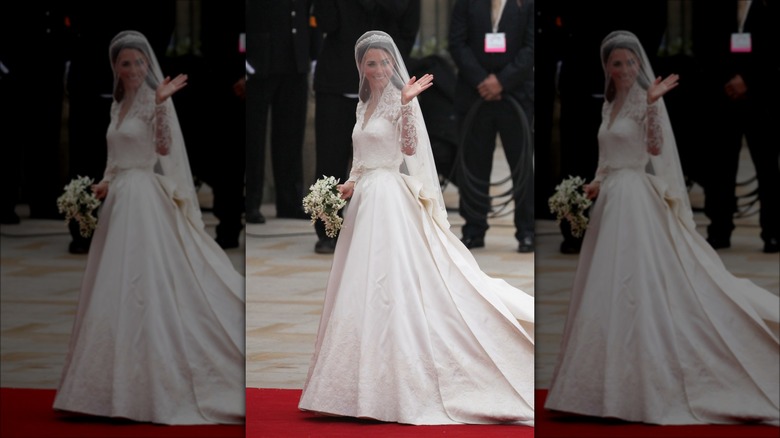 Wpa Pool/Getty Images
There are some moments that will never go out of style, and Kate Middleton's wedding dress is one of them. Even a decade later, her dress is having its own viral TikTok moment. As the Independent reported, someone took the iconic photo of Middleton revealing her dress and found the video that times up perfectly with the snap. Put together, the video makes a historical moment even more spectacular.
The video shows the Duchess of Cambridge stepping out of the car a Westminster Abbey, revealing her gorgeous ivory and lace wedding gown to the public for the first time. It then pairs it with the iconic photo of the very same moment. "The moment vs. the photo," the video reads and includes the caption "I love this dress." The TikTok video has the viewer feeling like they were right there where it happened. It's pretty darn magical. 
Somehow, the video has managed to capture a whole new generation of people as well. "Most beautiful bride ever," one TikTok user writes. Another says, "Catherine looks ethereal."
The wedding dress definitely deserves a comeback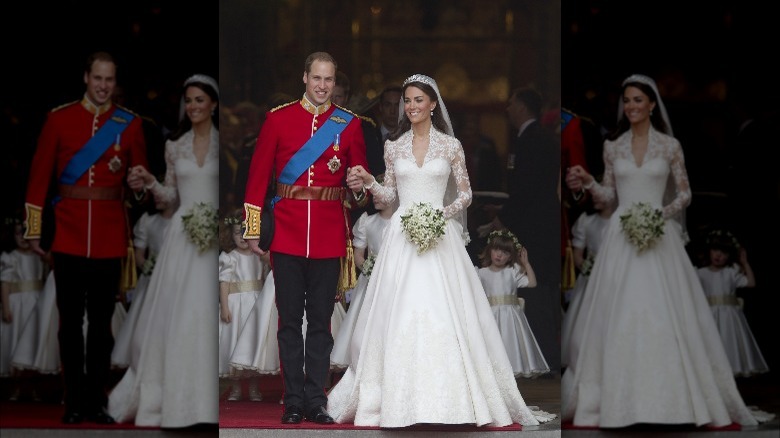 Anwar Hussein/Getty Images
When we say that Kate Middleton's wedding is an iconic fashion moment, we mean it. People from all over the globe were watching on April 29, 2011, to see what the now Duchess of Cambridge was wearing. In the days up to the royal wedding, the craze was so intense that people were actually making bets on what it would look like and who the designer would be (via The Cut). That's some serious sartorial interest.
Middleton ended up wearing an ivory and lace, long sleeve, A-line dress design by Alexander McQueen's Sarah Burton that Hello! Magazine reports was £250,000 at the time. "What I love about the dress is that there is so much more to it than meets the eye — as is typical for a McQueen design," celebrity stylist Micaela Erlanger tells Brides. "First of all, the tailoring of this gown was impeccable, and it flattered her figure so beautifully. Also, what you'll notice when you look closer is the lace detailing."
It's got so much to look at that something tells us that this won't be the last time that this dress pop back up on social media.