Transparent Eyeliner Is The Subtler Option For A Glam Look
If you are seeking a glam look that is striking yet more subdued than a full-out dramatic black cat eye eyeliner, consider trying transparent eyeliner. After all, it comes from TikTok, which is known for providing pretty good eyeliner tips and trends. 
The idea of wearing transparent eyeliner has actually become a recent TikTok trend with creator May Akhtar originating the idea. People are trying this trend in droves and displaying the final result around social media circuits. Perhaps the buzz surrounding transparent eyeliner has to do with two simple facts. First of all, most of us already have the supplies necessary to create the look and secondly, it's really not too difficult to do.
All you need to create a dazzling transparent eyeliner is some basic foundation and a makeup brush, which is a staple in most sets of makeup inventory. It's also a good way to ease into the glam world of makeup.
Why transparent eyeliner is so dazzling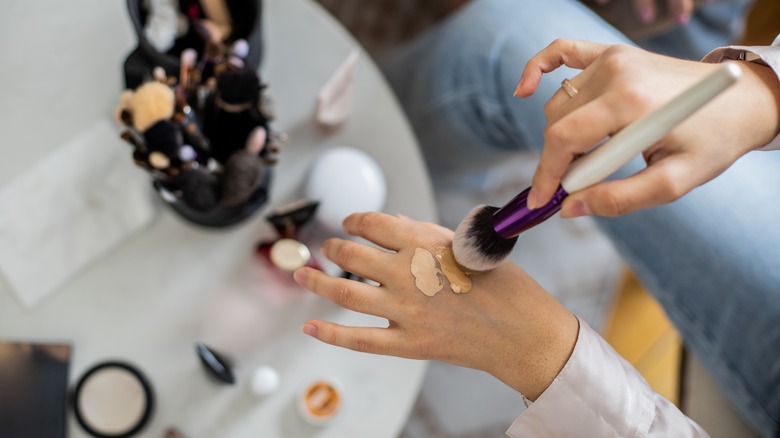 Kostikova Natalia/Shutterstock
"The technique is all about creating a lifted eyeliner shape using concealer and the natural coloration of your eyelid to create a subtle shaping to the eyes," explains Charlie Riddle, who serves as the head of artistry for Stila Cosmetics, as per Byrdie.
In addition, transparent eyeliner provides a freshening aspect to the face, especially good for days when you're tired or just not feeling your best. Riddle explains, "It gives a lifted look to the eyes which can, in turn, make the eyes look more awake and open." 
When trying out transparent eyeliner, though you may have the foundation readily available, it's worth noting that you will need a different shade than you normally wear. "It needs to be lighter than the coloration of your natural lid to really create that shape with negative spacing," says Riddle. "If it's too close of a match, it will just blend right in."
The transparent eyeliner look is perfect for summer
Summer is a time when many people want to appear less made up and wear colors and shades that look sunkissed and subtle. "If you're a makeup minimalist, this trend has your name written all over it," celebrity makeup artist, Clarissa Luna, told Glamour. Luna says "The transparent eyeliner trend is the perfect summer makeup hack for anyone who wants to look put together but not overdone."
Therefore, Luna suggests focusing on the bottom eye area first and then turning to target the top. "Once you've achieved the length of your liner with the bottom line, blend the concealer down so the line fades into the skin seamlessly," Luna advises. "Follow the same steps with the top connecting line, but blend the line up."
However, if you want it to stand out a bit more and look a little more glam, Luna recommends using a foundation or concealer that is at least two times darker than your usual shade. Once that has been applied, simply outline the cat eye shape in your regular shade to outline the darker shade for a dramatic look.