How Did Taylor Swift And Miley Cyrus Become Friends?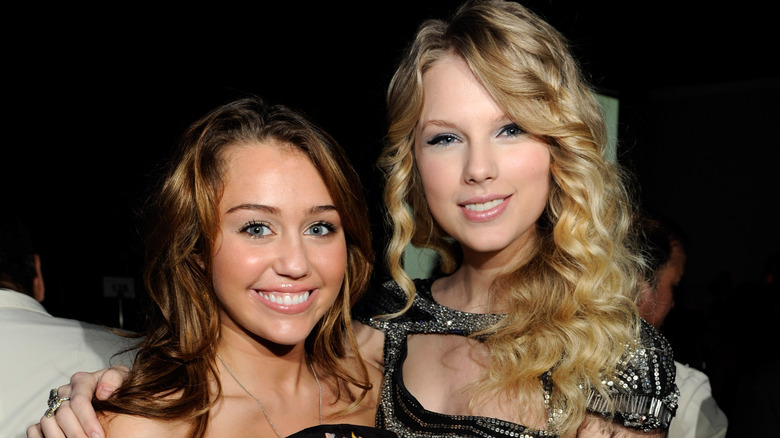 Kevin Mazur/Getty Images
You can not talk about the biggest names in pop without mentioning Miley Cyrus and Taylor Swift. They have been topping charts and delivering unforgettable shows for over a decade, like Cyrus' 2020 VMA performance. They are only three years apart, yet the two are very different. Swift is known for her love songs, support for equality, and PG 13 style. Cyrus is a versatile talent with singing, songwriting, and acting under her belt, who infamously shredded her adolescent image in a punk-esque rated R phase.
Despite the two being opposites, once upon a time, there were close friends. Cyrus' hit Disney show, "Hannah Montana," even resonated with Swift. In a Good Morning America exclusive, Swift talked about being in high school and writing music. She said, "So, basically, just the OG Hannah Montana over here, double life." "Hannah Montana" is one connection these celebrities share, but it is not the only one.
As teenagers the duo was close friends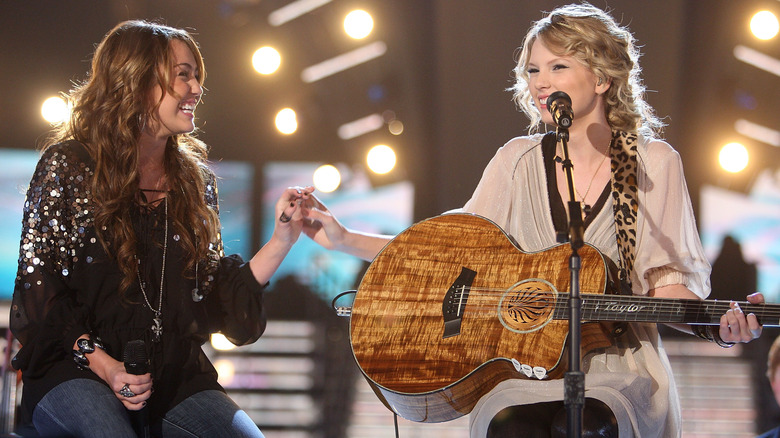 John Shearer/Getty Images
Taylor Swift and Miley Cyrus have a lot in common. They both work in the entertainment industry, have country music ties, and are in the same age group. Crossing paths in their Hollywood life helped them become friends. The two performed together on the Grammy stage in 2009, harmonizing with Swift's track "Fifteen."
In a pre-Grammy CBS interview, their authentic relationship shined through. "We wanted to perform together no matter what," Cyrus said. "Our personalities are opposite, so it works," Swift added. The two hugged during the interview and kindly showed support for one another. When Cyrus said, "We mix, for sure," Swift agreed, admitting, "We're friends."
The pop stars also worked together on "Hannah Montana: The Movie." It came out the same year as their iconic Grammy duet. Swift made a cameo in the film, performing her song "Crazier." She also wrote the hit "You'll Always Find Your Way Back Home," which Cyrus sang in the movie. However, their teenage friendship did not last into adulthood.
Taylor Swift and Miley Cyrus grew apart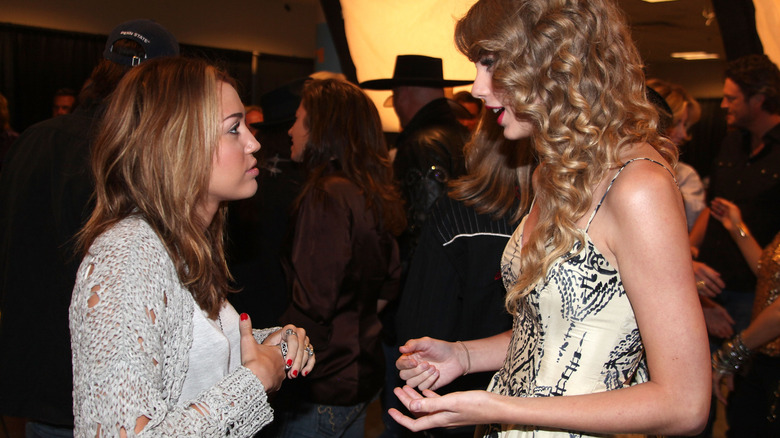 Ed Rode/nashville Rising/Getty Images
Taylor Swift has an army of friends. They were famously featured in her "Bad Blood" music video — a song that represented the Swift and Katy Perry feud. Zendaya, Gigi Hadid, Hailee Steinfeld, and Ellie Goulding all lent their skills to the visual project. Speaking with The New York Times, Miley Cyrus dissed Swift's girl group. "I'm not trying to be in the squad," she said. "None of my friends are famous and not because of any other reason than I just like real people who are living real lives, because I'm inspired by them."
The teenage clique between Swift and Cyrus seemed to unwind as they furthered their careers. Friend breakups are a thing. However, even if there aren't any sleepovers or dinner dates, Swift continues to show support for her fellow pop star.
In an interview with Canada's Tout Le Monde En Parle, Swift was asked about Cyrus' provocative performances. Swift quickly defended her, saying, "Honestly, I think that I cheer on anybody who is living their life on their own terms and wearing what they want to wear and representing what they want to represent," (via Seventeen). They might not be the best of friends, but maybe we can cross our fingers for another duet.