Jill Duggar Dillard Confirms Tell-All Book's New Release Date (Honestly, The Timing Is Juicy)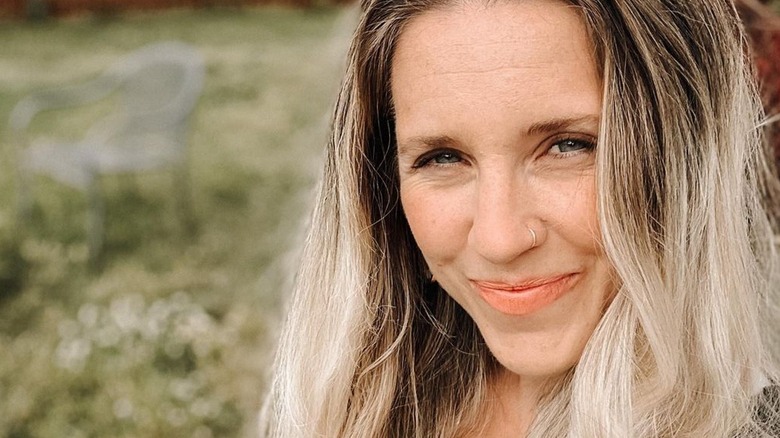 The Daya song "Sit Still, Look Pretty" could have been Jill Duggar Dillard's personal anthem... if she'd been allowed to listen to it, that is. Growing up, Jill had little say in her own life: Her clothes, entertainment, education, love life, and privacy were all dictated by her parents. The explosive Amazon docuseries "Shiny Happy People: Duggar Family Secrets" revealed some of the most troubling parenting techniques followed by the popular "19 Kids & Counting" family. Jill and her husband, Derick, participated in the show to speak out against the church group she grew up in. They also blasted Jill's father, Jim Bob Duggar, for withholding their share of the money they earned from TLC, and for pressuring Jill to publicly defend the brother who had caused her psychological harm. 
Right before "Shiny Happy People" began streaming, the Dillards came out with another shocker. Jill (with Derick and Craig Barlose) has written a book, "Counting the Cost," that promises to expose more of the seamy underside of the Duggars' squeaky-clean rep. As publisher Simon & Schuster says in their promo, "Jill Duggar and her husband Derick are finally ready to share their story, revealing the secrets, manipulation, and intimidation behind the show that remained hidden from their fans." The ultimate goal, they add, is "healing through honesty."
When Jill first announced the book, it had a release date of January 2024. However, the popularity of the Amazon series — and the Dillards' revelations in it —  have prompted a schedule change that's thrilling fans.
Jill's book is being released before a significant birthday
The release date for "Counting the Cost," the tell-all book Jill Duggar Dillard's fans have been waiting for, has just been pushed up by four months. The Dillard Family website elaborated: "Due to y'all's overwhelming support and interest in our story, we've been able to pull some strings and now the book is coming out four months earlier than initially expected!" the post said. "The NEW release date for 'Counting the Cost' is September 12th, 2023!"
The news was immediately met by more than 5,000 likes on Instagram. True, a few critics dared slam Jill for airing her family's dirty laundry in public. But they were loudly shouted down by supporters who argued the Duggar daughter has a right to speak out about her life and the abusive church of her childhood. Over on the popular DuggarsSnark Reddit channel, followers noted the book will come out just one day before the September 13 birthday of clan matriarch Michelle Duggar. "Mother will receive a different birthday present this year," chuckled one commenter. Another added, "I do wonder if [Jim Bob and Michelle] will secretly read it. I think they will be desperate to know what she's written about them." 
Is the new pub date a subtle dig at Jill's mother, or just coincidental timing? Whatever the case, Jill seems to be leaving the door open to reconciliation. In a comment on an earlier Instagram post, Jill declared, "I love my parents."