JFK Often Asked Judy Garland To Serenade Him On The Phone (And She Was Happy To Oblige)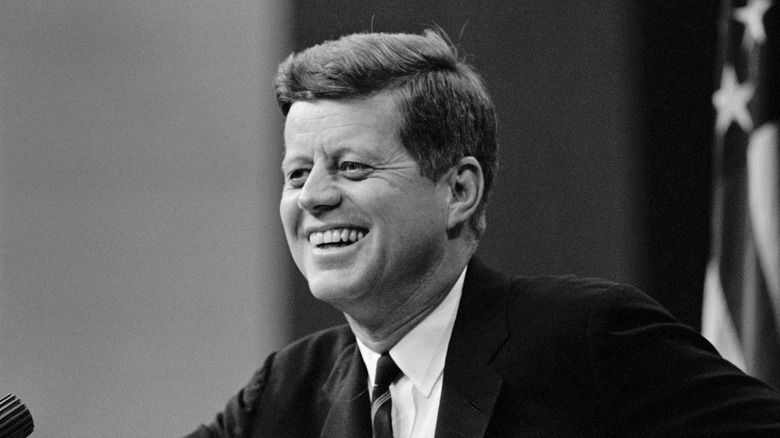 Bettmann/Getty Images
We may receive a commission on purchases made from links.
While there have been many versions of the iconic L. Frank Baum tales of Oz, most people are most familiar with the 1939 movie, "The Wizard of Oz," where a brown-haired girl in a blue dress and ruby slippers became famous for clicking her heels together and saying, "There's no place like home." But only a lucky few really got to know the real-life star of stage and screen, Judy Garland.
Among those lucky few? The 35th president of the United States, John F. Kennedy. According to Garland's son, Joey Luft, the famous pair forged a special friendship. JFK even felt close enough to request a song from the famous singer through her landline phone. Luft recalls his mom "jumping up and down in the living room" when she received a call from JFK at the White House. Luft once told People, "I remember he called her one time. I think it was after the election ... She campaigned for him and they were pretty close."
In a memoir written by Sid Luft, the third of Garland's five husbands, he confirmed that JFK requested the hit, "Somewhere Over the Rainbow," from "The Wizard of Oz." While many artists will admit that they get tired of their most famous songs, Garland always happily reached far back into her repertoire to amuse the former president. Over the years, as their friendship grew, JFK was known to ring her and request a lullaby. If we were lucky enough to have Judy Garland on speed dial, we would definitely consider doing the same thing.
Judy's friendship with JFK goes way back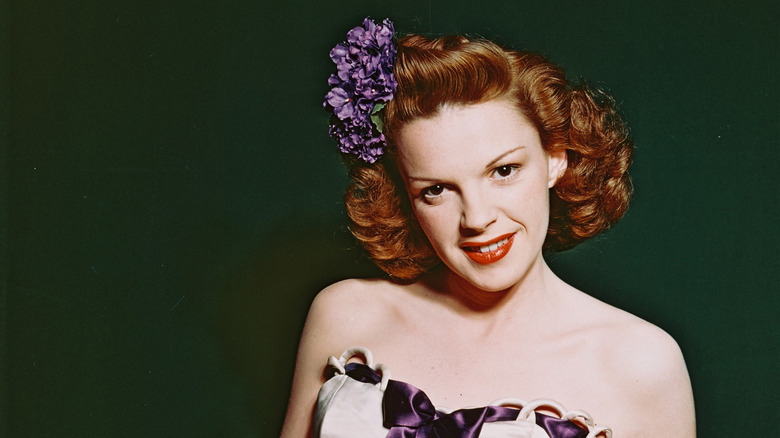 Silver Screen Collection/Getty Images
Judy Garland and Sid Luft grew very close to President John F. Kennedy, often enjoying each other's company any time they both received invitations to lavish parties and events. In Luft's memoir, he recounted first meeting the soon-to-be president when Kennedy was only a senator. Per People, Luft wrote, "JFK was young, lanky and extremely outgoing ... He asked Peter and Pat [the politician's younger sister,] to introduce him to 'Dorothy' in the flesh." Who knew that even politicians could be starstruck?
Through the years, Garland was known to entertain the president by singing his favorite songs over the phone and dedicated to keeping their friendship alive even amongst their busy schedules. Her admiration for the president was clear. Per Gerald Clarke's book, "Get Happy: The Life of Judy Garland," the singer was an outspoken supporter of JFK's politics, calling him "magnetic, tough, [and] mature." Upon hearing the news of JFK's untimely death, Garland was distraught and wanted to honor his life on her CBS show. According to an StMU Research Scholars report, Garland sang "The Battle Hymn of the Republic" live on national television, going against the requests of her network. While the country mourned the death of JFK, Garland used the gift of her voice to honor her friend the way he would have wanted.
More celeb-political figure duos that have developed real friendships over the years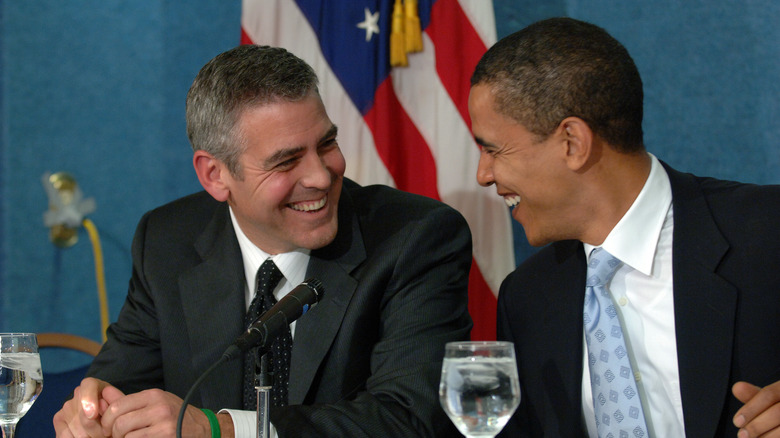 Imagecatcher News Service/Getty Images
President John F. Kennedy was famously known for his friendship with favorite singers like Judy Garland and Frank Sinatra, even receiving the famous "Happy Birthday" serenade from movie star Marilyn Monroe. But the late president isn't the only political figure who made a habit of befriending celebs. Politicians and celebrities have been forming unlikely friendships for generations -– and some of the pairs are definitely more surprising than others.
While celebrities often use their platform to show support for a candidate that reflects their beliefs, not often do you see a friendship blossom in spite of the political divide. Ellen DeGeneres famously has a bond with former president George W. Bush. She received backlash from fans for befriending the politician due to his right-leaning beliefs. On her show, she reiterated that "I'm friends with a lot of people who don't share the same beliefs that I have," and felt it was good for her and Bush to be pals despite their differences.
Just when we thought this duo was the most shocking friendship, we discovered an even more unlikely politician-celebrity pairing: Bernie Sanders and Cardi B! USA Today reported that the two enjoyed Facetiming while preparing for an interview promoting Sanders' 2016 run for president. The article shares that movie stars have also become quite close to former White House residents, citing George Clooney and President Barack Obama and Meryl Streep and Hilary Clinton amongst the most surprising famous friendships.