Why Shakira Left Barcelona For A New Start In Miami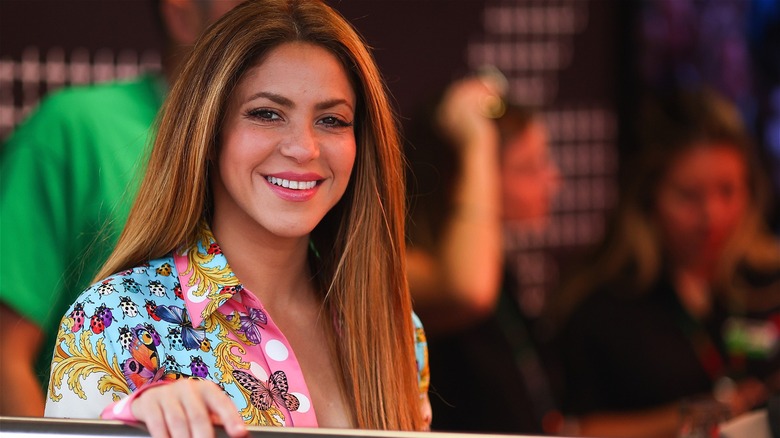 Eric Alonso/Getty Images
Shakira is the newest celebrity resident of Miami, an area code that's already home to high-profile homeowners like Pitbull and Jennifer Lopez. She's been seen at the Formula 1 Miami Grand Prix with fellow celeb Tom Cruise and sitting in the front row at a Miami Heat game. The "Hips Don't Lie" singer began making her move in early 2023, with fans spotting her at the Barcelona airport again in June 2023 after an extended vacation in Turks and Caicos with her sons.
Milan, 10, and Sasha, 7, will make the move with their mom. She has reportedly enrolled them in one of the more high-profile schools just north of the city. The nearly 5,000-mile move is big for everyone involved, especially considering the family lived in Spain for the past nine years. But Shakira has a good reason for uprooting her life, and it does not involve her tax fraud trial in Spain or her music career. Instead, she's seeking stability.
In the pursuit of happiness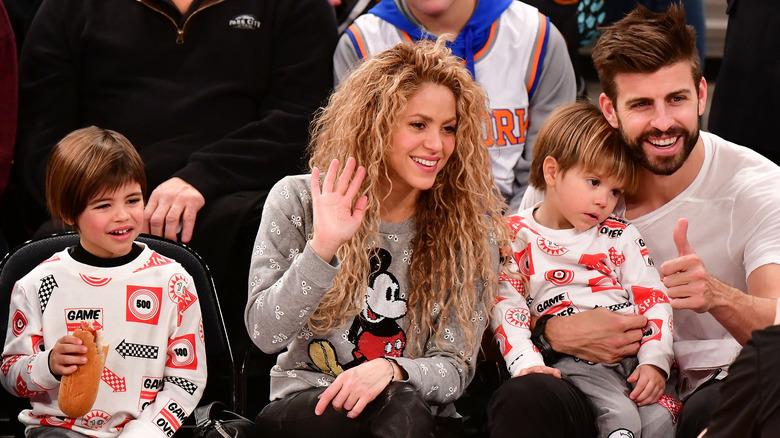 James Devaney/Getty Images
If Shakira has appeared in the headlines recently, it's likely for one of two reasons, neither of which is happy. After her tax evasion and fraud charges in Spain, the pop star announced the devastating split from her longtime beau, Gerard Piqué, in June 2022. The singer and soccer star began dating in 2011, welcoming two kids — in 2013 and 2015 — despite never tying the knot. Shakira previously said she didn't feel it was a "necessary step in their relationship." Fortunately, the choice might have saved her from a messy divorce when he was suspected of cheating on her with Clara Chia Marti, a student who also works at Piqué's sports and entertainment production company.
Ten months after the scandal and separation, Shakira announced she was leaving Spain and settling in Miami. She gave various reasons for the move. Obviously, it would be difficult to be around your ex and his new girlfriend all the time. So, Shakira decided to surround herself with those who love her, moving "next to family, friends and the sea," the singer announced in an Instagram post, also referencing that her maternal relatives live there. She continued by saying that she moved to Barcelona for stability but now sought to find that stability for her children elsewhere.
Shakira's settling into Miami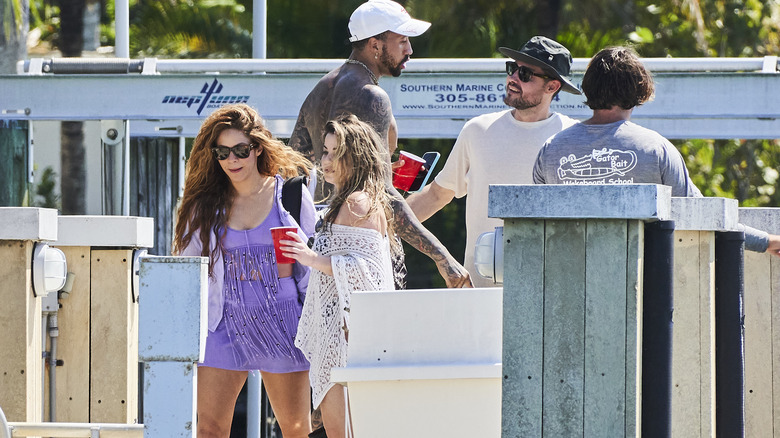 Mega/Getty Images
It's the end of a chapter of upheaval in the Colombian native's life. Hopefully, she can find the "safe and calm environment" she and Piqué said they were seeking for their children as they continue co-parenting (via E! News). She and her sons will start anew in a home she's owned for over 20 years.
Shakira purchased the South Beach Mansion, worth an estimated $18 million, around 2001. It was listed for sale in 2018 until the star unlisted it only a few months ago. However, those with in-depth knowledge of the celeb insist that she soon plans to move to northeast Miami-Dade county, a 300-acre spot known as Indian Creek Island, for more privacy. The island, called "Billionaire's Bunker," is home to the likes of Adriana Lima and also the construction site of Tom Brady's new home.
Brady's ex Gisele Bündchen was recently spotted in Miami having a girls' night out with the newly single Shakira, a status both friends may have bonded over. The Colombian pop star seems well on her way to finding the happiness and stability she and her sons deserve.