Why It's Easy For Robert De Niro To Parent At Age 79
Samir Hussein/Getty Images
Robert De Niro is nothing if not versatile. Over the past 50 years, he's starred in award-winning films like "Raging Bull" and "Taxi Driver," and appeared in late-night romps like "Meet the Fockers" and "Dirty Grandpa." These admittedly didn't take home any Oscars, but they did make him a generation-spanning movie star. The A-list actor has been in close to 100 projects, collaborated with iconic directors like Frances Ford Coppola and Martin Scorsese, and even called the shots on a few of his own films like 1993's "A Bronx Tale." 
Clearly, he's not afraid to go all-out for his roles. As De Niro explained on "The Tonight Show with Jimmy Fallon," he got a real New York City taxi license before filming "Taxi Driver" in the '70s. "There was one guy who did a double take when he looked through the mirror and [he] wasn't sure whether it was me," remembered the actor.
Although the A-lister likes to keep his private life well, private, he recently made waves by welcoming a daughter into the world at age 79 — this makes seven De Niro children. His eldest daughter, Drena, is 50 years older than his youngest — she grew up on the set of "The Godfather Part II." Since 1976, Robert De Niro had two marriages (and two divorces), first to fellow actor Diahnne Abbott and then to Grace Hightower. He also had a relationship with model Toukie Smith, with whom he shares two sons. Fatherhood has come naturally to De Niro, and he hasn't found it challenging at all.
Robert De Niro is practiced in the art of parenting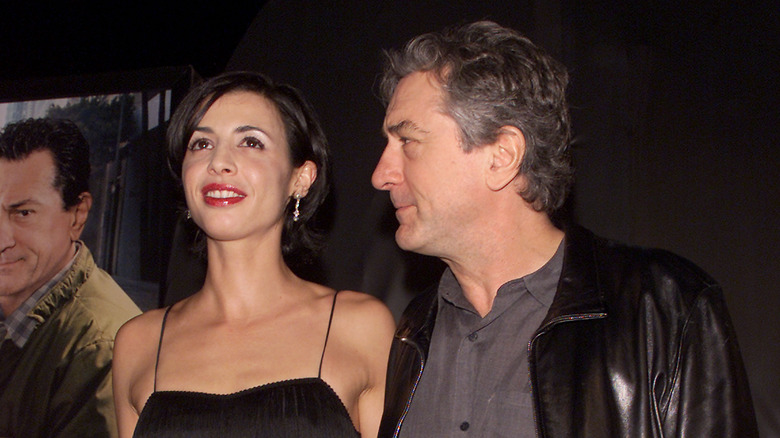 Kevin Winter/Getty Images
Robert De Niro's seventh and youngest child, Gia, was born in April 2023. Although plenty of fans have been critical — "This kinda grosses me out," one commenter wrote under an Instagram birth announcement — De Niro sees his age as an advantage. "When you get older you have awareness of certain things in life, dynamics, everything. Family dynamics. It's just — you can't avoid learning certain things," he explained on The Today Show. In other words, he pretty much knows the drill at this point. "I don't think that I'm a cool father... I'm okay. My kids disagree with me at times..." he told ET Canada, adding, "My [second youngest] daughter is 11. She gives me grief sometimes." Although he doesn't enjoy being stern with his children, De Niro recognizes that sometimes you have to lay down the law.
As for Gia's mother? Kim Cattrall, who recently starred alongside De Niro in "About My Father," confirmed that it's talented martial arts instructor Tiffany Chen. "His significant other, Tiffany, is such a beautiful woman," the "Sex and the City" star told Extra, adding, "She came to the set once with her family and watched filming and she was gorgeous and sweet and I'm happy for both of them." De Niro and Chen met on the set of 2015's "The Intern," but didn't officially start dating until years later. 
Robert De Niro is part of a growing club of older fathers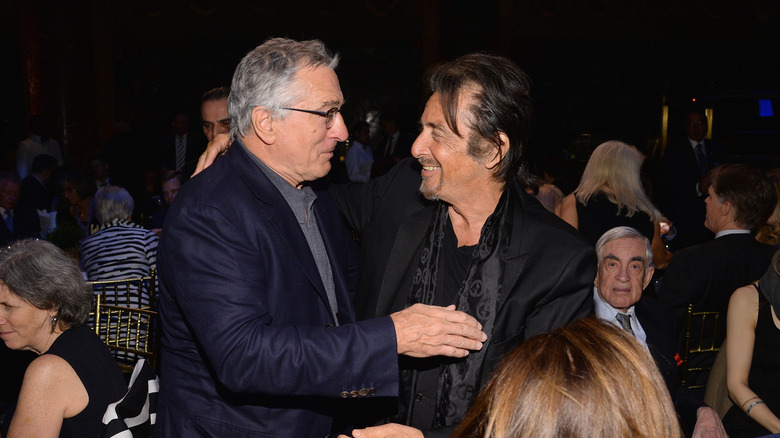 Larry Busacca/Getty Images
When asked about his new baby on The Today Show, Robert De Niro was quick to point out that his long-time friend and former costar, Al Pacino, was also a new father. In April 2023, Pacino turned 83, making him a few years older than De Niro. "It's very special," Pacino told Daily Mail photographers, adding, "It always has been. I've got many kids. But this is really special coming at this time." Pacino's partner Noor Alfallah is over 50 years his junior.
However, the former "Godfather" costars aren't alone in their late-stage ventures into fatherhood. Celebrities like Paul McCartney, Clint Eastwood, and Steve Martin welcomed children into the world well after the age of 60. Charlie Chaplin was famously 73 when had his 11th (and final) child.
According to a study published in Science Advances, men become parents much older than women — it's a pattern thousands of years in the making. Notably, it's also a pattern reflected onscreen. "Women definitely do get cast younger as moms, even in their early 20s," casting direct Allison Estrin explained to Refinery29, adding, "I find men usually don't start getting cast as dads until at least mid-30s." So, can we expect a baby number eight from De Niro? We might have to wait a few years to see...