Why Jennifer Grey's Friends Gig Was Short-Lived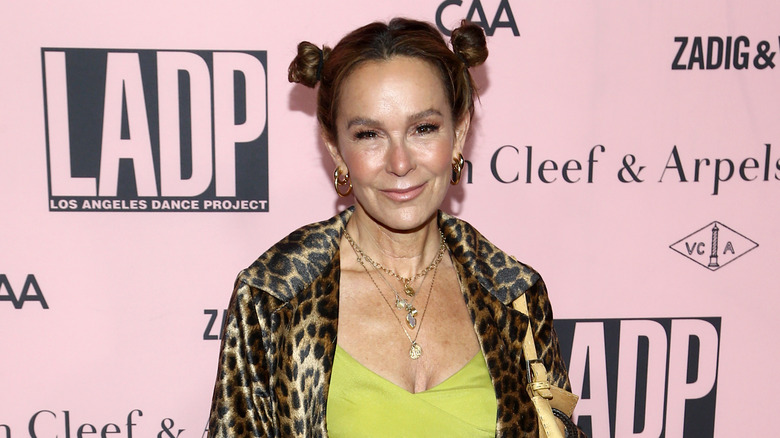 Tommaso Boddi/Getty Images
Jennifer Grey was a rising star in the '80s, winning over fans as Baby in "Dirty Dancing" and making us laugh as Ferris Bueller's older sister in "Ferris Bueller's Day Off." Despite her early A-list status, Grey's career experienced a lull by the time the '90s rolled around. In an interview with ABC News, the actor summarized it like this: "I'm known for two things in terms of the world... 'nobody puts Baby in a corner' and Jennifer Grey ruined her career, ruined her face, took away everything unique about her..."
After headlining "Dirty Dancing" alongside Patrick Swayze, Jennifer Grey was pressured into plastic surgery. "My dad [actor Joel Grey] had changed his nose, my mom had changed her nose, my grandmother had changed her nose, my aunts...[I] was a Jewish girl who was considered not pretty, who would never have been looked at twice by the Patrick Swayze character," she said. After a complication from the procedure, Grey was forced to book another appointment — this time, it drastically altered her appearance, and many fans no longer recognized the actor. 
This experience and a 1987 car crash in Ireland alongside her then-boyfriend, Matthew Broderick, shaped her career trajectory. Grey struggled with stage fright, something which impacted her Season 1 role on "Friends." Here's what we know about why she left the show.
Jennifer Grey dealt with anxiety while filming Friends
In the first season of the hit sitcom "Friends," Jennifer Grey played Mindy, Rachel's former maid of honor (and the mistress of her ex-fiancé, Barry). The "Dirty Dancing" star was initially looking forward to her stint on the popular show, but the taping process was far from easy. "I had such bad anxiety because they kept changing the script. It's very hard to be a guest star because you're not a part of it, and you're really trying to figure it all out," she told MediaVillage. "They were trying to figure out what the character was, what the scene was, and it was changing, and changing, and changing. It all made me so anxious that I could barely do it." When producers invited her back for the second season, she declined — and her anxiety issues also led her to turn down an offer to host "Saturday Night Live" in the '90s. For Grey, the potential boost to her career wasn't worth the stress of acting in front of a live studio audience.
Although her experience on "Friends" was undoubtedly negative, it did inspire the performer to seek treatment for anxiety, something for which she's forever grateful. "Everything you do in life, especially the hard things, the really painful, difficult things, are usually the things that are the most instructive and helpful," the star explained to MediaVillage. She eventually decided to relive her "Dirty Dancing" days, perfect some fancy footwork, and face her fears on "Dancing with the Stars."
Jennifer Grey stood out on Dancing with the Stars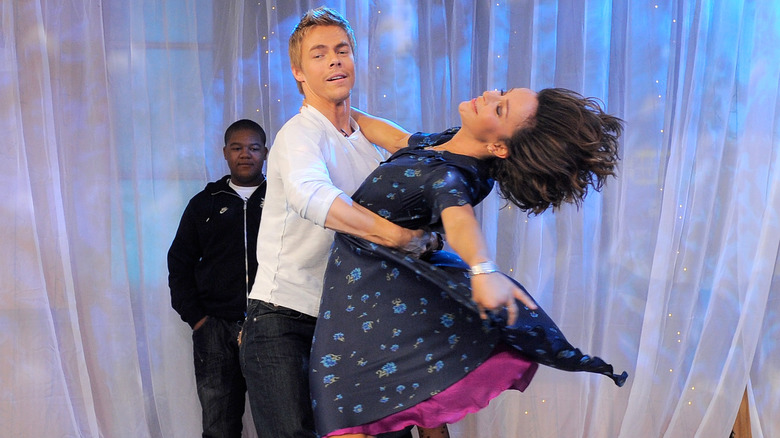 Jemal Countess/Getty Images
With the help of her dancing partner, Derek Hough, Jennifer Grey took home the first-place trophy on Season 11 of "Dancing with the Stars." Despite the Tea Party's best efforts (supporters were accused of casting multiple votes), she beat Bristol Palin, daughter of former Alaska Governor Sarah Palin, in the final round. "I couldn't afford to read [the reviews] because I'm so sensitive," Grey joked on MSNBC after her win was announced.
Jennifer Grey's famous father, Oscar- and Tony-winning Joel Grey, gets stage fright too. "He also had feelings of 'I can't do this,'" said the "Dirty Dancing" star — in other words, self-doubt runs in the family. As the two Greys have proven time and time again, however, anxiety doesn't need to get in the way of your goals — sometimes, it can even make a performance more passionate. Perhaps most impressive of all, the actor continued in the competition even after an injury to her spine. She went the extra mile to wave her "Friends"-era hesitations goodbye.
In one of her final performances, Jennifer and Derek Hough danced to "Do You Love Me," which also appeared in "Dirty Dancing." As for why she didn't recreate the film's most iconic number, "(I've Had) The Time of My Life," she said it "was always a song that was really for me and Patrick [Swayze]," she explained on ABC (via YouTube) in regard to her late co-star.