Harry And Meghan Won't Attend Trooping The Colour, Source Claims (But It's Not By Choice)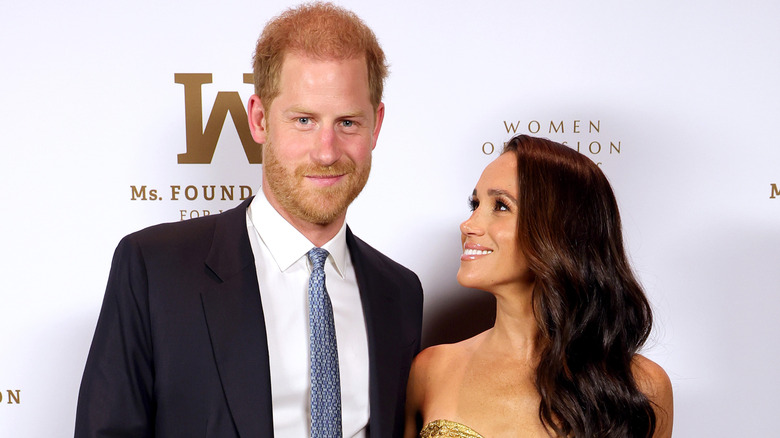 Kevin Mazur/Getty Images
Mel Brooks's famous line, "It's good to be the king!" certainly applies to King Charles III. For one thing, he gets two birthday parties: one with his family, and the other with millions of viewers. Thanks to a centuries-old tradition, the British monarch enjoys both their actual birthday, plus a summertime celebration known as Trooping the Colour. The regimental parade involves hundreds of military guards, plus the major members of the royal family. A week before the event, William, Prince of Wales, reviewed the troops of the Welsh Guard, which he'll be leading as their chief colonel. (He's almost unrecognizable in the huge bearskin hat that shades his forehead.)
As she did last year, Princess Anne will almost certainly be riding horseback in the parade with the cavalry. Queen Camilla and Catherine, Princess of Wales, will likely ride together in a carriage, along with Princes George and Louis and Princess Charlotte. Afterward, they'll all appear on the balcony of Buckingham Palace to greet the cheering crowds and watch the traditional flyby. 
This year, however, the celebration will go on without Prince Harry and Meghan Markle, the Duke and Duchess of Sussex. Outlets are reporting that they're not expected to attend. That in itself isn't surprising; Harry just returned to the U.S. after his phone-hacking trial, so making another trip back to London only a week later would seem impractical. However, rumor has it the Sussexes weren't even given the choice of going to the parade in the first place.
King Charles supposedly denied Harry and Meghan an invite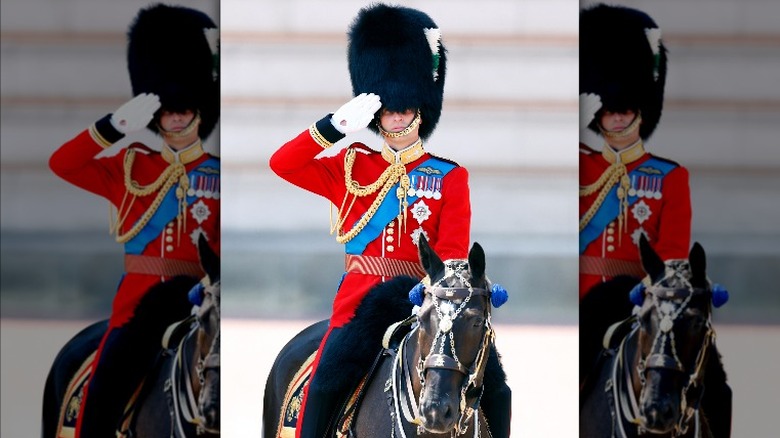 Max Mumby/indigo
King Charles' first Trooping the Colour ceremony will be different from Queen Elizabeth's in several ways. Of course, it will be his first as the British monarch, but it will also vary in that all regiments of the Household Division will be participating for the first time in decades, according to Honey. The king is also expected to ride horseback during the parade before the senior royals gather on the Buckingham Palace balcony.
The other big difference this year: For the first time in his life, Prince Harry will be missing the spectacle. Richard Eden of the Daily Mail reports sources have told him the prince and Meghan Markle have not been invited, even as spectators. Royal fans may recall the Sussexes attended Trooping the Colour last year, which was part of the queen's Platinum Jubilee celebration. They were seated in a special viewing area with other non-working royals, and didn't appear on the balcony; presumably, the same arrangement would apply if they did jet over this year.
The Daily Mail source claims this is, in fact, a deliberate snub resulting from "the state of relations" between Harry and his family. On the other hand, royals biographer Omid Scobie recently told Britain's "This Morning" that the king and prince have been communicating regularly, so perhaps the two did discuss the issue. Either way, despite the joy of the occasion and the hundreds of participants, Harry's absence will surely leave a large hole.