Sarah Jessica Parker Has The Same Style Obsession As Sex And The City's Carrie Bradshaw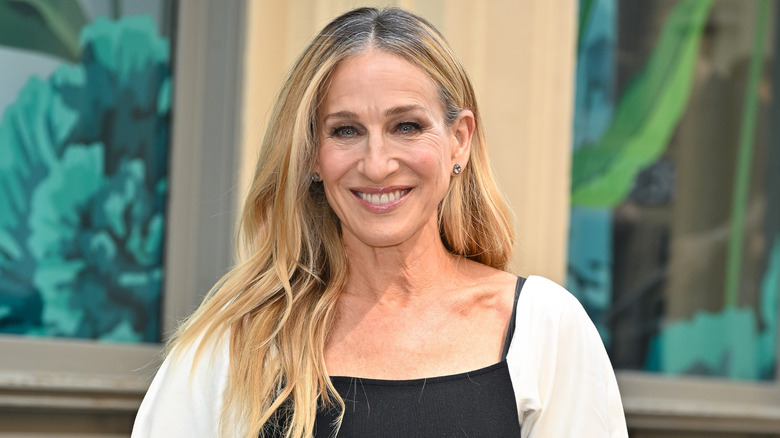 James Devaney/Getty Images
Carrie Bradshaw had a sense of style that quickly became something most "Sex and the City" viewers wanted to emulate. Carrie Bradshaw's most iconic bags are just one element of this New York City writer's coveted wardrobe. 
But the character's obsession with shoes stood out the most. Whether they were the Jimmy Choo slingback sandals she wore in Season 3 or the "urban shoe myth" that were the Manolo Blahnik Mary Janes featured in Season 6, Bradshaw made everyone fall in love with shoes. Turns out Sarah Jessica Parker, who played Bradshaw in the show and movies, shares a somewhat similar obsession with footwear, even though as a child she didn't get a chance to own all the pairs she wanted. 
In an interview with Gwyneth Paltrow for the "The Goop Podcast," Parker talked about her love for shoes which started at a very early age. "I've always loved them but not in the way that Carrie Bradshaw loved them because I didn't know that you could love shoes and then have them," shared the actress. Referring to her childhood, she explained that she and her seven siblings got to have two pairs of shoes each — fall/winter footwear and spring/summer shoes — for an entire year. "When I was living in Cincinnati, there was this shoe store in this place called Kenwood which was a pretty serious drive from our neighborhood, but we went twice a year," shared Parker, who also recalled getting Mary Jane hand-me-downs from her older sister. 
Sarah Jessica Parker enjoyed smelling shoes as a kid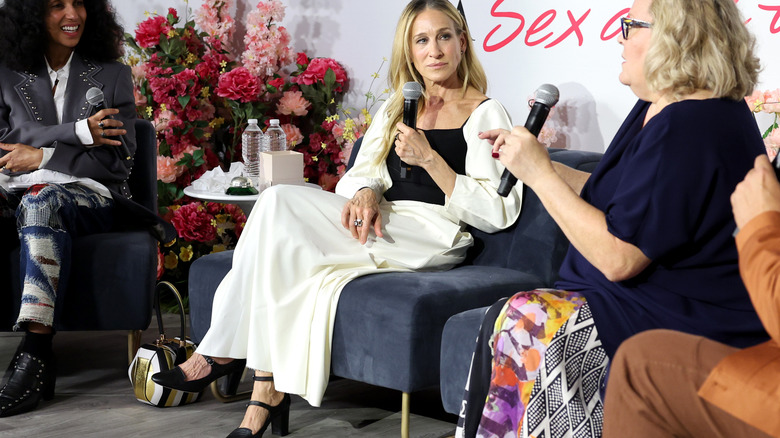 Cindy Ord/Getty Images
Once at the store, Parker was a fan of everything in there — the sights and the smells specifically. "At that time, I was probably one of six kids [in the family], and they would fit all of us at different times, and you would be left on your own in this shoe store until it was your turn to be fit. And I would walk around; first of all it was air-conditioned in the summer which was like heaven and warm in the winter, which was like heaven. It [the shoe store] smelled so good," recalled the actress and businesswoman. 
"I really would pick up all the shoes and I would smell them and I would look at the stitching on the soles. I would look at the sock liners. I would fantasize, knowing full well, what shoe my mom was going to make me get. But they were beautiful. It smelled so incredible and I loved my new shoes. Even if they weren't the shoes I wanted, I loved a new pair of shoes," added Parker.
The footwear line you never knew Sarah Jessica Parker started is a further testament to her love for shoes. Today, Parker has more than the SJP Collection, launched in 2014 alongside George Malkemus, to her name. The television producer is also the founder of the fragrance line SJP Beauty and her wine business INVIVO X, SJP. 
Sarah Jessica Parker has worn more shoes than most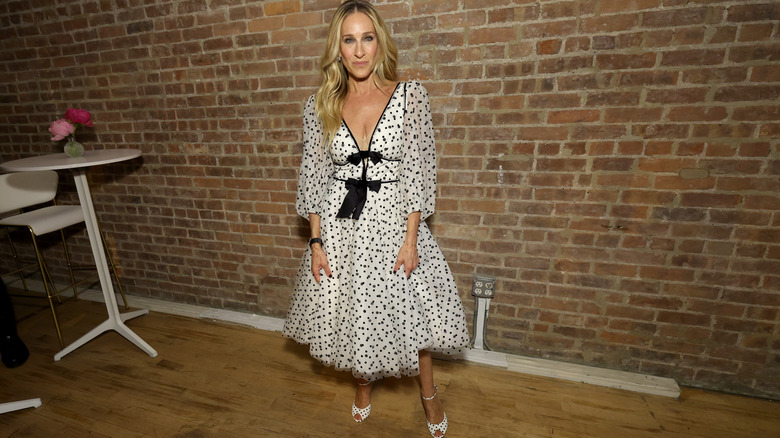 Cindy Ord/Getty Images
The actress and entrepreneur, who believes in shopping vintage, told Harper's Bazaar, that she can't pick one memorable footwear moment because she has loads of them. "I've probably worn a lot more shoes than most people do in life. I've had so many different experiences with different places across the globe, wearing different shoes — old, new, off the runway — even off of somebody else's feet," she explained. 
With her own shoe collection, Sarah Jessica Parker has stayed true to three pillars when it comes to style – the single sole, the vibrant hues, and a grosgrain accent She told Harper's Bazaar, "The grosgrain ribbon at the back was a nod to my mother. I grew up having to wear hair ribbons and grosgrain was pretty much the vast majority and ruling ribbon. When the samples came back, there was no grosgrain and it was just a regular seam. It's since become our signature characteristic."
Parker, who has three children – James Wilkie, and twins Tabitha and Marion — with longtime husband Matthew Broderick, has shared on the Oprah Winfrey Network that she didn't have to "dig very deep" when it came to portraying Carrie Bradshaw's obsession with shoes in "Sex and the City." And now we know why.