Eva Longoria Called Out A Big Double Standard In Hollywood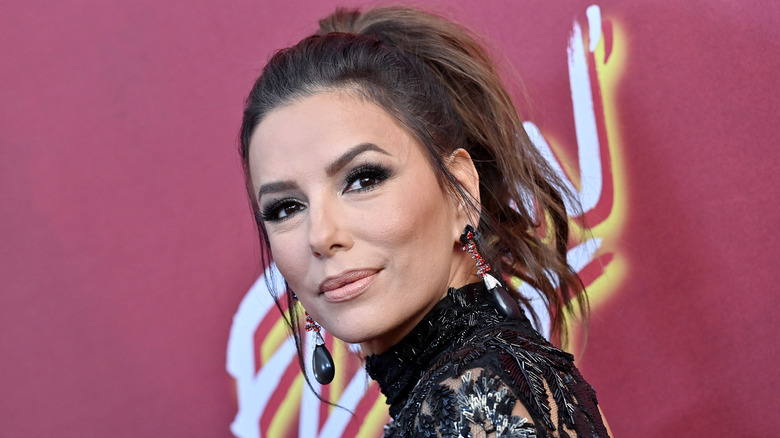 Axelle/bauer-griffin/Getty Images
From her Latina-focused philanthropic foundation to her surprising friendship with Victoria Beckham, Eva Longoria has done it all. Now, she's got one more notch on her belt: film direction.
The movie "Flamin' Hot" is about the invention of none other than the Flamin' Hot Cheeto. Based on the life of Richard Montañez, a Mexican janitor-turned-marketing-executive at Frito-Lay, "Flamin' Hot" aims to amplify Latino success stories. Even though there are some doubts as to whether or not he actually did invent the Flamin' Hot Cheeto, his rise through the ranks of Frito-Lay is undoubtedly admirable.
Longoria's experience as a film director, however rewarding, has not been easy. During her Women In Motion talk at the Cannes Film Festival, she opened up about her struggles as a Latina director, calling out all-too-prevalent Hollywood double standards in the process. We hope that she continues to direct and be a force for change in the homogenous entertainment industry.
Who is Eva Longoria?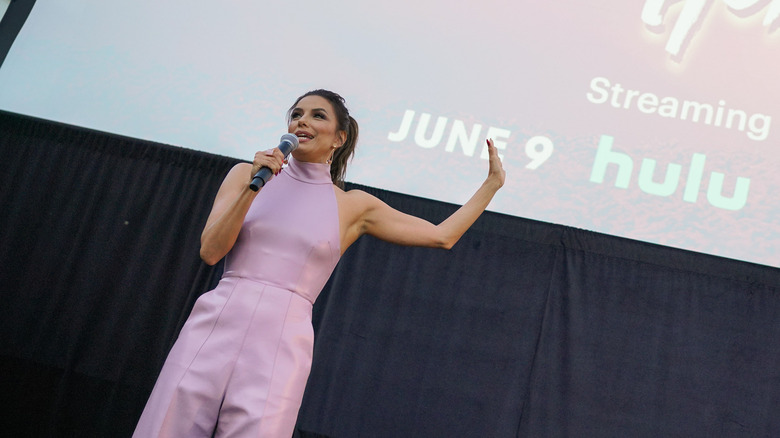 Gonzalo Marroquin/Getty Images
If you're a big fan of soaps, chances are you know all about the soap operas that actually gave Eva Longoria her start in showbiz. Starting off with small parts in shows like "General Hospital," she worked her way up to series regular status on "The Young and the Restless," where she got her big break.
Though her part in "The Young and the Restless" certainly elevated her acting career, she skyrocketed to household name status in 2004, when she starred in the hit show "Desperate Housewives." The show was wildly popular before its conclusion in 2012, amassing an average of almost 24 million viewers in its first season alone.
Though it can be difficult for anyone to keep that momentum going, Longoria's career is far from over. In her interview at the Cannes Film Festival, she touches upon her skills behind the camera — she's been directing for not one, not two, but twelve years prior to "Flamin' Hot." Though the Disney + movie is her first feature-length film, she's by no means a novice. Still, her profession is not without its double standards and drawbacks.
'Flamin' Hot' and the pressure to succeed
During a Women In Motion talk, Eva Longoria called attention to an unfair double standard that many women — especially women of color — face in the entertainment business. She was interviewed alongside Dr. Stacy L. Smith, a renowned professor who is known for her research into the systemic inequality that pervades the current media landscape. Smith's TED talk on the topic, "The data behind Hollywood's sexism," has over 1.2 million views and has put her at the forefront of such conversations.
If Smith has the data, Longoria has the experience — when pitching Searchlight, "the weight of [her] community" was heavy on her shoulders. Although this pressure fueled her to succeed, she knew how unfair it was: "A white male," she said during her interview, "can direct a $200 million film, fail, and get another one . . . I get one at-bat, work twice as hard . . . twice as fast . . . twice as cheap." If her film flops, it won't just be her own directorial skill that'll be questioned; the value of investing in marginalized directors and talent will be, too.
Thankfully, Longoria and Smith are doing their part to change that. Both expressed their desire to pivot the conversations surrounding film success away from box office numbers and towards inclusion. By changing the metric of success, inclusion will be prioritized over money-making. Longoria said it best: "If we're going to be innovative, we have to be diverse."