How Does Mariah Carey Feel About Ex Nick Cannon's Massive Family?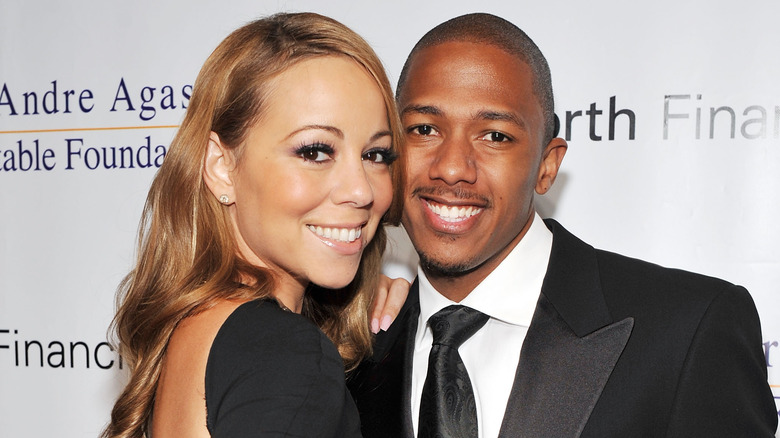 Denise Truscello/Getty Images
Mariah Carey and Nick Cannon were once one of the most talked-about celebrity couples in Hollywood. The pair, who share twins, Moroccan and Monroe, were married from 2008 until 2016, and after their divorce, Cannon went on to father 10 more children with several different women, per Insider. However, Carey has been supportive of his growing family along the way.
In addition to the twins he shares with Carey, Cannon also has three children with Brittany Bell: Golden, Powerful, and Rise. He and Abby De La Rosa share twins Zillion and Zion and a third child named Zeppelin. The "Masked Singer" host also has a child named Legendary Love with model Bre Tiesi as well as a child named Onyx Ice with Lanisha Cole. Cannon and Alyssa Scott have a daughter named Halo and a son named Zen, who tragically died from brain cancer in 2021.
With such a big family and multiple mothers of his children, Cannon has a lot on his plate and things can sometimes get confusing. The "Drumline" star previously admitted that he mixed up the Mother's Day cards for some of his baby mamas, which led to an awkward moment. However, through all of the chaos that comes with being a part of Cannon's large brood, Carey has been someone that Cannon can lean on through all of the ups and downs.
Mariah Carey doesn't want any drama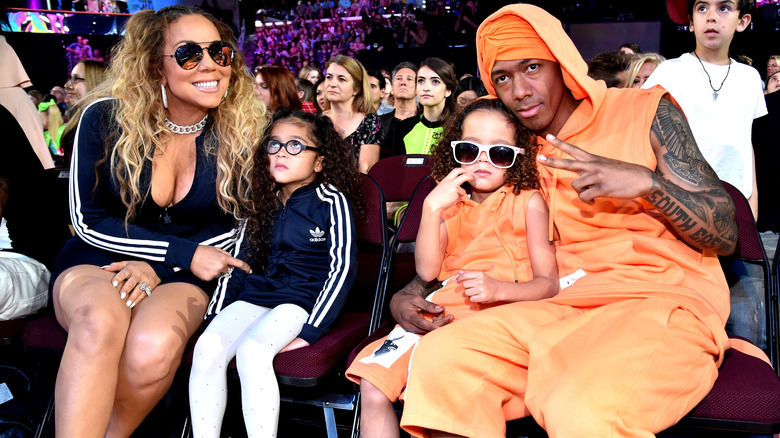 Kevin Mazur/kca2017/Getty Images
Nick Cannon is definitely a busy man. In addition to his work duties, he is also the father of several children with many different women, and that requires a lot of time and energy. However, Cannon's ex-wife, Mariah Carey, is said to be relaxed about Cannon's decision to have a large family. Although she does have a rule that the drama and chaos can't spill into her own life.
During an interview on "The Jason Lee Show," Cannon opened up about his bond with Carey, and what she really thinks about his growing family. "She high frequency, man. She always asks me, 'You aight? You good? How you doing? You handling it all?'" he revealed. "She's like, as long as you don't bring none of that bulls—t to the Manor of Carey," Cannon added. "Like, she lives in her own world, nothing can infiltrate that stuff. When we talk daily, she's just checking on my spirit." Cannon went on to admit that he and Carey speak very often and are open with their communication. "It's, like, people create low-frequency messages to try and say that there's something wrong," he confessed. "So, she encourages ... me. She's like, 'Yo, let's make sure we on the same page every day.'"
In addition to their co-parenting relationship and friendship, Cannon has revealed that Carey was a great love in his life and that he'll always care for her.
Nick Cannon says he and Mariah Carey are best friends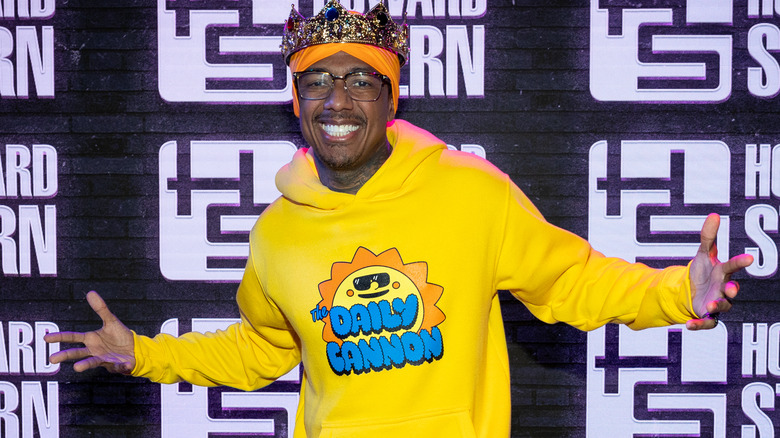 Emma Mcintyre/Getty Images
During Nick Cannon's chat with Jason Lee, the "Wild N Out" star revealed that he and ex-wife Mariah Carey are on great terms and that he's "never experienced that level of love from anyone." However, their romantic relationship is all in the past. "That was over a decade ago and we are like the best of friends now." Cannon went on to explain that although he and Carey are tight, he doesn't think their lives mesh well together anymore, and that they'll never get back together. "At the same time, I feel like for our children, which is the best thing and the thing that we both focus on, this scenario is a lot healthier for all of us. Because if we were all up under one household, especially in the day and age that we live right now, I think the enemy would try to attack from a bunch of different ways," Cannon stated.
Cannon and Carey are two Hollywood exes that seem to have a lot of love and mutual respect for one another. Although Cannon has chosen to create a large family, he and his former wife are still great friends and are focused on parenting their twins together, whatever that entails. Carey seems to want the best for Cannon and the two are an inspiration to people who have non-traditional families around the globe.