Which Ex Did Taylor Swift Write Hits Different About? It Could Be More Than One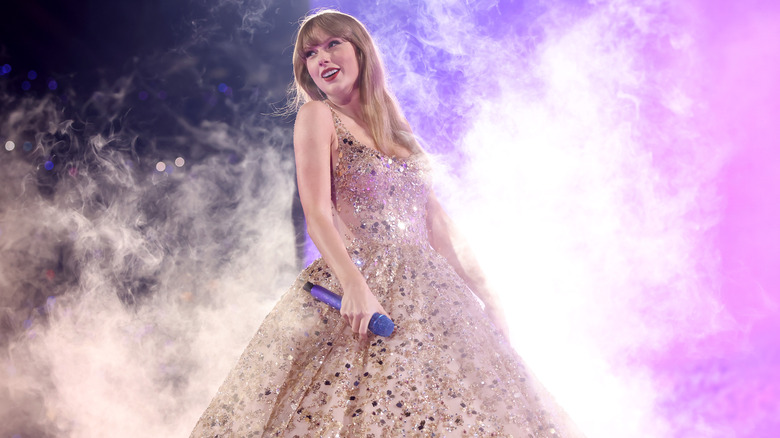 Scott Legato/tas23/Getty Images
Taylor Swift's "Midnights" album dropped in October 2022, featuring instant hits like "Antihero" and "Bejeweled" and, in proper Swift fashion, providing fans with layers of hidden meanings within its 13 tracks. While the majority of "Midnights" was immediately available to stream on platforms like Spotify and Apple Music, the iconic pop star proved she's the queen of marketing by subsequently releasing over 20 different physical versions of the album (in different colors, of course). 
When put together, the records even make up the quadrants of a clock. "What I wanted to show you is that if you put all the back covers together ... She's a clock. It's a clock," Swift excitedly announced on Instagram (via Rolling Stone). Specifically, the "Lavender Delux Edition," which included remixes of "You're On Your Own, Kid" and "Sweet Nothing" was sold exclusively at Target — it also included a bonus song, "Hits Different," which told the story of a rather painful breakup. 
As of May 2023, Swift made "Hits Different," along with revamps of "Karma," now notably featuring rapper Ice Spice, and "Snow on the Beach" available for streaming as part of the newest "Midnights" edition, "Til Dawn." These new releases are already topping the charts, although "Karma" has faced its fair share of criticism in part thanks to Swift's controversial fling with Matty Healy. Now that it's accessible online, what can "Hits Different" tell us about Taylor Swift's past relationships? Did she write it about anyone specific, or does the song reference multiple exes?
The track could offer clues about her split from Joe Alwyn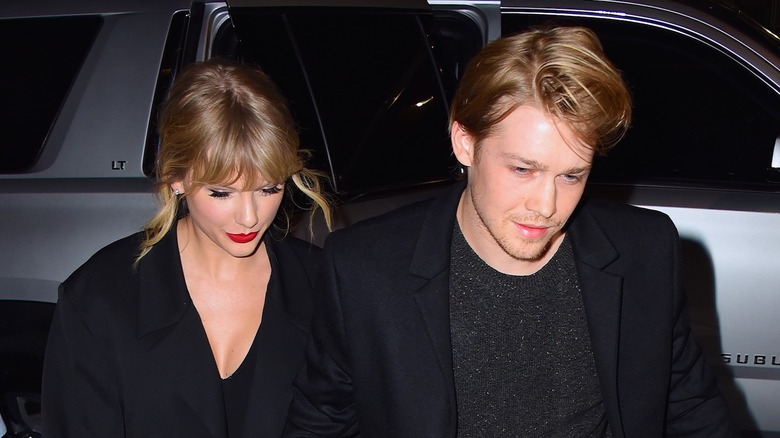 Robert Kamau/Getty Images
In April 2023, news broke that Taylor Swift had ended her six-year relationship with actor Joe Alwyn. Knowing what we know now, "Hits Different" well, hits different. Some fans believe that Swift and Alwyn actually split sometime last year, long before the release of "Midnights." The lyrics begin, "I pictured you with other girls in love, then threw up on the street," with Swift singing that she's been able to brush off other breakups ("Freedom felt like summer then on the coast"), but she can't seem to shake the memory of this particular ex ("Now the sun burns my heart and the sand hurts my feelings").
Given her years-long commitment to Alwyn, it makes sense that this split would be significantly more painful. Furthermore, fans pointed out that "Hits Different" is reminiscent of "Cornelia Street" which is most likely about Alwyn (via PopSugar). Still, others speculated that the song could only be about one person, Karlie Kloss. According to TikTok creator Mellisa A. Fabello Ph.D., aka @fyeahmfabello, "This song perfectly encapsulates what it feels like to lose a Sapphic love vs. a cis het male partner." 
She even claimed, "There are so many lyrics in this song that directly reference Karlie Kloss, it's astounding." According to the creator, Swift referring to men as "Kens" hints that she views them as interchangeable, whereas Kloss, aka "Barbie," is different. Fans reckon Swift's "Endgame" is about Kloss too, funnily enough. 
Taylor Swift has clarified that some of her songs are just songs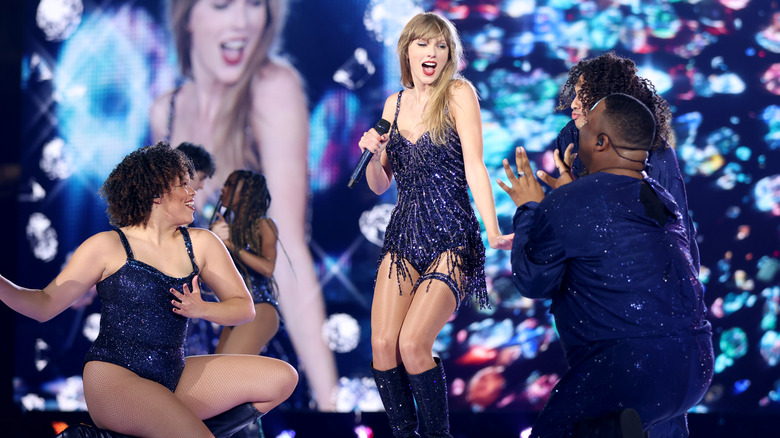 Scott Legato/tas23/Getty Images
Although Taylor Swift has done her best to create puzzles for fans on social media and sew hints into her outfits, not everything she does has a hidden meaning. "Some of these songs are about my life; some of these songs are about fictional characters I created," she informed fans during the Tampa stop of the Eras Tour, adding, "But my hope in all of this is that, at the end of the day, these songs will be songs that you think are about your own life. And the song that we're about to play next ['Lover'] ... it's just a love song, you know?" 
The speech was posted by a concert-goer on TikTok along with the caption, "I think she wants us to mind our business." Ultimately, "Hits Different" might not be about a specific breakup at all. Rather, it could be referencing an amalgamation of memories, a hypothetical, or even a fictional character. While some Swifties are endlessly dissecting this "Til Dawn" song, others are focusing their attention on "Karma (feat. Ice Spice)." 
As the TikTok creator @sapphicka argued, the rapper might be dropping some coded messages of her own: "The person who Ice Spice is directing this at hasn't quite yet faced all the karmic backlash that is coming their way." Could the talented up-and-comer be referring to Swift and her controversial connection to Matty Healy? We can only speculate.