Why Fans Think The Taylor Swift Song Endgame Is Really About Karlie Kloss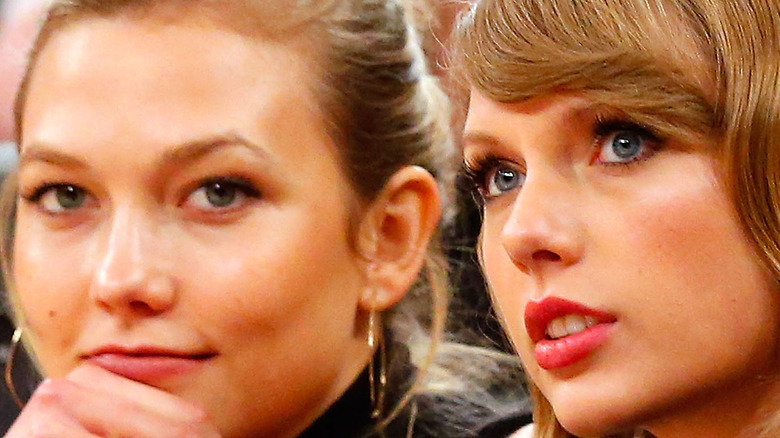 Jim Mcisaac/Getty Images
Taylor Swift and Karlie Kloss first connected when Swift told Vogue in a 2012 interview after seeing Kloss' photo, "I love Karlie Kloss, I want to bake cookies with her!" Kloss agreed via Twitter the same day the article was released (via Elle). They then met in person at the 2013 Victoria's Secret fashion show, with Kloss stopping her runway walk to dance with Swift. 
After hitting it off in 2013, the pair took a road trip to Big Sur, California, and chronicled their adventures via social media. Not everyone saw the trip as platonic, though. An image of Kloss writing "Karlie loves Taylor" in the sand and the overall vibe of the beachside trip got fans talking in the comments about the stars' possible romantic connection. The trip also prompted a joint Vogue photoshoot in 2015 that recreated its dreamy aesthetic.
Now, Swifties are still on the hunt for reasons why the once-besties had a falling out in 2018. Per Variety, Kloss is managed by Scooter Braun, Swift's former Big Machine Records manager who famously refused to sell the singer/songwriter the rights to her own music, prompting her epic "Taylor's Version" releases of all her albums written before 2019's "Lover" (via Capital FM). In 2019, despite an outpouring of support from fellow celebrities, Kloss was radio silent about the situation, leading led fans to believe that Kloss chose to maintain a business and personal relationship with Braun despite his fallout with Swift, and even speculate that she had leaked information to Braun (via BuzzFeed).
Did Karlie Kloss' connection to Scooter Braun drive a wedge between the friends?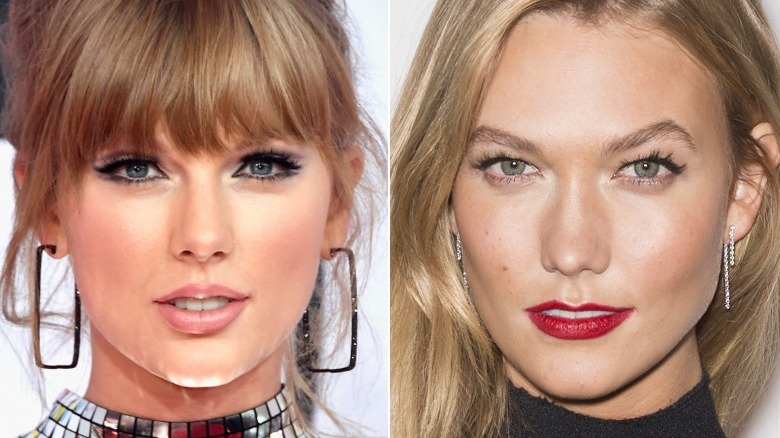 Frazer Harrison/Getty & Ovidiu Hrubaru/Shutterstock
In 2020, Taylor Swift once again prompted speculation about her friendship with Karlie Kloss with the release of her album "evermore," especially in its featured bonus tracks, "it's time to go" and "right where you left me." 
According to BuzzFeed, fans connected lyrics in "it's time to go" that reference a "sister" to Kloss' 2016 Instagram post for Swift's birthday — it featured a caption calling her a "sister" and a photo of Swift kissing the model on the cheek.
The song "right where you left me" begins with the lyrics "Friends break up, friends get married," which feels especially relevant considering Swift's absent from Kloss' wedding to Joshua Kushner in 2018, (and second ceremony in 2019). However, those Swift had rumored feuds with, including Katy Perry and Scooter Braun, were present (via Insider). It's also worth noting that 2018 was the last time Swift and Kloss were photographed together.
Swift herself took to Twitter to explain the meaning behind the two songs, though their inspiration remains ambiguous; "The first is a song about a girl who stayed forever in the exact spot where her heart was broken, completely frozen in time." This would match up to Swift writing songs in 2020 about a heartbreak that presumably occurred in 2018. She also shared, ""it's time to go" is about listening to your gut when it tells you to leave," which could be a reference to her leaving her label Big Machine Records after 15 years.
End Game's lyrics don't match her relationship with Joe Alwyn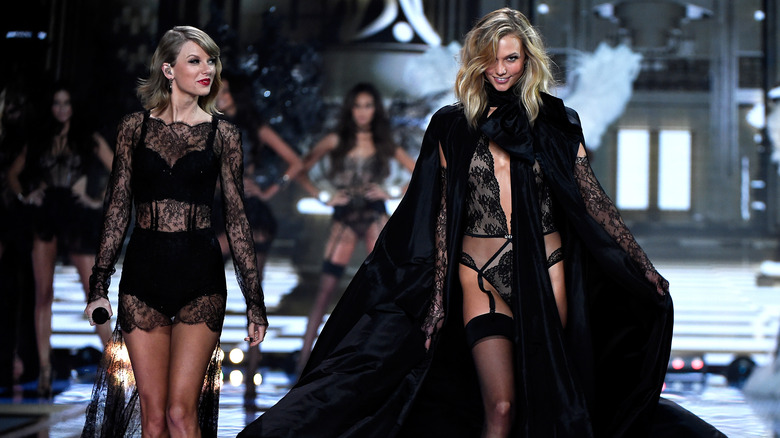 Pascal Le Segretain/Getty Images
So, how does "End Game" off of Taylor Swift's 2017 album, "reputation" fit into her history with model Karlie Kloss? One fan, @FluentlyForward posted her theory to TikTok, saying that the song is not actually about Swift's beau since 2016, Joe Alwyn, but rather about her rumored romantic relationship with Kloss. She argues that the lines mentioning both parties' "big reputations" wouldn't apply to Alwyn, since the actor is relatively unknown in comparison to his globally recognized partner. The TikToker also asserts that Swift's line, "you and me would be a big conversation," wouldn't apply to Swift and Alwyn, since their romance is unremarkable besides being a new progression in Swift's notorious dating life. 
However, since Kloss was dating Joshua Kushner in 2017, a speculated secret relationship with Swift would have made a huge cultural splash. According to Cosmopolitan, fans also believe that Swift's song, "Cornelia Street" off her 2019 album, "Lover" is about the old New York haunts she shared with the model when they both lived in the city.
In @FluentlyForward's video, the TikTok creator's theories also go beyond "End Game." She argues that the lyric, "you made your mark on me, your golden tattoo" — from the song "Dress" also off of "reputation" — is a direct reference to Kloss and Swift wearing gold stick-on tattoos to Drake's birthday party back in 2016.