How To Do Your Brows If You're Looking To Achieve An Ethereal Makeup Look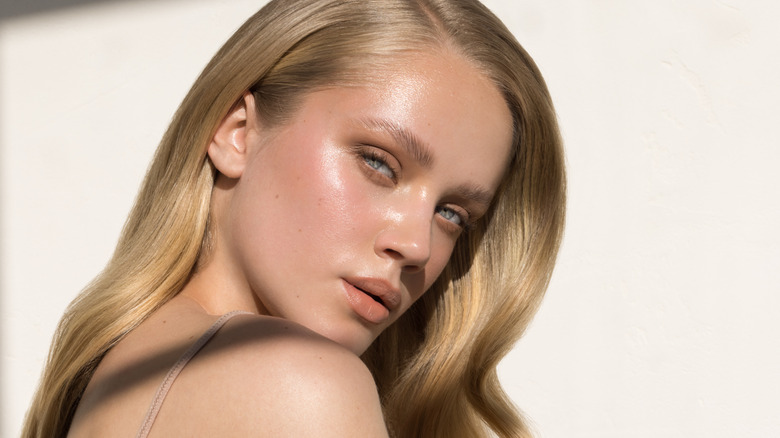 Svetikd/Getty Images
We may receive a commission on purchases made from links.
If you've been looking for a makeup style that will give you an undeniable glow, look no further than ethereal makeup. Not quite the same as the clean makeup aesthetic, but not super glam either, ethereal makeup will give you a dewy and fresh look that isn't one-dimensional.
Renowned makeup artist Jenny Patinkin shared her thoughts in an interview with PureWow on ethereal makeup, saying that the makeup style is designed to appear "otherworldly," rather than natural. "Unlike the warm tones in the natural makeup look that's been so popular for brides over the past few years, cool silver, lavender, blue, green and white ethereal tones are way less earthy and much more reminiscent of the moon and the stars," she shared. 
Patinkin also revealed that ethereal makeup is the opposite of the soft goth glam aesthetic that has been popular due to the lighter, brighter colors used, so it's great for spring and summer. Brows can make or break a look, and they're especially important for achieving ethereal makeup.
The eyebrow look won't take long to do
To achieve the perfect brows for an ethereal makeup look, you'll need a brow pencil, brow gel, and a spoolie. Even if you have no experience in doing your eyebrows and usually leave them natural, the eyebrows for this look is relatively easy to do. "Start by using a super fine brow pencil to draw in realistic hair strokes over any sparse or thin spots. Use a spoolie to soften the color and finish with a lightweight brow gel to lift and hold your brows in place," celeb makeup artist Dani Kimiko Vincent shared with PureWow.
Depending on your preference, you can go into major detail and give yourself thick (but still natural) looking brows, or simply fill out the super sparse areas in your brows. The same goes for filling in your brows. Customize the level of filling in to your preference, though we do recommend opting for a clear gel and a light brow pencil if you don't want to add much extra color, or if you have bleached eyebrows.
These products will be the new best friends of your brows
Now, onto specific brow products that you might want to invest in if you like the look of feathery brows. Glossier's Boy Brow is always a good choice, as is the Brow Flick pen. Both of these products will fill in your brows while still looking natural. Boy Brow comes in five shades, including clear, whereas Brow Flick is available in blond, brown, and black. Or, try Milk Makeup's Clear Eyebrow Lamination Gel, which will hold your brows in place and nourish them at the same time.
If you have thinner or lighter eyebrows, a darker brow tint can help to give you a fuller look. When brushing out your brows, it's important to remember that you're just fluffing out what you already have rather than trying to create a particular shape. A spoolie is also your best friend — don't be afraid to really go in when fluffing your brows (though make sure you're fluffing in the same direction each time to avoid mismatched brows). Altogether, you'll end up with the perfect ethereal brow look.