The Tragic Real-Life Story Of Sharon Stone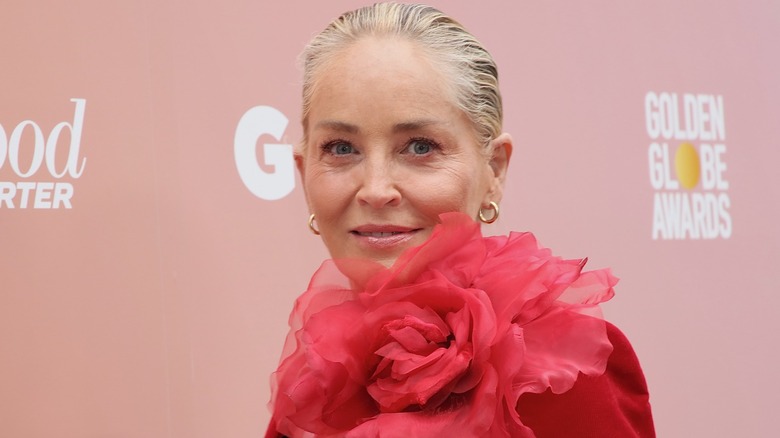 Robin L Marshall/Getty Images
The following article contains descriptions of child abuse.
When fans think of Sharon Stone, they may view her as a successful actress who has held memorable roles and won prestigious awards for her work. While this is true, she has also had to contend with a lot of darkness in her life, starting from childhood. Stone suffered abuse at the hands of a family member, had health struggles to contend with, and endured bitter custody battles. But the actress is still standing, and she's spoken out about many of the challenging situations she's found herself in.
"I've survived everything — sexual harassment, miscarriages, a brain bleed, divorce, a lightning strike," the "Diabolique" actress said in an interview with AARP in 2021. "I don't have time to fool around. I'm here to be a healthy and present parent, a good daughter, and an engaged citizen. Everything else is just a distraction." There is no denying she's a fascinating individual and exceptionally resilient to have endured all that she has, but at the same time, her story has been tragic. Let's discuss what Sharon Stone has been through and how she's still standing.
The star had an incredibly difficult childhood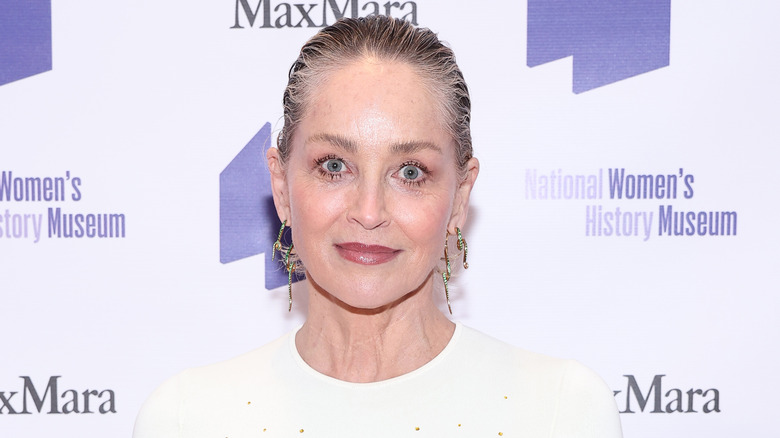 Paul Morigi/Getty Images
Sharon Stone's childhood was far from idyllic, and the abuse she suffered at the hands of her maternal grandfather has continued to haunt her long into adulthood. However, she has had the courage to speak out, addressing these events in her memoir, "The Beauty of Living Twice" and enrolling herself in trauma therapy, which has been incredibly helpful in her journey of discovery and healing. In a 2021 interview with The New Yorker, Stone revealed an important "breakthrough" moment.
"When the breakthrough happened in my therapy, I just started screaming, 'Who does that?' because I had had such a mental block that someone could abuse such a young child," she said. She also discussed her grandfather's threats and how she felt alienated from her sister, Kelly Stone.
"My grandfather threatened to kill me constantly. Even though I shared a room with my sister, we had separate childhoods, because I couldn't talk to her," she confessed. 
If you or someone you know may be the victim of child abuse, please contact the Childhelp National Child Abuse Hotline at 1-800-4-A-Child (1-800-422-4453) or contact their live chat services.
Stone told her father she never loved him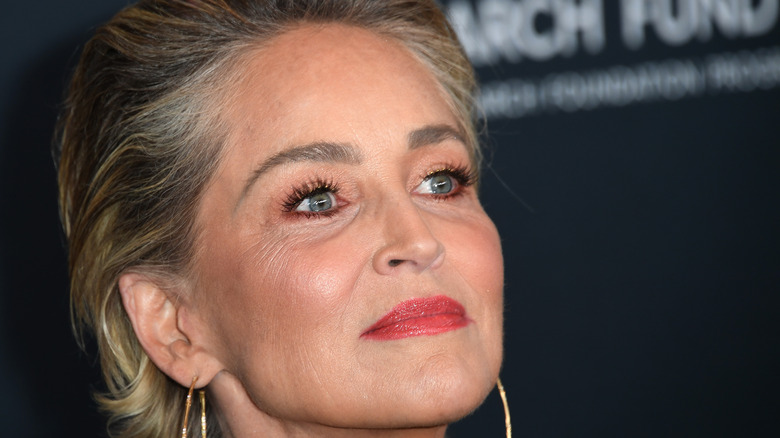 Albert L. Ortega/Getty Images
Sharon Stone's family relationships have been incredibly complicated, including her relationship with her father, Joseph Stone. In her memoir, "The Beauty of Living Twice," she spoke about her father and his quick temper, which often resulted in beatings.
She recalled the moment that ended her father's abuse for good, due largely to her courageous actions. "I walked up to him and said, 'What's the matter — do you need to hit me some more to feel like a man?"' she wrote (via Daily Mail). "I was 14. He started to cry. I told him I didn't love him. That I had never loved him. That I would never love him." This was the moment of realization her father needed to change his ways. She continued, "He was so heartbroken. He never hit any one of us again." 
Despite the challenges she faced in her youth, the "Silver" actress remained incredibly optimistic about life. When asked about the last time she had cried in a 2019 interview with Allure, she shared, "I'm crying a little bit now. It's not really a sad thing. It's more — life is so beautiful." 
If you or someone you know is dealing with domestic abuse, you can call the National Domestic Violence Hotline at 1−800−799−7233. You can also find more information, resources, and support at their website.
She was struck by lightning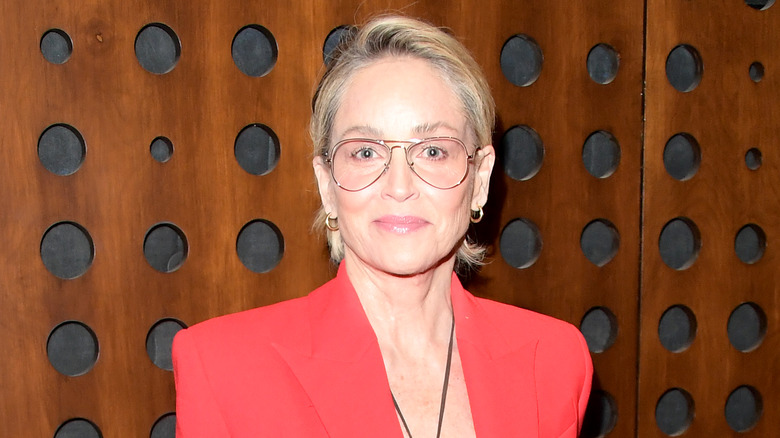 Unique Nicole/Getty Images
In any given year, the chances of being struck by lightning are less than one in a million, and even more surprising is the fact so many people survive. One such survivor is Sharon Stone, who was struck by lightning as a teenager. She recalled the story in her interview with The New Yorker in 2021, telling the publication she was not the only member of her family to experience this, since her dad was also struck by lightning while outside that same night. Stone's story was a little more unusual than most, however, because she was inside at the time she was struck.
"I was in the kitchen ironing my uniform to go to work at the Bob's Big Boy, and I had the iron in one hand and the faucet in the other," the actress recalled. "The well got hit with lightning, and the lightning came up through the water. And it threw me — literally picked me up off my feet and threw me across the kitchen — and my back hit the refrigerator." Her mother helped her regain consciousness and took her directly to the hospital. While she did have some medical complications, including a prolapsed valve, and she returned to the hospital for checkups, she went on to live a normal life.
She hid a teen pregnancy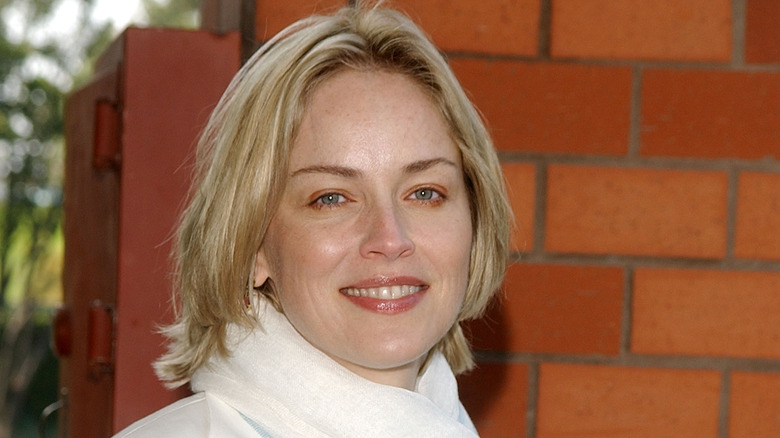 Amy Graves/Getty Images
Sharon Stone is a mother to three children, all boys. She adopted her first son, Roan, with her now ex-husband Phil Bronstein in 2000. Five years later, she adopted a second son, Laird, and in 2006, she adopted her third boy, Quinn. Raising her children has been a beautiful experience for Stone.
"I think it's one of the most wonderful times to raise boys," she told Allure in a 2019 interview. "I'm trying to allow them to be informed, thoughtful young men." But long before welcoming her children into her life, the "Casino" actress became pregnant as a teenager. She recalled the unwanted pregnancy in her memoir, "The Beauty of Living Twice," and wrote how she had gotten pregnant at just 18 with her boyfriend's baby. However, she decided to abort the baby and suffered the consequences alone — she revealed that she had been "too afraid to tell anyone" (via Daily Mail).
Stone has also been open about having miscarriages, commenting on an Instagram post from People, "We, as females, don't have a forum to discuss the profundity of this loss. I lost nine children by miscarriage." She continued, "It is no small thing, physically nor emotionally, yet we are made to feel it is something to bear alone and secretly with some kind of sense of failure."
She faced criticism for her role in Basic Instinct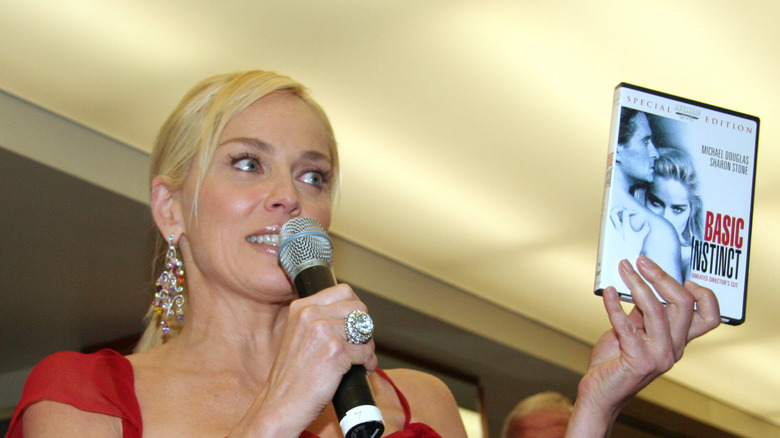 Johnny Nunez/Getty Images
In 1992, Sharon Stone starred in "Basic Instinct" as Catherine Tramell. This was arguably her most well-known role but also her most controversial, since the film was viewed as scandalous at the time. When Stone was asked if it could have been made later, she told Allure, "I think 'Basic Instinct' was made at the exact right moment in history because it captured all our fears and doubts and the moment of change of power for women." She shared, "It's still an intriguing film, but could it be made now? I doubt that it would have any form of the sensationalism it had at the time."
"Basic Instinct" was met with much praise when it was released, and Stone was nominated for awards, including a Golden Globe. However, not everyone felt she deserved this award, and the actress told the "Table for Two" podcast that other Hollywood stars even laughed about it. 
"It was horrible. I was so humiliated," Stone recalled. "[To] try to carry this complex movie that was really breaking all boundaries and everyone was protesting against [it], and the pressure ... I just wanted to crawl into a hole."
The actress struggled to get work after suffering a stroke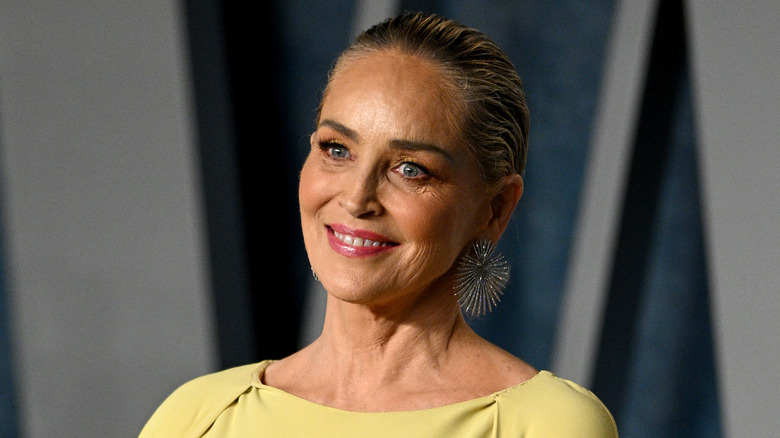 Lionel Hahn/Getty Images
There was a time when Sharon Stone was one of the most sought-after actresses in Hollywood. She said at The Hollywood Reporter's Raising Our Voices gala in 2023, "I was a very big movie star at one point in my life." However, something unexpected happened which would change her career trajectory forever. In 2001, the "Gloria" actress had a stroke and brain hemorrhage — and it's a miracle that she's here to tell the story, since her chances of survival were incredibly small.
Recalling the incident, she told The New Yorker, "I didn't know until I got home and read People Magazine that I had to wait 30 days to see if I was even going to live. Nobody was communicating with me." She also discussed fighting to be heard and have her concerns taken seriously, which made the entire experience more traumatic than it needed to be. Even after recovering, her life did not return to normal.
"I recovered for seven years, and I haven't had jobs since," Stone said at the Raising Our Voices gala. "When it first happened, I didn't want to tell anybody because you know if something goes wrong with you, you're out. Something went wrong with me — I've been out for 20 years." 
Stone lost custody of her son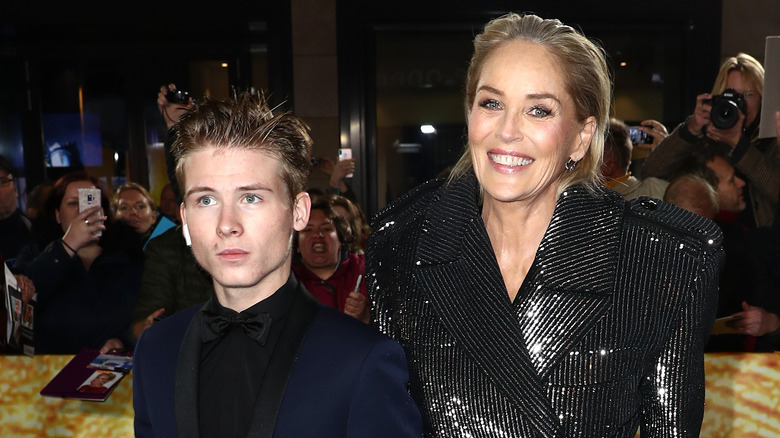 Sebastian Reuter/Getty Images
Sharon Stone and her former husband, Phil Bronstein, adopted their son, Roan, in 2000. However, four years later, when Stone and Bronstein divorced, the actress made headlines for losing custody of her son. The judge granted Bronstein custody, and Stone claims her role in "Basic Instinct" was a contributing factor.
In an interview for the "Table for Two" podcast, she spoke candidly about this time in her life and addressed what she believes happened. "The judge asked my child — my tiny little boy, 'Do you know your mother makes sex movies?'" She described this line of questioning as "abuse by the system — that [it] considered what kind of parent I was because I made that movie." Ultimately, Stone lost custody, and she experienced issues with "extra heartbeats" following the trial's outcome. "It broke my heart. It literally broke my heart," she explained.
These days, Stone has a good relationship with her three sons, and motherhood has been one of her greatest blessings. "I'm now a single mother with three adopted sons, and it has been the great privilege of my life to raise them," she wrote in British Vogue in 2019.
The actress has experienced ageism in Hollywood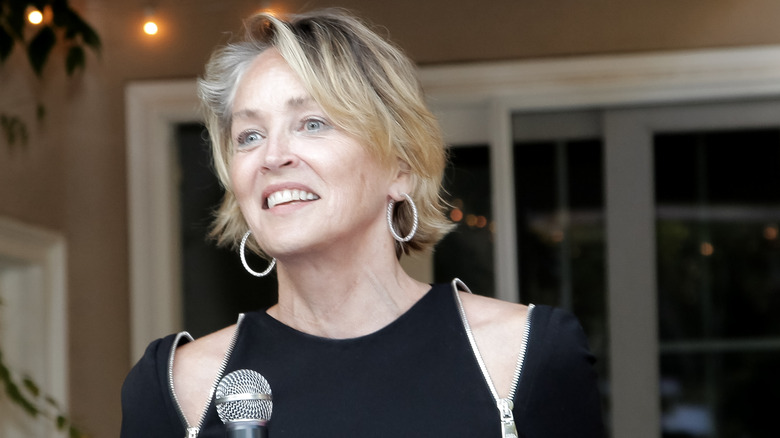 Tibrina Hobson/Getty Images
Hollywood is fickle, and the movie industry's standards can be toxic, especially for women. With the help of movements geared towards actresses receiving fair treatment and equal pay, an important shift began happening in the industry. Still, aging women are often cast in roles that portray them as the mother of a man who is similar to her age, if they're cast at all. 
Sharon Stone spoke about her experience with ageism, telling Allure in a 2019 interview, "My 40s were so beautiful. I couldn't work because women, once they got to be 40, were not given jobs in Hollywood." She continued, "I was a mom with three beautiful little boys. I was recovering from a massive brain injury, and I was in custody court constantly over my oldest child. But there was something wonderful in that period of all those challenges." Stone's only complaint from this period was that she would've liked to have had someone to share it with.
People have treated her poorly based on her appearance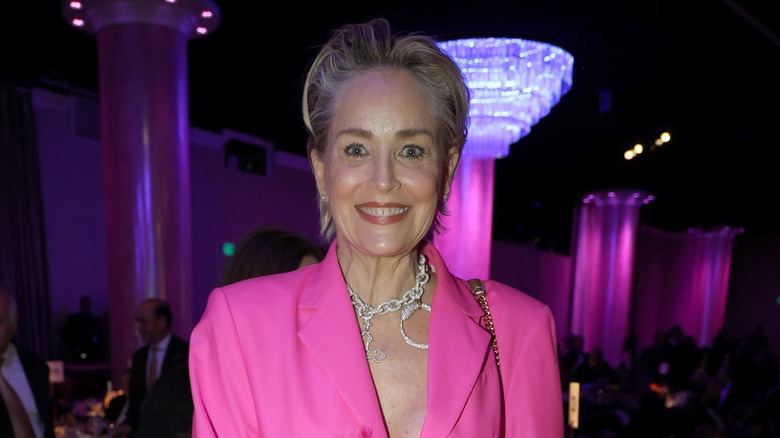 Johnny Nunez/Getty Images
One of the more unexpected hardships Sharon Stone has faced in her life was that her beauty influenced how she was treated by others. There's no denying that Sharon Stone is a beautiful woman who has aged gracefully. But beauty can come with a price, as she's unfortunately experienced. Instead of being taken seriously, she's been judged based on her appearance, which she discussed with Allure in 2019.
"People are incredibly unkind," she said. "They think if you're beautiful, you must be stupid, you must be shallow. If you're beautiful, we should make you feel small or less." However, the actress explained that beauty should not be viewed as a negative trait. "Every person has gifts. And if beauty is one of them, we should accept it and enjoy it as a gift from nature ... If someone's beautiful, for God's sake, let them be beautiful," she appealed. 
Strange things regularly happen to her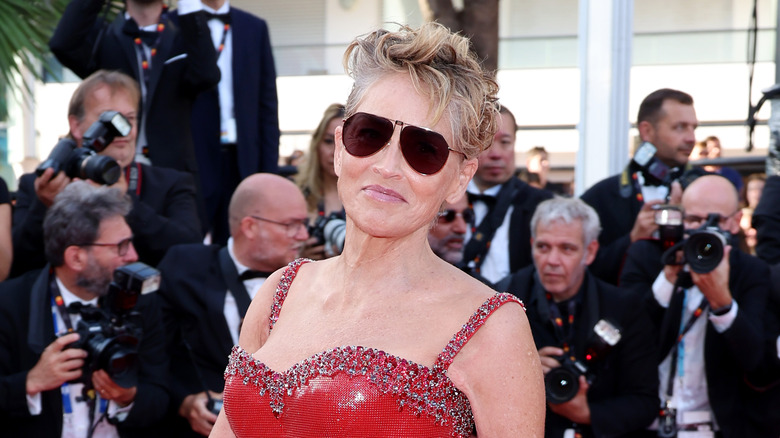 Daniele Venturelli/Getty Images
There's no denying Sharon Stone has had to contend with many awful things in her life, from childhood trauma to serious health concerns. But it's not only what has happened directly to her that has had a long-term impact on the star — she has also witnessed more than her fair share of terrible things. 
"The weirdest s*** does happen to me. I witness every weird car accident," she told The New Yorker. "Drunk guys smash their motorcycles and slide down past my car window." The star bemoaned these bizarrely common accidents in her life. "It's like, Why me? Why am I the world's witness to all things?" 
Though there's no way to know why she's always finding herself amid strange occurrences and unpleasant experiences, the star has maintained her sense of humor. She concluded, "My friend said that I should carry a video camera in my car and call it "Sharon's S*** Show."
Stone has had many health challenges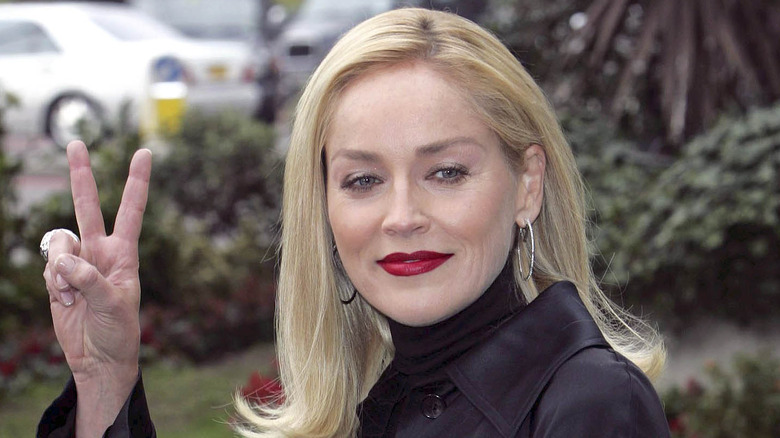 Avalon/Getty Images
Sharon Stone has had many health struggles over the years, the most recent of which was a large fibroid tumor. What makes the actress all the more inspiring is her decision to speak openly about her struggles, which may bring solace to those in similar situations. It may also encourage others with health concerns to question doctors and seek a second opinion, just like she did. 
Stone took to Twitter in 2022 (via E! News) to share the news of what happened to her, writing, "Just had another misdiagnosis and incorrect procedure. This time double epidural. With worsening pain went for a SECOND OPINION: I have a large fibroid tumor that must come out."
Stone used this as an opportunity to encourage others, specifically women, to seek further medical attention if they believe their initial diagnosis could be inaccurate. Doing so, she claimed, "can save your life."
The star lost half of her fortune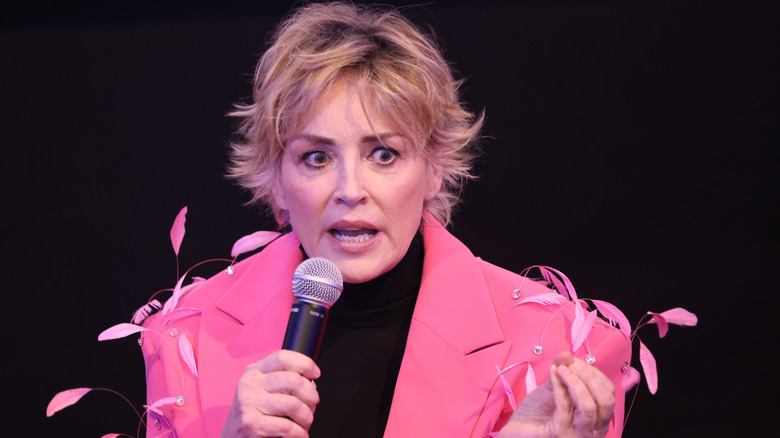 Tim P. Whitby/Getty Images
Sharon Stone has been vocal about her career not going as she once hoped, and she's struggled to land leading roles in movies after her health struggles. She's also acknowledged the power dynamics at play in Hollywood, especially when she was enjoying the height of her fame.
"I got to make a few movies, but mostly movies picked by men, written by men, sold by men. My career could have gone a whole different way — I think I'm somewhat more than a sex star," she told Allure. "When I was ill, I wasn't able to come back to the business like a man. I was sent to the back of the line to do episodic television, to scratch my way back. There's no power as a has-been movie star."
Her lack of roles would have affected her net worth, but she's also confessed to losing money, presumably due to the Silicon Valley banking crash in March 2023. Her comments came while giving an acceptance speech for the Courage Award in 2023 (via The Hollywood Reporter). "I just lost half my money to this banking thing, and that doesn't mean that I'm not here," she told the audience.
The star has lost people she loves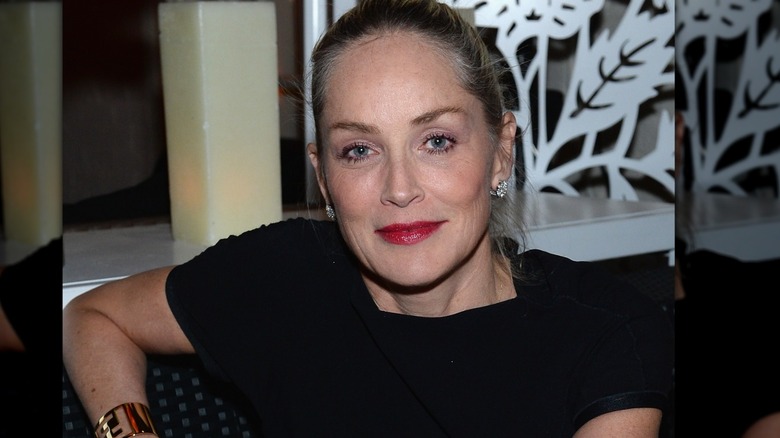 Dimitrios Kambouris/Getty Images
Sharon Stone's life has also not been without loss. In 2023, her brother Patrick Stone died of a heart attack at just 57. The news also came only two years after he lost his infant son, River, who died of organ failure.
Family remains important to Stone, and she lives each moment truly appreciating the people she loves. "I tell my kids, 'You're going to have lots of friends in your life, but your family will be yours for a lifetime,'" she told AARP. "'You won't always talk to each other. But even then, you'll love them. And if you need someone, that's who you'll call.'"
Thankfully, there are still people in her life she loves deeply, including her sons. Stone discussed motherhood in British Vogue, writing that it was "remarkable" just "how much being a mother taught me about myself." She added about her oldest son, Roan, "Every detail in my life became a little more magical just because I was sharing it with him."