Try Microshading If You Have Oily, Sensitive Skin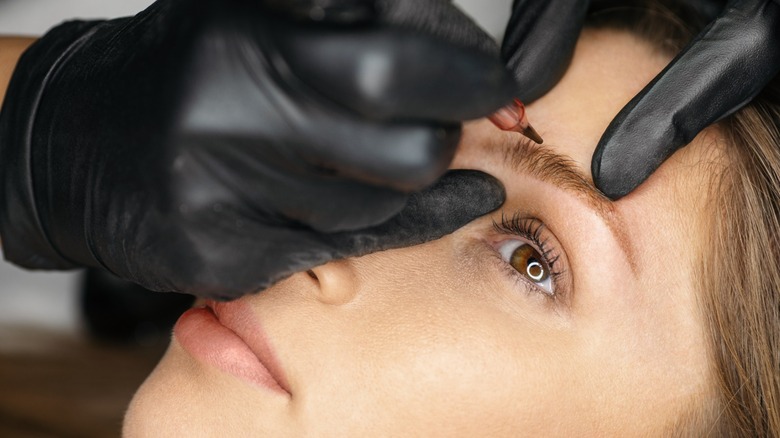 Miljko/Getty
The trend of semi-permanent makeup or cosmetic tattoos allows you to make cosmetic additions to your face that will last longer than your typical day-to-day makeup products. If you've done any research on semi-permanent makeup for styling your eyebrows, you've probably considered microblading. Similar to tattooing but not quite the same thing, microblading is a technique where a blade tool made up of needles is used to add small incisions into the top layer of skin (the epidermis). As this is being done, semi-permanent ink is added to fill in your brows and make them look fuller. The ink color is set to match the color of your natural brows.
Microblading is not a permanent solution, and the brow tattoos will fade after one to three years. The results of microblading fade faster on people with oily skin. If you have oily or sensitive skin, you can try microshading instead — a less intense microblading alternative that can give you what's called ombré brows.
Microshading uses a different process to fill the brows
Instead of a blade, the microshading process uses a tattoo machine or special kind of pen to add the ink to your brows. And whereas microblading creates pigmented lines to look like hairs, microshading adds the ink to your brows like dots or pixels. Filling in the brows in this way allows your technician to customize the shape a little more easily and can make the brows look very natural.
"The results will not appear to be individual eyebrow hairs, but rather a shading that more closely resembles penciling or powdering your brows with makeup," master esthetician Sarah Akram told Harper's Bazaar. Akram also said that microshading is "much more kind to sensitive skin." 
Microshading is not as intense as microblading since it doesn't create multiple incisions. Because of that, it causes fewer issues with color consistency during the healing process. Microshading is great for oily skin too because the application technique is better at withstanding the oils that break down pigments and inks.
Similarities between the two procedures
Both brow techniques have parameters to adhere to for the best results. For example, do not wax or pluck your eyebrows in the week leading up to your appointment. You should also avoid consuming alcohol or caffeine up to a day before the appointment, and you shouldn't sunbathe the day of. Once the process is done, you cannot get your brows wet for a week to 10 days or the effects won't last. Heathline recommends that you clean your eyebrows with a damp cloth and avoid exercise to keep from getting your brows sweaty.
With microblading and microshading, there will be some redness and scabbing around the brows after the process is done. This can last for a couple of weeks. Your eyebrows will also look much darker at first, but after about a month, the color will match your natural hair color. Since these treatments are only semi-permanent, the results don't last forever.
About eight weeks after the first treatment, you'll need to go for a touch-up, and your brows shouldn't take as long to heal after this appointment. Microshading will fade a little faster than microblading, so you may need to get subsequent touch-ups done more often. However, in the microblading vs. microshading fight, microshading is the best recommendation for those with sensitive skin.