Are Chelsea Clinton And Demi Lovato Friends? Here's What We Know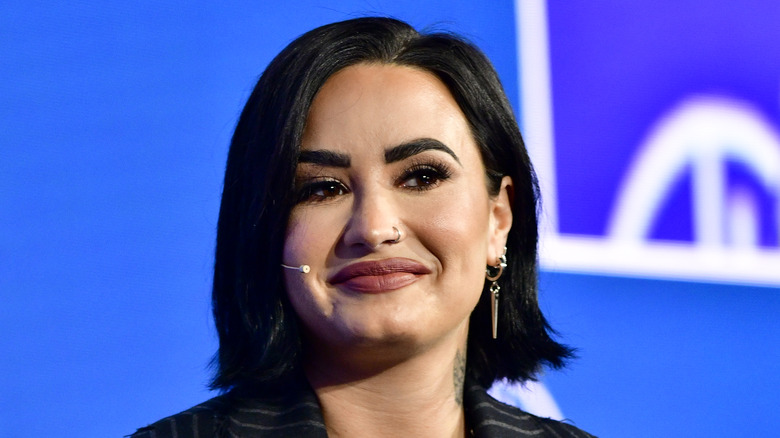 Jerod Harris/Getty Images
Chelsea Clinton was just 12 years old when her father, Bill Clinton, was elected president in 1992. Since then, her support for her political parents hasn't wavered — she stood by her mother, former secretary of state Hillary Clinton, throughout the course of the 2016 election and took on the role of vice chair of the Clinton Foundation. "For me, I'm deeply committed to the work of the foundation," she told Variety in 2017, shortly after Donald Trump took office. "I'm committed to raising my voice in opposition to and affirmation of, when I think it's important to do so." Over the years, Chelsea has used her platform to educate and inspire, proving herself time and time again in the world of academics and politics (if you're an Apple TV+ subscriber, you may have even seen her docuseries, "Gutsy," which she hosts alongside her mother).
However, Chelsea's public support goes beyond Bill and Hillary — she also has Demi Lovato's back. Sure, they might seem like polar opposites, but here's what you need to know about Chelsea Clinton's connection to the "Cool for the Summer" singer.
Chelsea Clinton publicly supported Demi Lovato on Twitter
Chelsea Clinton stood up for her mother on the campaign trail in 2016, and she stood up for Demi Lovato on Twitter in 2018. At the time, Lovato was feuding with her former best friend, Marissa Callahan. "F*** me over and you stop existing in my life," Lovato wrote on Twitter. Although it's unclear exactly what happened between the ex-pals, Chelsea Clinton made her stance pretty clear when she commented, "Thank you for doing so much for than existing Demi — thank you for all the good and beauty you give the world!"
The Clinton-Lovato bond goes beyond social media. The singer campaigned for Hillary Clinton in 2016 and even spoke at the Democratic National Convention. "I'm proud to support a presidential candidate who will fight to ensure all people living with mental health conditions get the care they need to live fulfilling lives," she shared before performing her song "Confident." The "Camp Rock" star was even with the Clinton team in New York when Trump won the election. "It was extremely uncomfortable. Everyone was devastated," she later told Rolling Stone.
In 2015, Demi Lovato attended Hillary Clinton's 68th birthday party fundraiser. She wasn't the only famous guest — other A-listers like Amy Schumer and John Legend were also in attendance. It seems Washington and Hollywood aren't too far apart after all. 
Demi Lovato has quite the roster of friends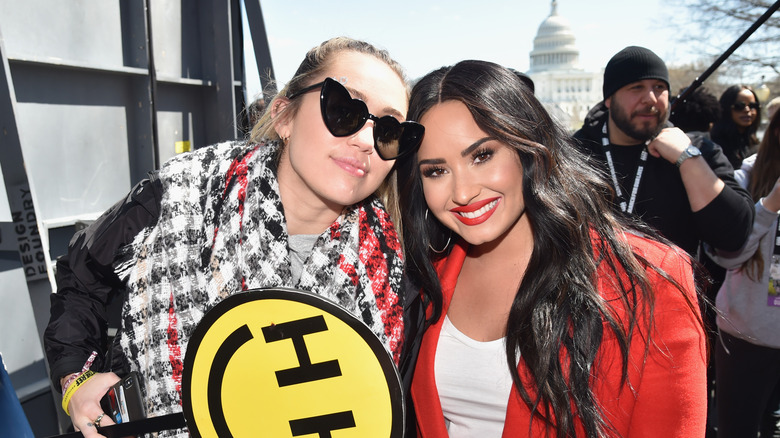 Kevin Mazur/Getty Images
Chelsea Clinton isn't Demi Lovato's only famous BFF. Although she's no longer close with her former Disney bestie, Selena Gomez, she has remained in contact with fellow child stars like Ariana Grande and Miley Cyrus. "I love the fact that Ariana and I have such a supportive friendship because it's hard to find. Two women who are in a competitive industry—the whole world seems to want to pit women against each other, so it would be so easy to do that," the singer told Harper's Bazaar.
As for Miley Cyrus? The two went on Instagram Live in 2020 to discuss their friendship, body image, and their tips for staying healthy during the pandemic (via YouTube). "I think [Miley's] kind of the only one from [the Disney] era that I still stay in touch with," Lovato shared later. They've also both rocked mullets. Unfortunately, the Jonas brothers aren't a part of her inner circle. 
Much like her friend Chelsea Clinton, Demi Lovato has used her platform to encourage young people to vote and speak out against injustice. Her 2020 song "Commander in Chief" called out President Trump — "If I did the things you do, I couldn't sleep," she sings. Who knows, maybe she'll perform it at the next DNC.