Divorced Vanderpump Rules Stars Katie Maloney And Tom Schwartz Still Share Custody Of Their Dogs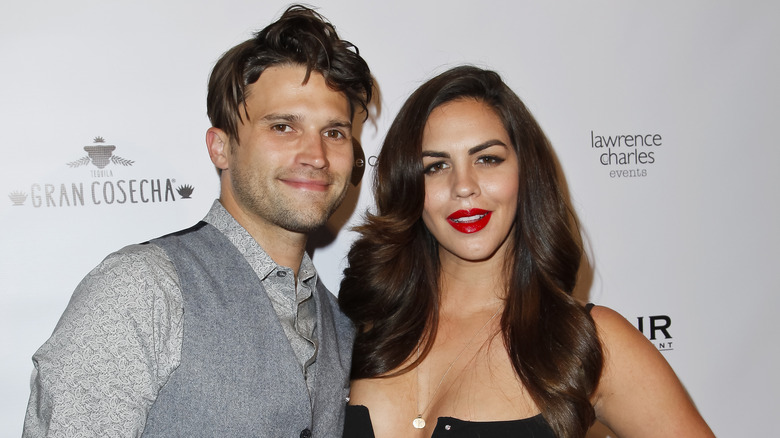 Tibrina Hobson/Getty Images
Katie Maloney and Tom Schwartz spent 12 years of their lives together. So, of course, it wasn't easy when the "Vanderpump Rules" stars decided to go their separate ways. Fans of the show were shocked when Maloney announced their split in an Instagram post and credited the breakup to the "different paths" they were moving in. One week later, she doubled down by officially filing to divorce Schwartz, People reports. 
The split remained civil, with Maloney and Schwartz finalizing their divorce just six months after the initial filing. According to Us Weekly, the Bravo stars were on the same page when it came to their finances and splitting their shared assets. The two restauranteurs split the sale of their Valley Village home and let each party walk away with the cars and jewelry that was in their name. While Maloney and Schwartz never had children together, they did welcome two dogs into their family that they decided to split custody of after their separation.
Katie is always going to love Tom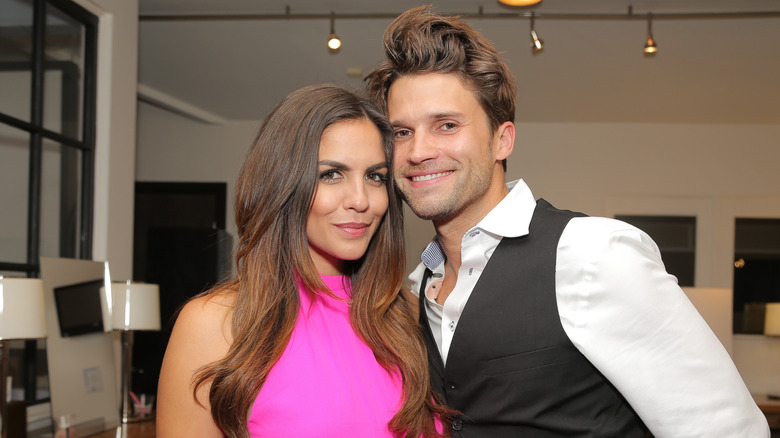 Chelsea Lauren/Getty Images
Katie Maloney and Tom Schwartz wasted no time deciding how they would share custody of their dogs after their divorce. The former couple were still living as roommates with their dogs in the months after Maloney's filing, she admitted to E! News. That same month, Maloney appeared on Dear Media's Relationsh*t and dished on how she and Schwartz were remaining amicable after the divorce and still doing things together like hanging out with mutual friends and co-parenting their dogs. Maloney still saw her ex-husband as "family" and stressed the importance of them remaining friends.
Considering how civil Maloney and Schwartz have remained during their divorce, fans have speculated about the possibility of reconciliation in the future. At the time Maloney admitted she and Schwartz were still roommates, she also told the celebrity reporter she didn't think there was any room for rekindling her marriage. But Schwartz was singing a different tune two months later when he told Hollywood Life to "never say never" to the chances of him and Maloney giving their love another try. But Schwartz might've had a change of heart after filming "Vanderpump Rules" season 10 and seeing Maloney introduce Satchel Clendenin to the group (via Bravo).
Is there still chance for Katie and Tom to reunite?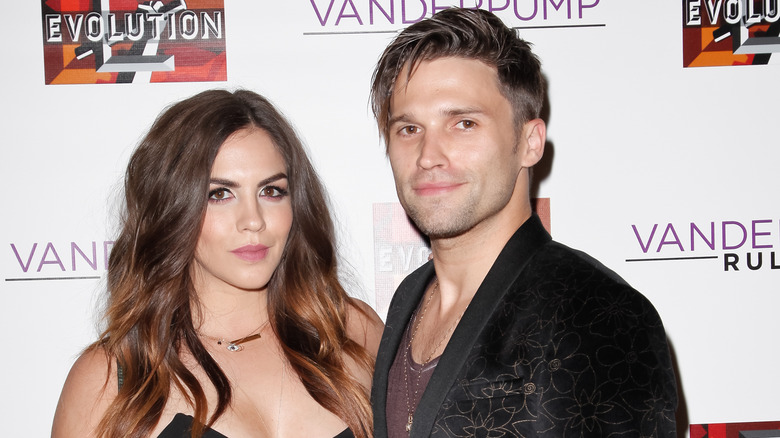 Tibrina Hobson/Getty Images
Tom Schwartz gave an update on his thoughts on remarrying during an appearance on "Watch What Happens Live" in February 2023. At that time, Schwartz showed no interest in ever getting married again, not even to Katie Maloney. While he didn't weed out the possibility of falling in love again, he deemed himself undateable after his divorce (via Page Six). Meanwhile, Maloney wasn't having too much luck in the romance department. During part 1 of the "Vanderpump Rules" season 10 reunion, Maloney revealed her short-lived flame with Satchel Clendenin had died out since he wanted more of a relationship that she wasn't ready for. Clendenin moved on and started dating someone else, and Maloney expressed her support for her ex. 
That leaves the door open for a Maloney and Schwartz reunion in the future. But considering how impactful "Scandoval" has been on the group, Maloney and Schwartz' loyalty to their friends and business partners (Tom Sandoval and Ariana Madix) might affect their relationship dynamic. The Bravo cameras will have to stay on top of this story.